And So It Began…
If the world doesn't have enough vintage-style Telecasters already, here's another one. The trouble is, it's rather good
While we were enjoying the sunshine and positive vibe of this year's NAMM Show in California back in January, there were a few corks being popped on the Fender stand. 2020 marks the 70th anniversary of the year this game began, when Leo Fender and his small team first started making what was to become the Telecaster – a virtual stone's throw away from the vast Anaheim Convention Center in Orange County.
You'll know the story. Technically, the single-pickup Esquire was the first Fender electric Spanish guitar, initially displayed at a Chicago trade show in July 1950. And although dual-pickup versions are documented, it was the dual-pickup Broadcaster that was the first electric Spanish guitar built in any quantity – hence its claim to being the first production solid-body electric – with its adjustable truss rod, ash body, blonde finish, and black pickguard. We're told that around 250 were made before Gretsch objected to the name in February 1951, which was subsequently simply cut off the headstock decal creating the 'no-caster' period. The new name, Telecaster, was conceived and a year after that first trade show Fender had the dual-pickup Tele and the single-pickup Esquire in its catalog. The revolution had begun.
This new guitar is the first Broadcaster to be sold by Fender for 70 years, a limited-edition for 2020 only. It's the most expensive and earliest vintage-like 'Telecaster' in the USA production range before you head up to the Custom Shop where, again for this year only, you can order a Broadcaster in various states of relic at pretty much twice the price of our 'standard' model. And there's also a 70th Anniversary Esquire and a 60th Anniversary Jazz bass. A proverbial party.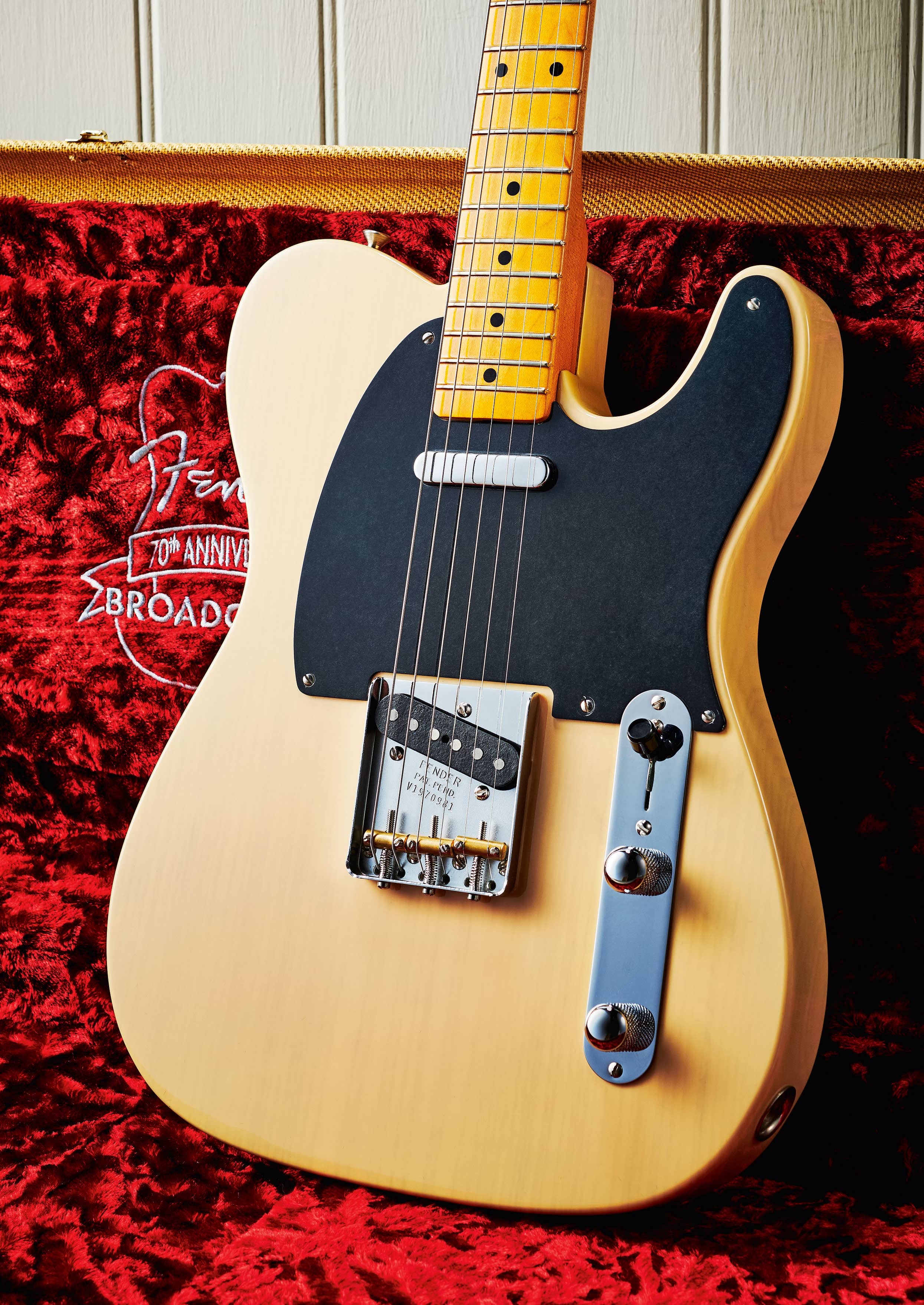 The limited-edition Broadcaster is obviously a very close cousin to the existing American Original '50s Tele in its standard Blackguard livery and Butterscotch Blonde finish. As with the Jimmy Page 'mirror' Tele of last year, for example, there's a little case candy, too – no mirrors here but we do get the 'ash tray' cover and an old-style thin leather strap. You also get a tweed case with a bit of '70th Anniversary' embroidery.
You can read up to 3 premium stories before you subscribe to Magzter GOLD
Log in, if you are already a subscriber
Get unlimited access to thousands of curated premium stories, newspapers and 5,000+ magazines
READ THE ENTIRE ISSUE
October 2020