You have to be spontaneous, and that requires confidence, which allows you to change directions on a whim
Guitar World|June 2020
Rowdy rave-ups, poignant ballads, reggae rhythms and a touch of Nigel Tufnel. Joe Satriani takes you inside his aptly titled new album, Shapeshifting
When informed that the theme of this issue of GW is "100 Things Every Guitarist Should Know," Joe Satriani laughs and says, "You should change it to 1,000 things! Every day there's something new to learn about the guitar. I don't know if we're ever going to figure the thing out, and I guess that's part of the fun." ¶ Which prompts the question: What does Satriani know about the guitar now that he wishes he knew when he was just starting out? He thinks for a long, thoughtful moment, then offers, "Well, there's certain technical things about the studio — how when you record a track, something big can wind up sounding small and how something small can wind up sounding big. That's got a lot to do with microphones, amps and rooms… "
His voice trails off; he's clearly dissatisfied with that answer and searching for something deeper. Then he lights up and says, "Here's something I wish I knew a while ago: how to walk into the studio with more confidence." That sounds a little funny coming from Satch, a bravura guitarist with a boatload of classics behind him, but he elaborates: "I always try to go into a recording situation with a plan. And you have to have a plan, because making records is so damn expensive. But you have to be prepared to the point where you can respond to whatever comes at you — your drummer might make a funny request, or the engineer might say, 'Can you play that backwards?' And you have to fire something back at them that's as good as anything you came in with. You have to be spontaneous, and that requires confidence, which allows you to change directions on a whim."
Nobody listening to Satriani's new album, Shapeshifting, would detect even a smidgeon of uncertainty from its creator. The album contains rowdy rave-ups like "Big Distortion," "Nineteen Eighty" and "Spirits, Ghosts and Outlaws" that burst with brio and bravado, and even on the record's quieter moments, tender ballads such as "All for Love" and "Teardrops," his playing is poignant and poetic. Taken as a whole, the record represents a sort of grand summation of modern guitardom — each epic riff, elastic solo or hallucinatory sonic exploration feels so unbelievably right. But in Satch's hands — and really, it's a vision thing — "right" is also a subjective proposition, and when he gets wild and flamboyant here (which is most of the time), he goes off the grid and into another dimension.
He makes it all sound so effortless, yet as he explains, no move he makes comes without its share of struggle. "It's always a struggle," he notes, "but really, what would be the point if it weren't? This kind of goes back to the confidence thing: How can I not hold back? Not just holding back physical playing, but the emotions that go into writing. And sometimes that can be uncomfortable. Take a song like 'Teardrops,' which is about sadness and regret. It was cathartic to write and record, and I know it'll feel that way to play on stage night after night. But that's who I am; it's where I have to go. If you want to do something of worth, yeah, there's some pain and struggle involved.
"Not that the sessions were torturous," he continues. "In fact, we had a blast most of the time." He describes the rhythm section of bassist Chris Chaney and drummer Kenny Aronoff as "a true dream team — endlessly musical and explosive as hell." In fact, it was Aronoff, whom Satch had played with live but never before in the studio, who pointed him toward engineer and co-producer Jim Scott, famous for his work with rock outfits such as Wilco and Tedeschi Trucks Band.
"I got a text from Kenny saying he had a great time working with Jim," Satriani says, "and that got me thinking, 'He doesn't really do my kind of music. Maybe this could be good.' So I contacted Jim, and he was really positive, and then I went to check out his studio [PLYRZ Recording Studio in Valencia, California], and it had the coolest vibe. I thought, 'This is the kind of place where everybody can feel comfortable exploring any idea that comes into their heads.' And that's exactly what happened. I couldn't be happier with how it turned out."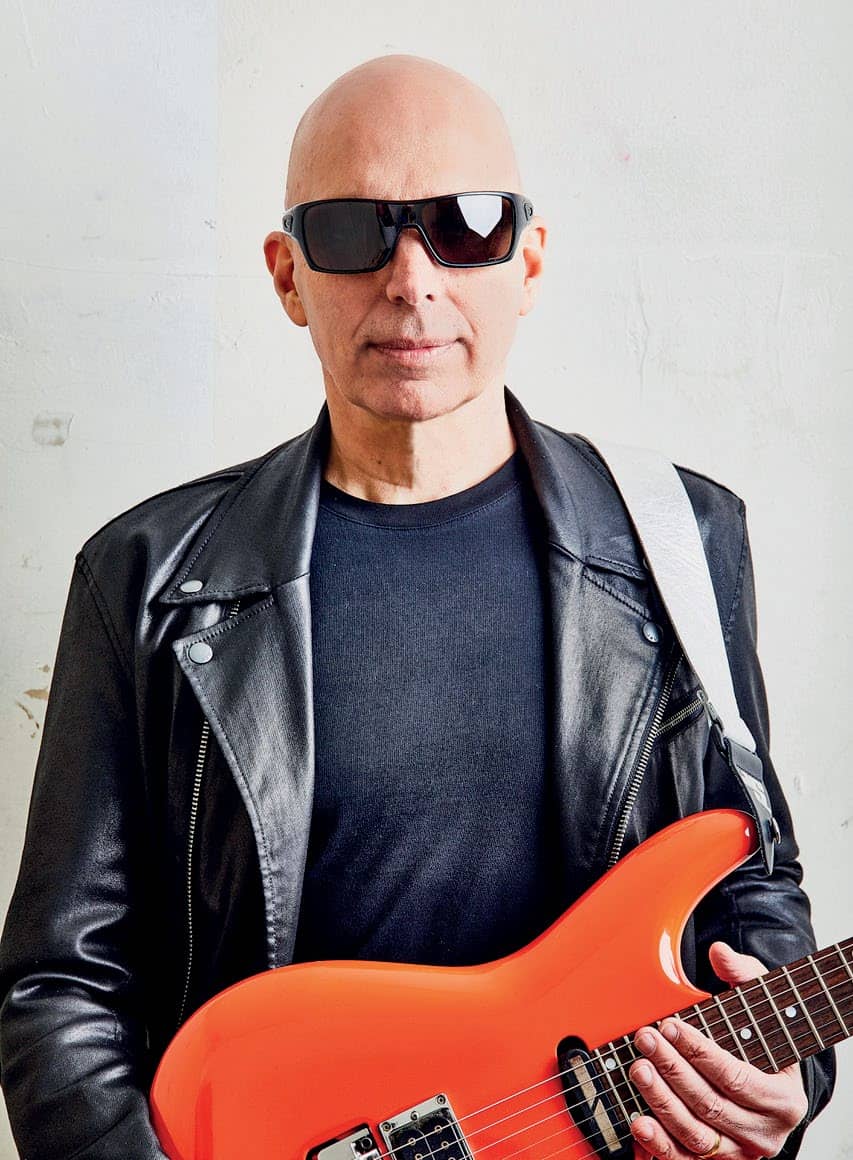 With lyricists, it's often easy for listeners to trace their evolution by the words they write. It's a little different with instrumentalists, don't you think?
You can read up to 3 premium stories before you subscribe to Magzter GOLD
Log in, if you are already a subscriber
Get unlimited access to thousands of curated premium stories and 5,000+ magazines
READ THE ENTIRE ISSUE
June 2020