GUNS N' ROSES
Guitar World
|
September 2020
WHY HAVEN'T THE SPAGHETTI INCIDENT? AND LIVE ERA '87 - '93 CONNECTED WITH GN'R FANS LIKE APPETITE? GW CHECKS IN WITH GUITARIST GILBY CLARKE, VOCALIST ROBERTA FREEMAN, ENGINEER JIM MITCHELL, HANOI ROCKS' MICHAEL MONROE AND THE DAMNED'S BRIAN JAMES.
THERE WAS A piece of tape on the rehearsal studio floor where, in the past, Izzy Stradlin's amp would have been. "And on the piece of tape," Gilby Clarke says now, "and I'll never forget this, it said, 'Do you have what it takes to fill this spot?'"
Clarke had what it took. He'd walked in that fall 1991 day with a Les Paul and Marshall half-stack to audition for Guns N' Roses' rhythm guitar spot, which Stradlin vacated following a tour leg supporting the Hollywood hard-rockers' Use Your Illusion albums. Clarke's three-year tenure with the band would include GN'R's most legendary tour and two un-legendary Guns N' Roses albums, The Spaghetti Incident? and Live Era '87 - '93.
For such a huge band, these albums, particularly the latter, are close to being forgotten. Lost in the shuffle amid savagely brilliant debut Appetite for Destruction, controversial GN'R Lies, sprawling Use Your Illusion and mythologized/maximalist Chinese Democracy.
Still, Era is an underrated concert album that remains the band's only official classic-era live disc. It displays why GN'R was powerful enough to (partially) reunite in 2016 and play stadiums and arenas across the world — something they're still doing, more than 25 years after their heyday. Punk-covers effort Spaghetti contains some feisty gems. It's admirable that Guns followed up the grandiose Illusion twin-towers by returning to their street-band roots.
Spaghetti Incident? and Live Era were both released November 23, six years apart, Spaghetti in 1993 and Era in 1999. As far as GN'R goes, that period's typically remembered for the band splintering to where singer Axl Rose was the lone classic-era member. Rose's relationship then with snake-haired guitar-hero Slash was acrimonious at best. As far as albums go, neither Spaghetti or Era are Appetite-essential. But the Guns N' Roses story isn't complete without them.
Even amid the daring hard rock, stadiums and drama that was early Nineties GN'R, their new guitarist wasn't on a leash. "I was never once told what to play and not to play. Ever," Clarke says, calling from his San Fernando Valley home studio. "But I could always tell if it didn't work. Slash would just look over like, 'What the hell was that?' [Laughs] You could tell if it caught his attention in a good way or in a bad way."
Clarke's GN'R audition took place at Third Encore Studios in North Hollywood. Slash had called him around midnight to come in the next afternoon. The first time Clarke — as a member of GN'R — heard Rose sing with the band was onstage at Clarke's first show with them, December 5, 1991, in Worcester.
Clarke played guitar on 16 of the 22 tracks eventually culled for Live Era. (This makes it even more dubious that he and Sorum are credited as "additional musicians." Clarke says, "It wasn't that funny at the time, but now it's kind of funny.") Clarke-era highlights on Era include razorwire tangle on "Nightrain," an explosive "It's So Easy," tribal-metallic "You Could Me Mine" and legitimately epic "Estranged."
After getting the gig, Clarke hit the ground running. The Cleveland native was asked to learn GN'R's entire catalog, 50 tracks, in two weeks. His Illusion tour guitars included a late-Seventies black Les Paul Deluxe with full-sized Seymour Duncan humbuckers, '91 Les Paul Classic with "burnt" finish; and a couple of Telecasters, including a red Tele with a humbucker in the bridge. "The middle position between the humbucking and single coil was kind of magical," he says. "On 'Sweet Child O' Mine' during the verses and all that, that's always the middle, songs like 'Don't Cry.'"
Slash's live guitars for Era recordings included 1984, 1987 and 1992 Gibson Les Paul Standards, '87 gold top, '75 Gibson EDS-1275 double-neck, B.C. Rich Mockingbird and Guild Crossroads double-neck. According to slashparadise.com, his amps during this era included Marshall JCM2555 Silver Jubilee heads with EL34 tubes and Marshall 1960BV 4x12 cabinets.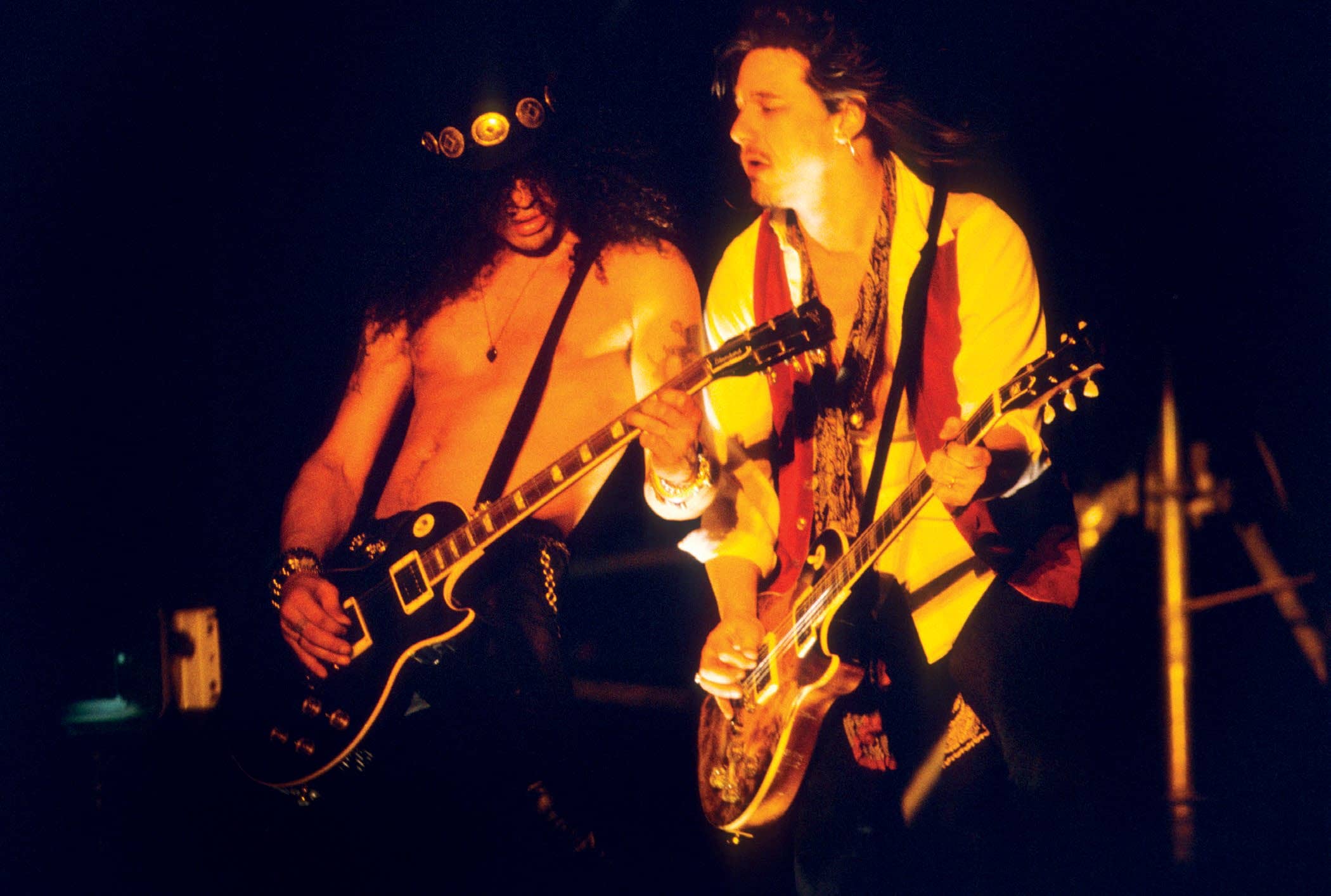 Clarke started his GN'R run using 50-watt Marshall JCM800s. About a year in, that changed. "At times Slash and I would hit a chord and I couldn't really tell who hit it," Clarke says with a chuckle." So, I switched over to Vox AC30s." On the road, Clarke was listening to albums by Bash & Pop, Mazzy Star and Stradlin's solo debut, Ju Ju Hounds. He's the first to give his GN'R predecessor credit. "I loved what Izzy and Slash did, especially on Appetite. They played off of each other. It was like an Aerosmith thing, and Aerosmith are just a louder version of the Stones. I tried to take what Izzy started and just add to that. I don't play with as much gain as Slash has, but I play with more gain than Izzy does."
Of Stradlin-period recordings on Era, a stomping "You're Crazy" and Some Girlsish "Used to Love Her" standout. Clarke says he only listened to the album once when it was released. "At that time, it was a little Guns N' Roses overdose for me. But I definitely have my memories of playing those shows. Songs like 'Patience' were always great to play. I loved that song the first time I ever heard it on MTV or whatever, and Axl always sang it well." He was also fond of "Welcome to the Jungle," and there's a hot, '92 Buenos Aires version on Era, "because as soon as the riff started no matter where you were the audiences just went nuts."
You can read up to 3 premium stories before you subscribe to Magzter GOLD
Log in, if you are already a subscriber
Get unlimited access to thousands of curated premium stories, newspapers and 5,000+ magazines
READ THE ENTIRE ISSUE
September 2020