BIG-TIME RUSH FAN
Guitar World
|
October 2020
Dream Theater maestro JOHN PETRUCCI geeks out on Permanent Waves, Alex Lifeson's "How is that even possible?" solos and the undeniable majesty of Rush
JOHN PETRUCCI makes no bones about it: He's a lifelong, dedicated Rush fanboy. "Oh, you can definitely call me that," he says.
"I adore Rush, and I'll never stop geeking out on them. For me, and probably a lot of people from my generation, Rush is a band that has been part of the fabric of my life. And it goes beyond their music and extends into everything they've done. They always stuck to their guns and did exactly what they wanted. Their live shows were always presented in a unique and special way. Quite simply, there's no band quite like Rush."
It's a view that has been shared by most members, past and present, of Petrucci's band, Dream Theater. "Keyboard players aren't always as big into Rush as much as guitarists, drummers and bass players," he says. "I know that Jordan Rudess was more influenced by ELP, Genesis and Gentle Giant. But when I met [bassist] John Myung at Berklee, we clicked right away on Rush, and then [drummer] Mike Portnoy was a tying factor — he was way into them. Rush were a major part of our conversations."
In fact, Petrucci reveals that Dream Theater's original name, Majesty, was derived from a Rush song. "I think we were listening to 'Bastille Day' and we were commenting on how majestic it sounded. Suddenly, we were like, 'We should call the band Majesty.' So right from the beginning, Rush were influencing our choices." [Of course, Majesty is also the name of Petrucci's signature model by Ernie Ball Music Man.]
Even today, Petrucci admits that the question "What would Rush do?" gets bandied about during group rehearsals and meetings. "A lot of times, if we have professional conundrums like, 'How should we handle this?' or 'How should we present this?' we'll kind of refer to Rush. They always seemed to do things right. I can't think of a time they made a wrong move. They've always intrigued me, and they've never disappointed me. In terms of how to do things with originality, creativity and wit, they're the ultimate band, one that I continuously fanboy over."
Petrucci points to various aspects of Dream Theater's music that have been lifted from the Rush playbook. "Concept albums and our manner of storytelling — none of that would have happened without Rush," he says. "And the way we've called things Part 1 or used Roman numerals, or even how we've had three different sections like 'Erotomania,' 'Voices' and 'The Silent Man' — we were absolutely wearing our Rush influences on our sleeves." He laughs, then adds, "I'd be lying if I said otherwise."
In the following interview, Petrucci further details his unabashed love of all things Lifeson, Lee and Peart, and he discusses the impact Permanent Waves (which he calls "the Oreo cream" that helped comprise his three favorite Rush albums — Hemispheres, Permanent Waves and Moving Pictures) had on him.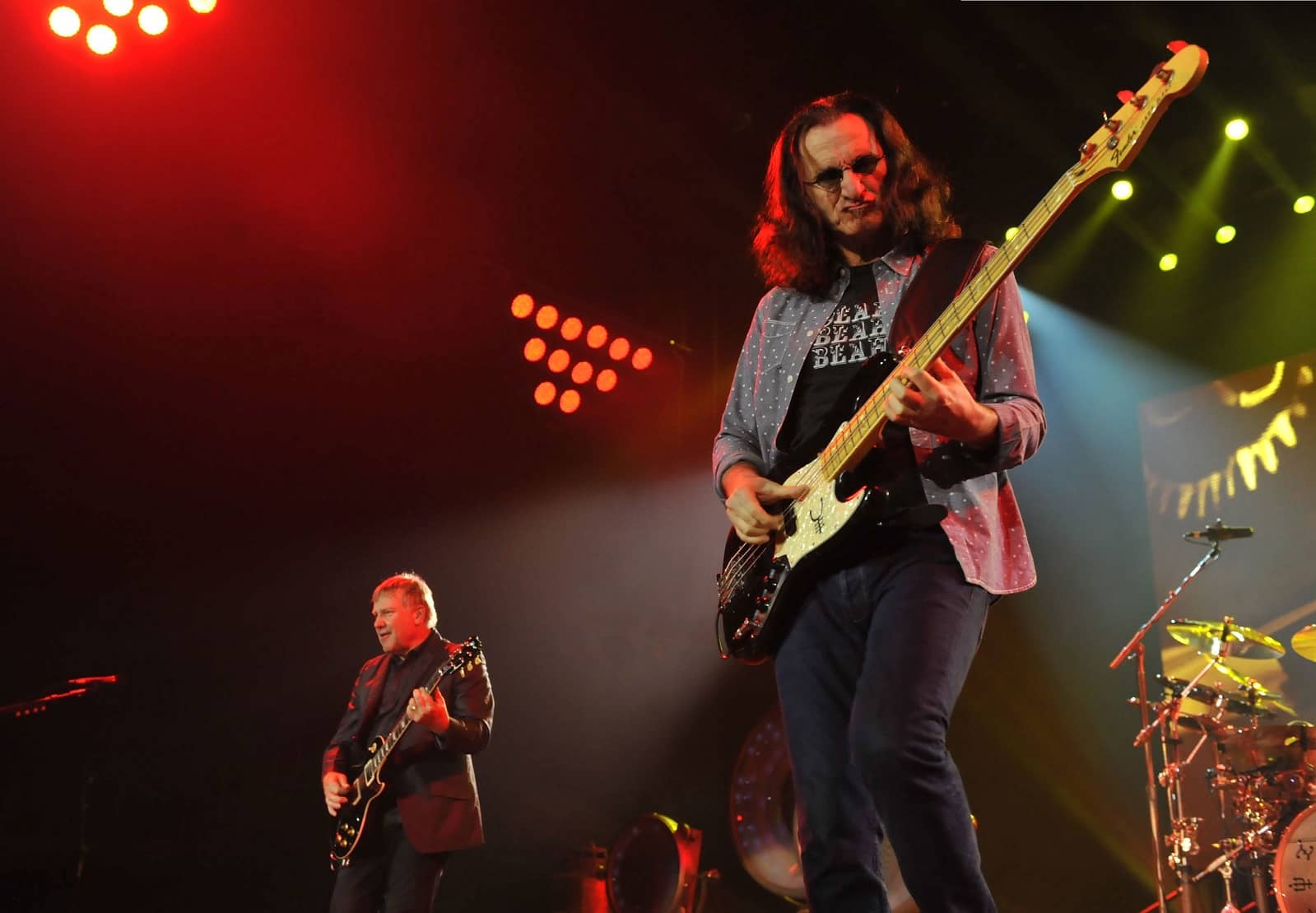 Could you name any particular Rush song that was the gateway drug to really getting into the band?
Growing up on Long Island, I heard Rush on the rock radio stations. I heard "The Spirit of Radio" and really liked it, but it was when I heard "Tom Sawyer" and "Limelight" that I really started paying attention. Around this time, I had several good friends — they're still good friends, actually — and they were bigtime Rush fans. They'd be like, "Oh, you've got to check out the earlier stuff. Go listen to 'The Trees' from Hemispheres." Or they'd say, "You've got to listen to 2112." And that opened the whole thing.
So at that point, you went from "This is a band I like" to "This is a band I need to follow."
You can read up to 3 premium stories before you subscribe to Magzter GOLD
Log in, if you are already a subscriber
Get unlimited access to thousands of curated premium stories, newspapers and 5,000+ magazines
READ THE ENTIRE ISSUE
October 2020