BIG GUNS
SLASH AND GIBSON'S CESAR GUEIKIAN TALK US THROUGH THE COMPANY'S UNPRECEDENTED NEW SLASH COLLECTION OF SIGNATURE GUITARS, FEATURING LES PAULS IN APPETITE BURST, NOVEMBER BURST, VERMILLION BURST AND ANACONDA BURST — PLUS (FOR THE FIRST TIME EVER) TWO SLASH J-45 ACOUSTICS
WHEN GUITAR WORLD sits down to chat with Slash on a sunny California afternoon, the guitarist is holed up in a hotel room near the Anaheim Convention Center, where the NAMM Show — the massive music industry trade event that gathers upwards of 100,000 professionals and fans under one roof — is currently underway.
Note that the operative word in this sentence is "near." Because, as Slash points out, the last time he actually stepped foot inside the Convention Center during NAMM, the experience was, to put it mildly, "overwhelming."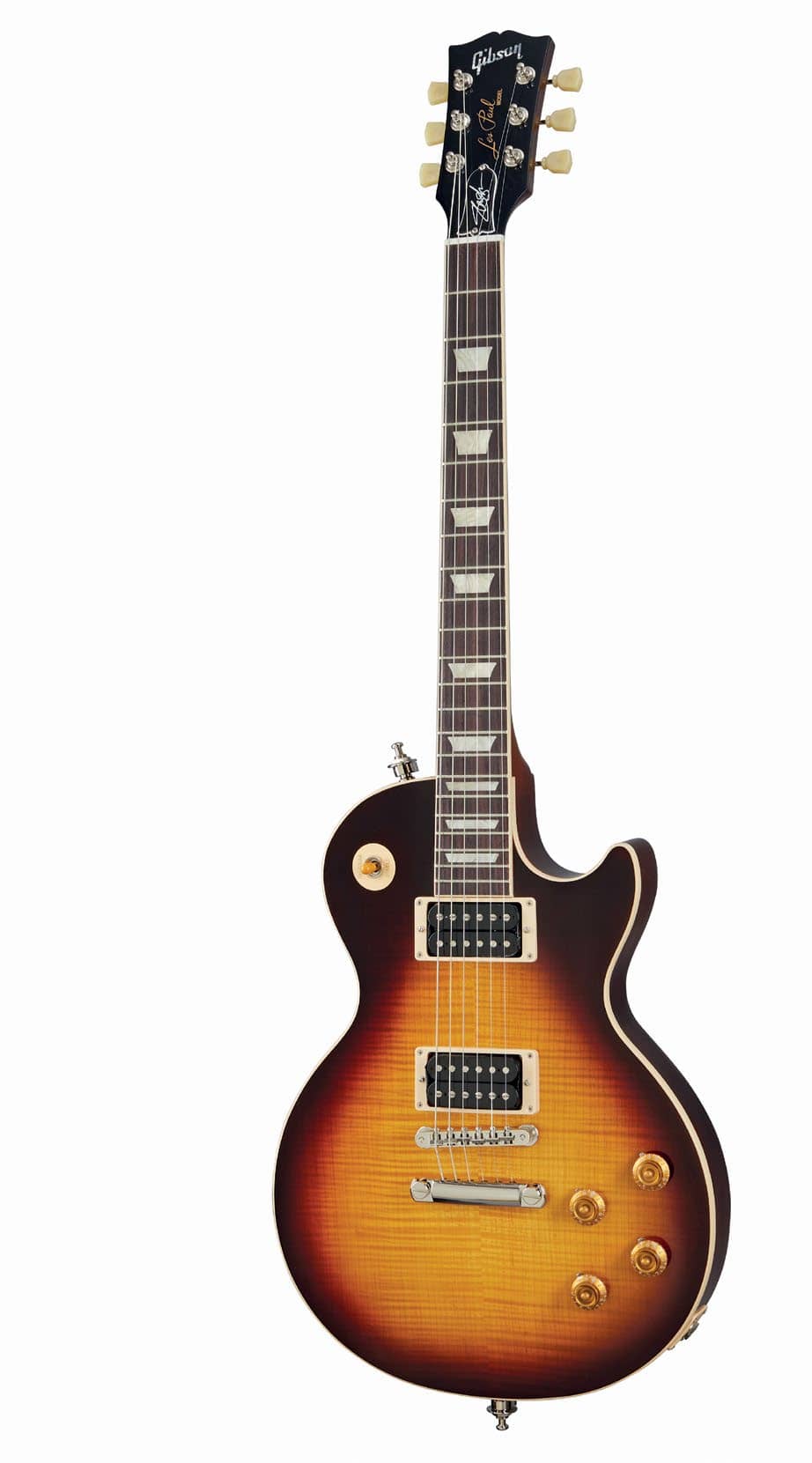 And how could it not be, given that Slash is — and this is hardly hyperbole — maybe the most iconic and instantly recognizable guitarist of the past 30 or more years? For him to walk that convention floor amongst tens of thousands of devoted players and fans would be to create an outright frenzy of near-riot proportions, which he seems to be humbly acknowledging.
But even while Slash himself does not make an appearance at this year's NAMM (although he does still headline a killer Gibson party later in the evening; see page 36), the guitarist — and, more to the point, his guitars — are still the talk of the show. The reason? The unveiling of Gibson's new Slash Collection.
It's worth recognizing here that, while a new Slash signature guitar from Gibson is always welcomed — and, given that they're generally offered in limited runs, also quickly snatched up — the Slash Collection is something entirely different for both artist and company. Because unlike other one-off collaborations with the man who, with Guns N' Roses, went a long way toward single-handedly putting the Les Paul back on the map for rock guitarists in the late Eighties, Gibson's Slash Collection encompasses a full line of instruments. What's more, it represents the first time Gibson has undertaken an endeavor of this sort with one of its signature artists.
Moreover, the Slash Collection consists of more than just the requisite Les Pauls. At launch, the range offers four new electrics — the Slash Les Paul Standard in November Burst and Appetite Burst, as well as limited-edition Anaconda Burst and Vermillion Burst — alongside two Slash J-45 Standard signature models (in November Burst and Vermillion Burst), which represent the guitarist's debut acoustic guitar collaboration with the company.
As for how the idea for the Slash Collection came about? "It started with a discussion between us and Slash about, 'Where do we go from here?,' " says Gibson Chief Merchant Officer Cesar Gueikian. "Slash has such a wide variety of instruments that he's played and that have become famous at different points in his career — across different albums and different tours, with Guns N' Roses or on his own or with the Conspirators. With that in mind, the concept became, How do we now create something that is representative of all those moments in music history that Slash has been at the forefront of developing? And the answer was, 'Let's not just work on one more guitar — let's work on a collection.' "
You can read up to 3 premium stories before you subscribe to Magzter GOLD
Log in, if you are already a subscriber
Get unlimited access to thousands of curated premium stories, newspapers and 5,000+ magazines
READ THE ENTIRE ISSUE
May 2020