100 Things every Guitarist Should Know
Lean back, get comfy and soak up 18 pages' worth of sound advice from GW's editors and columnists, not to mention Joe Satriani, Steve Vai, Misha Mansoor, Joe Bonamassa, Tom Morello, Mark Tremonti, John 5, Jim Root, Ben Harper, Eddie Van Halen and more.
TALENT. KNOWLEDGE. WISDOM. Everybody possesses these attributes in varying degrees, but let's face it — who couldn't use a little more? But is one good without the other? Think about it: You might be a preternaturally gifted guitar player. You pick up the instrument and gorgeous licks simply fly from your fingers. But what if you don't know the theory behind what you're playing? Would a little knowledge improve your musicianship?
Quite possibly.
We can turn that around, of course. What if you're not blessed with natural ability, but you're willing to put in the time to learn, to gain knowledge? Through careful study and diligent practice, could you then break through technical barriers and achieve a greater degree of competency on the guitar? In other words, can the pursuit of knowledge result in talent?
Again, quite possibly.
Lastly, what if you've dedicated yourself to the pursuit of excellence on the guitar — you've studied theory and have put in your 10,000 hours (this is the conclusion drawn by Herbert Simon and William Chase in which anybody who devotes 416.67 days can achieve expertise at anything) — but you lack the ability to make wise choices? Could a little wisdom further your chances at success?
We would say so.
While the list of "things every guitarist should know" could certainly fill a book, we've attempted, in the list below, to offer you a solid CliffsNotes version, one that runs the gamut from super-technical and geeky ("Learn the Indian pentatonic") to obvious stuff that isn't always so obvious ("Don't be a dick"). And we've incorporated choice bits of tips and suggestions from some of your favorite guitarists, none of whom would have graduated from their bedrooms to arena stages had they not figured out a thing or two.
So dive in and digest. Whatever your playing level might be, there are nuggets of gold for you to scoop up. But while you're absorbing this list, remember the sage words of Michelangelo: "The greater danger for most of us lies not in setting our aim too high and falling short; but in setting our aim too low, and achieving our mark."
1 PRACTICE SLOWLY
Everybody knows this, so it's a mystery why so few do it. Sure, practicing slowly can be a drag — you want what you want when you want it — but unless you're brilliant and lucky, immediate results aren't reality. Practicing slowly ensures consistency and accuracy. There's time to burn. You'll see.
2 GET YOUR GUITAR SET UP PROPERLY
"Properly" being the key adverb. A good set-up ensures a guitar's tone and playability. There are many factors to consider here — string gauge, truss rod, nut, pickup height, neck tilt, bridge saddles — all of which you can screw up unless you know what you're doing. Which you probably don't, so have a pro do it for you.
3 YOUR STRING GAUGE IS REALLY, REALLY IMPORTANT
How thick or thin your strings are can say a lot about you: Do you like to dig in hard, or do you prefer a light touch? Are you strictly rhythm, or are you a vibrato-drenched soloist? And, as it turns out, string gauge has a lot to do with your sound — thick strings are louder and have more sustain. Don't be afraid to play around with different gauges; you might find that some songs in your set sound better with looser, thinner strings, and some songs sound better with thick, tight strings.
4 YOU'RE NEVER TOO YOUNG TO START
If you're a parent and your young child expresses an interest in playing the guitar, the best thing you can do is let him or her have a go at it. Pick up an inexpensive (but playable) guitar, and let your child explore. Don't be pushy — too much pressure can overwhelm a child and kill enthusiasm. Learning (and playing) the guitar should be fun. When your child indicates a willingness to stick with it, it's time to consider formal lessons.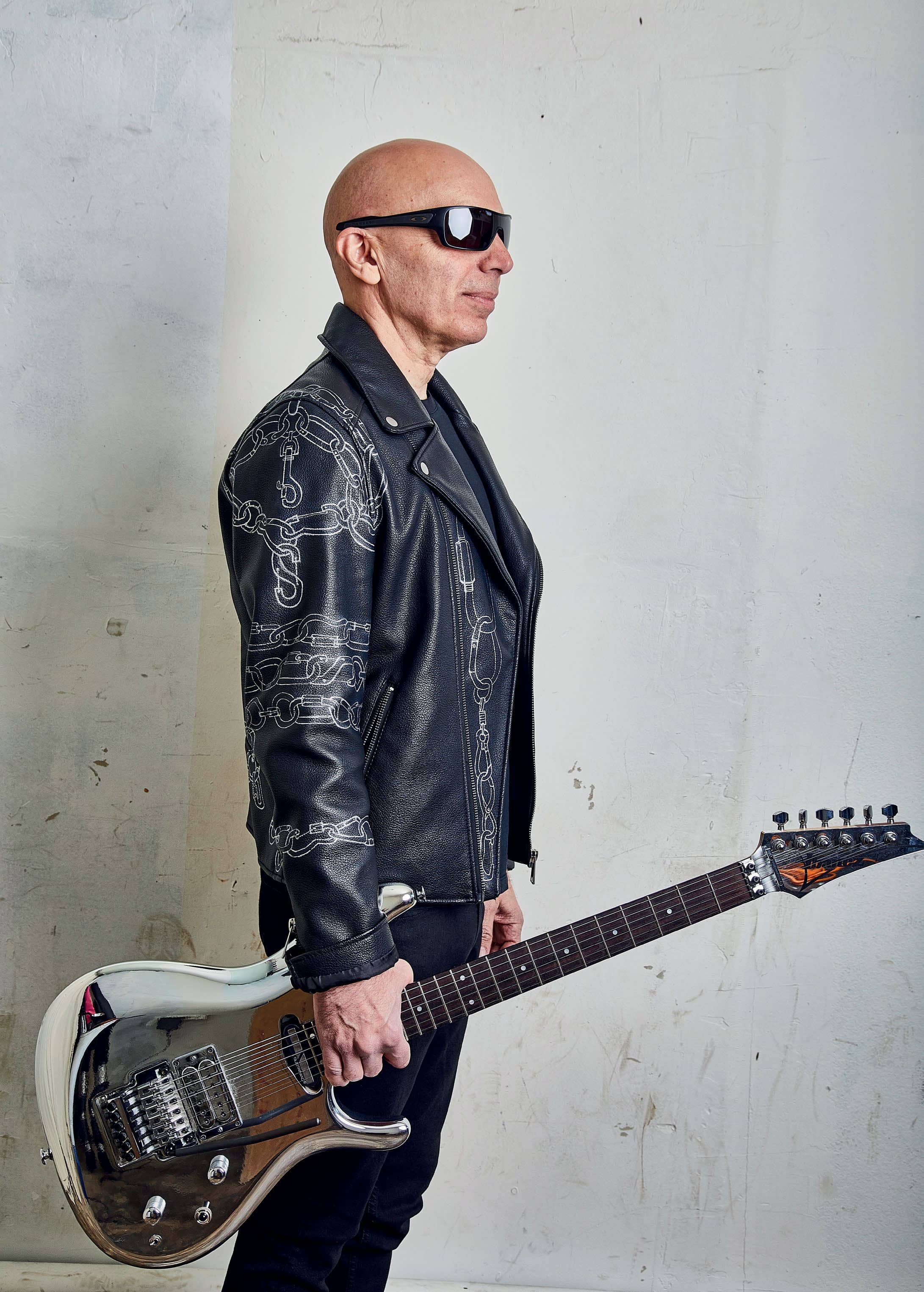 5 YOU'RE NEVER TOO OLD TO START
All that crap about "you can't teach an old dog new tricks" is just that. If you're in your 50s, 60s or 70s and you've long wanted to play guitar, there's absolutely no reason you can't go for it. Indeed, a retiree might be freed of typical adult responsibilities (raising kids, work, etc.), opening up big blocks of time for a hobby. And playing the guitar is a great panacea for the kind of boredom many seniors face. What's more, playing guitar keeps your mind and fingers active, so get going. Use it or lose it!
6 NOBODY WANTS YOUR GIRLFRIEND OR BOYFRIEND IN THE BAND
There are a few examples in which the addition of somebody's girlfriend or boyfriend — or husband or wife — has improved the overall quality of the band. But most times a meddlesome partner with limited musical ability can be a fractious and ruinous element ("You don't need them, honey. You're the band"). Unless you're certain that your partner is a star player or writer, keep musical and personal relationships separate.
7 JOE SATRIANI VISIT BIZARRO WORLD
"If you're headed into the studio or an audition, be prepared to play the opposite of what you think is right. Learn to entertain crazy suggestions from a band member, engineer or producer as opportunities to shine in a way you hadn't thought of before. Be prepared to go 'clean' instead of 'distorted,' or work that humbucker instead of the single-coil. 'Oh, you want me to play more notes instead of fewer? No problem!' Sometimes more is… more."
8 MATCH STRING ACTION WITH THE TASK AT HAND
"Higher action makes a bigger sound but brings with it some intonation and EQ issues that might have an impact on what you've got to play. Lower action dampens the sound a bit, but it often can alleviate certain intonation problems while it lightly pre-compresses your sound in a good way — especially if you're playing parts up and down the neck on all strings."
9 BE SENSITIVE TO GAIN
"Watch your gain issues and be sure to match them with the amount of dynamics a particular part may need. The more gain you have, the less overall dynamics you have to work with. Sometimes that's perfect, but other times you've got to dial the gain back to allow a part to breath — especially rhythm guitar. Try using a limiter and some reverb to 'extend' the perceived sustain of a part instead of just turning up the gain. You'll thank yourself when the mixing starts."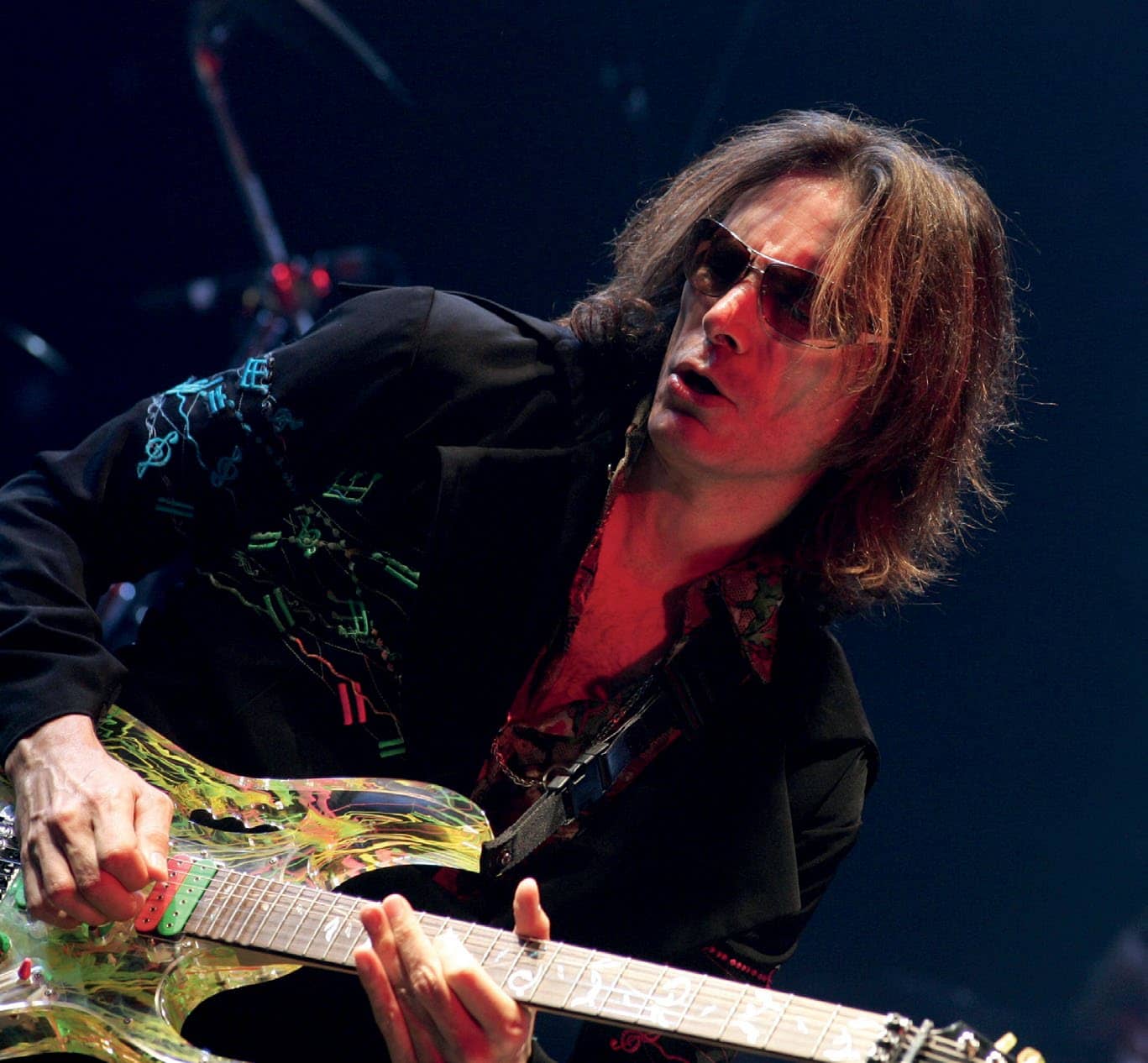 10 LEARN THE INDIAN PENTATONIC
This is also known as the Mixolydian pentatonic. This scale replaces the minor pentatonic's b3rd with a major 3rd. It has an exotic sound, especially when used over one-chord vamps. It can be useful for soloing over blues and rock sequences.
11 DON'T BE AFRAID TO MOVE ONSTAGE
No, you don't have to be Nils Lofgren (who used to work a trampoline into his act), but don't just stand there like a wallflower. You're a guitarist, but you're also a performer — so perform! Townshend, Van Halen, Prince — they felt the music and rocked the crowd. They put on a show. So can you. (You can always sit on a stool and do a guitar clinic on the side.)
STEVE VAI
12 IMPULSE IS OVERRATED
"When I record a solo, sometimes I just play one pass, on the fly, and see what happens. But what I usually do is play something a bunch of times. When I sit and work on something, I raise the bar: I'll sit and take one section, loop it, and play over it until something bizarre and interesting and quirky and lyrical comes out. It's like a meditation. If I just hit record, something will come out, and it could be inspired or it could be crap. But — again — when I sit and work it, I raise the bar."
13 IT TAKES TWO
"Collaborating is actually more intimate than most relationships. We all have relationships with our parents, children, friends, co-workers, siblings, lovers — but when you go into a relationship with another songwriter, it's different. When you collaborate to write music, the best thing you can do is to accept somebody for who they are and let them feel able to express themselves. And they will do the same thing for you. And that's how all the good shit starts to happen."
14 PLAY TOTAL CRAP FOR 10 MINUTES
Every day, sit down and let it fly. Don't think, don't edit yourself, don't dwell on perfection, and don't be self-conscious — just play whatever comes into your head. Even if it's total crap, just play. It's a good exercise that can help you "shake things off." And you might surprise yourself and come up with something cool.
15 THE GUITAR IS INFINITE
"If you can even conceive of the idea that everything that can be played on the guitar has already happened, then you're really missing the point of what the creative process is. The process of creation in any field is infinite. Nothing is gonna run out. That's like telling the universe that it's not infinite. It's like saying, 'Okay, this is the end of time and space...'"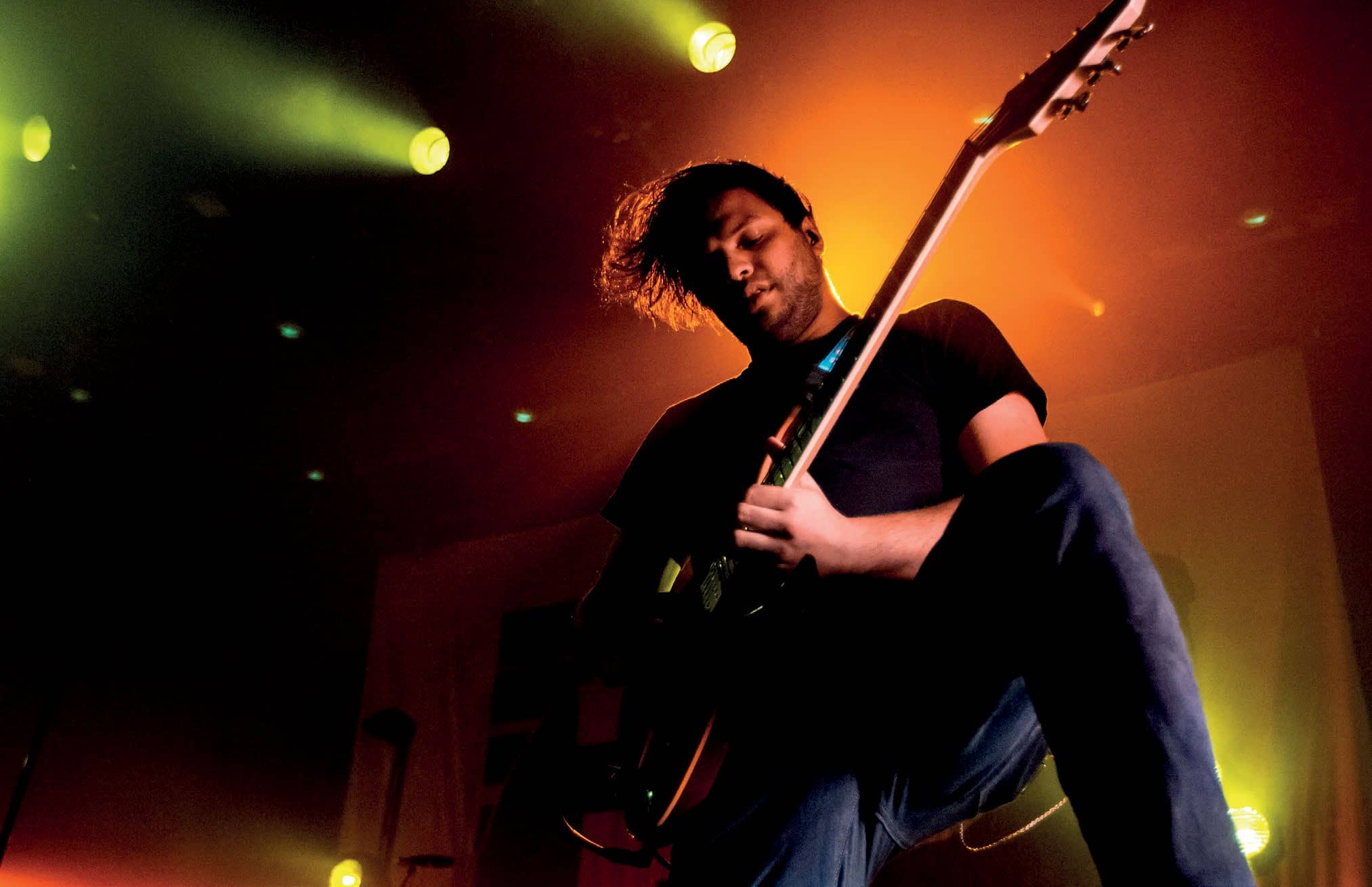 16 LEARN HOW TO STRETCH THOSE FINGERS… PROPERLY
As a guitarist, you'll want to have as much access to as many notes on the fretboard as possible. See how many notes you can hit easily, and then slowly — and we stress, slowly — try to go an extra note. Once you can hit that higher note, try another. But don't be in a rush: There is a limit to what any human hand can do.
17 TAKE BREAKS TO AVOID GETTING AN RSI (REPETITIVE STRESS INJURY)
Just as athletes can injure themselves if they don't train properly, guitarists can do damage — sometimes long-lasting — if they don't practice safely. One of the most common Repetitive Stress Injuries is Carpal Tunnel Syndrome, which affects the Median Nerve in your hand. You can reduce this risk by taking a break every few minutes. Play two songs and relax. Your hands will thank you.
18 MISHA MANSOOR ANALYZE YOURSELF
"People always say to practice to a metro nome. I would say that is not enough. Doing that doesn't give you the feedback of how well you're really doing. You might think you're really nailing it, but maybe you're not. My advice is to record yourself to a click and listen back. Analyzing yourself forces you to become a much tighter player. If you're serious about guitar and you want to be better in the studio, just record, record, record."
19 CREATE A DECENT PLACE… TO CREATE
If you have an hour or two to play, why waste it looking around for your music-making tools? Set up a decent spot to practice or write — keep it clean and neat — and make sure to have the basics: a music stand, a guitar stand, an amp and any other items you use on a regular basis (slide, capo and picks, of course). Also make sure your wifi signal is strong for whatever online device you use — laptop, tablet, phone, etc.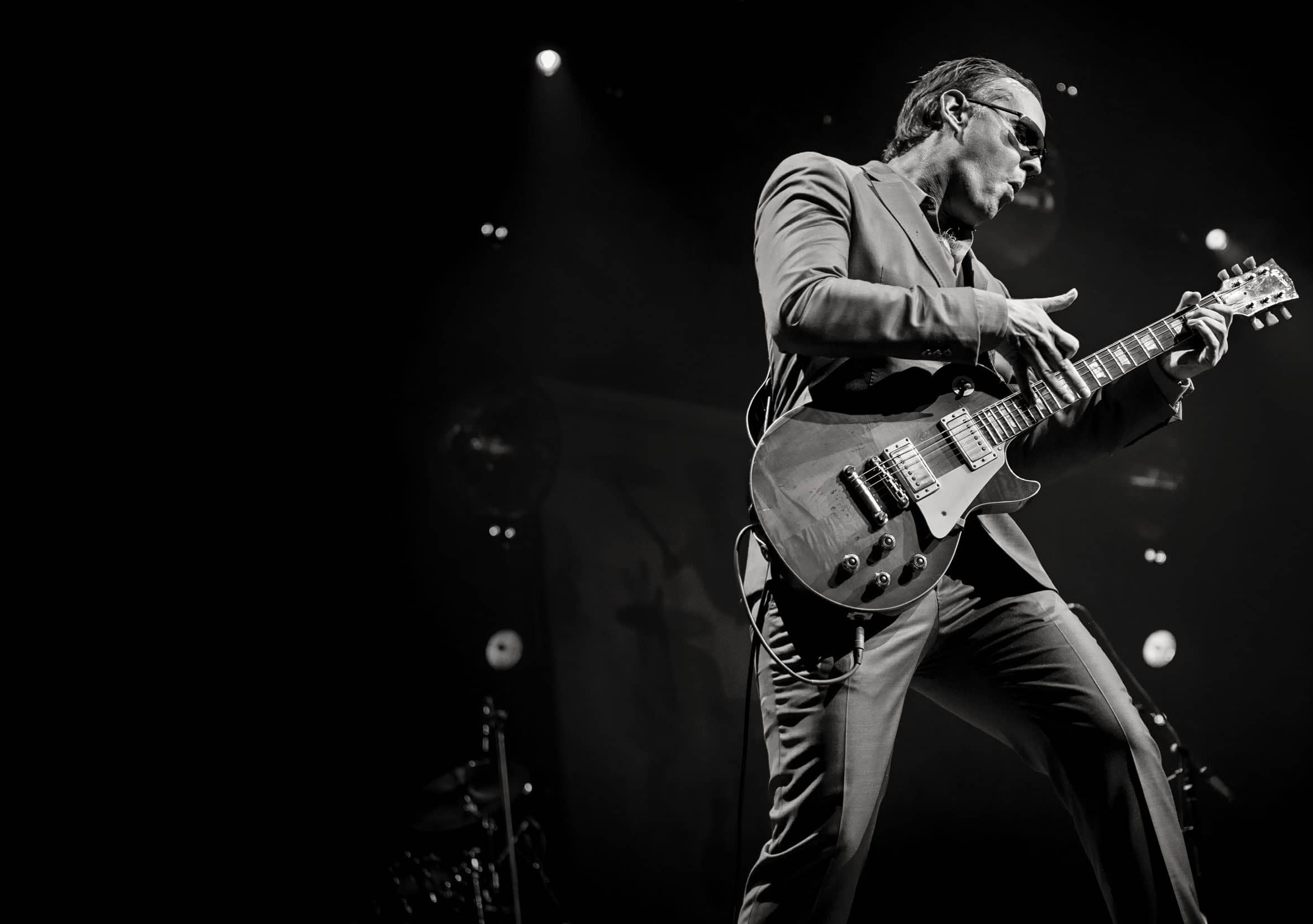 JOE BONAMASSA
20 LEARN HOW TO TUNE YOUR GUITAR
"I know this sounds academic, but there are some tricks to tuning your guitar properly. When tuning your guitar, play a bunch of chords you know to make sure they sound right. A lot of times the meter will say the guitar is in tune, but to my ear certain chords might sound a bit off. Once you do this homework, you'll start to see how valuable it is. You might have had experiences where you're playing live or in rehearsal and you're saying, 'Who's out of tune?' And the answer might be you."
21 PLUG STRAIGHT INTO THE AMP
"When you remove all the barriers between your guitar and the amp, you'll force yourself to make something happen. Find the sounds that are in the Les Paul or the Telecaster or whatever it is you're playing. Once you do that, you can augment your sound with pedals. Oftentimes guys start out with 50 pedals or plugins or whatever, and they never really discover the sound that their hands, a guitar and an amp can make."
22 BRING GEAR APPROPRIATE FOR THE SESSION
"If somebody called me to play with B.B. King, would I show up with two Jubilees, two Van Weeldens and two Dumbles? Or should I show up with a 335 and a Twin, which would really let me serve the music? Time and time again, you'll see some guy bring the wrong gear to a session. It might be right for his gig, but it's not right for the gig he's being called in for. This goes for anybody, whether you're a hobbyist or an aspiring guitar god: Make sure you're serving the music with what you bring — gear-wise, headspace-wise, the whole deal. If you sound out of place, you're not doing anybody any good."
23 LEARN WHAT THE PRESENCE KNOB DOES
Presence is for dialing in your tone for different environments. On traditional amps, the presence control is quite separate from the main EQ. It works in the power section, often controlling the negative feedback. As such, it's worth setting your bass/mid/treble how you like them, then tuning the presence to taste, depending on your environment. As the band gets louder, increasing the presence may really help with the cut and general audibility of your guitar.
24 LISTEN TO MUSIC YOU DON'T LIKE
We all have certain types of music that we just don't "get." You might be a rocker who thinks classical music is boring; or maybe you're a blues purist who can't stand metal. It's kind of like the way people feel about broccoli — yeah, you know it's good for you, but you know, it's broccoli. Get over it. Give other types of music a chance.
25 BE LIKE JAMES TAYLOR
Add new flavor to your songs by turning straight major chords into major 7ths, major 7ths into major 9ths, straight minors into minor 7ths, minor 7ths into minor 9ths, and so on.
26 KNOW WHEN TO PUT THE GUITAR DOWN
A dedicated practice routine is important, but when it becomes "too routine," you can get in a rut playing the same things over and over. Sometimes the best way to reboot yourself is to put the guitar down for a while — a day, a few days, maybe even a week. When should you pick it back up again? You'll know… Your heart will tell you. Chances are, you'll come back to the instrument with a new perspective. Does this conflict with Tom Morello's advice on page 49? Yep! You need to mix and match here, people, to find the path that works for you.
27 KNOW WHO YOU ARE
You can read up to 3 premium stories before you subscribe to Magzter GOLD
Log in, if you are already a subscriber
Get unlimited access to thousands of curated premium stories, newspapers and 5,000+ magazines
READ THE ENTIRE ISSUE
June 2020