Jimi Hendrix 10 things he gave us
Guitar Techniques
|
November 2020
Exactly 50 years since Hendrix's passing, John Wheatcroft shines a light on the guitar hero's guitar hero, with 23 top players adding their thoughts on why and how Jimi was so stunning!
Jimi Hendrix will go down in history as one of the most significant musicians of the 20th century. Even today, 50 years after his death, his influence is still profoundly felt. For many, he was the ultimate electric guitarist. Hendrix was a musical visionary, a virtuoso, and an incendiary live performer (literally), an accomplished songwriter, and a skilled wordsmith. He was perceived as a social and cultural icon, lauded by both music fans and by his not insubstantial peers.
Jimi's playing was bold, hip, at times brutal and at times sophisticated. Super creative, very, very loud, and incredibly exciting for any guitarist around at the time when Jimi exploded on the scene. And that included most of the members of the UK's rock elite such as Pete Townshend, Eric Clapton, Jeff Beck, and The Beatles. It's safe to say that once people had heard and seen him play then their perception of what the guitar was capable of was irrevocably altered.
Jimi's lead playing was explosive, bold, and beautiful, with his flamboyant style perfectly suited to the new sounds of the day. While guitarists had used these effects before, no one player had so completely assimilated these new sounds in such a compelling and cohesive package. Fuzz, wah, feedback, whammy bar dives, sirens and wails, reverse guitar, echo, stereo panning, and phasing. It's all there on the few studio albums he released in just a four-year flurry of creativity as a bandleader, before his tragic and wasteful death on 18th september 1970, aged just 27.
His groundbreaking rhythm playing saw him expertly mix Chicago blues with hard rock, funk with jazz, and even R&B was given the psychedelic once-over. It's perfectly clear that to Hendrix it was all just music, and any genre was fair game for Jimi's magical touch. Frequently blurring the distinction between lead and rhythm, Hendrix had the ability to connect chords, melody, and even bass parts together to create a huge sound that was both powerful and sophisticated in equal measure.
The following musical examples divide into three main sections. First, we have a collection of 10 short musical excerpts that typify a specific approach that Jimi might employ, ranging from 'exchange' and 'unison' bending techniques to the use of hammer-ons, wah-wah, and Uni-vibe effects. We're not forgetting rhythm guitar too, so you'll also find embellished chords, switching between bass and treble parts using the thumb to fret notes and Major slash chords. A pair of extended solos follow, the first based around a psychedelic pop groove, while the second features Jimi's playing in full-on blues mode.
So, although this is undoubtedly just the tip of the iceberg, in reality, and with no space or time restrictions, live Jimi would milk each idea for all it's worth, stretching a single concept or theme across a whole chorus, or even two, or return to a theme stated at the beginning of a solo several minutes later.
Thematic development, stamina, pacing, and building your solos without running out of ideas are all crucial skills to be developed in conjunction with all the other technical and theoretical stuff presented here. So make sure you supplement your playing with a dose of serious listening and analysis.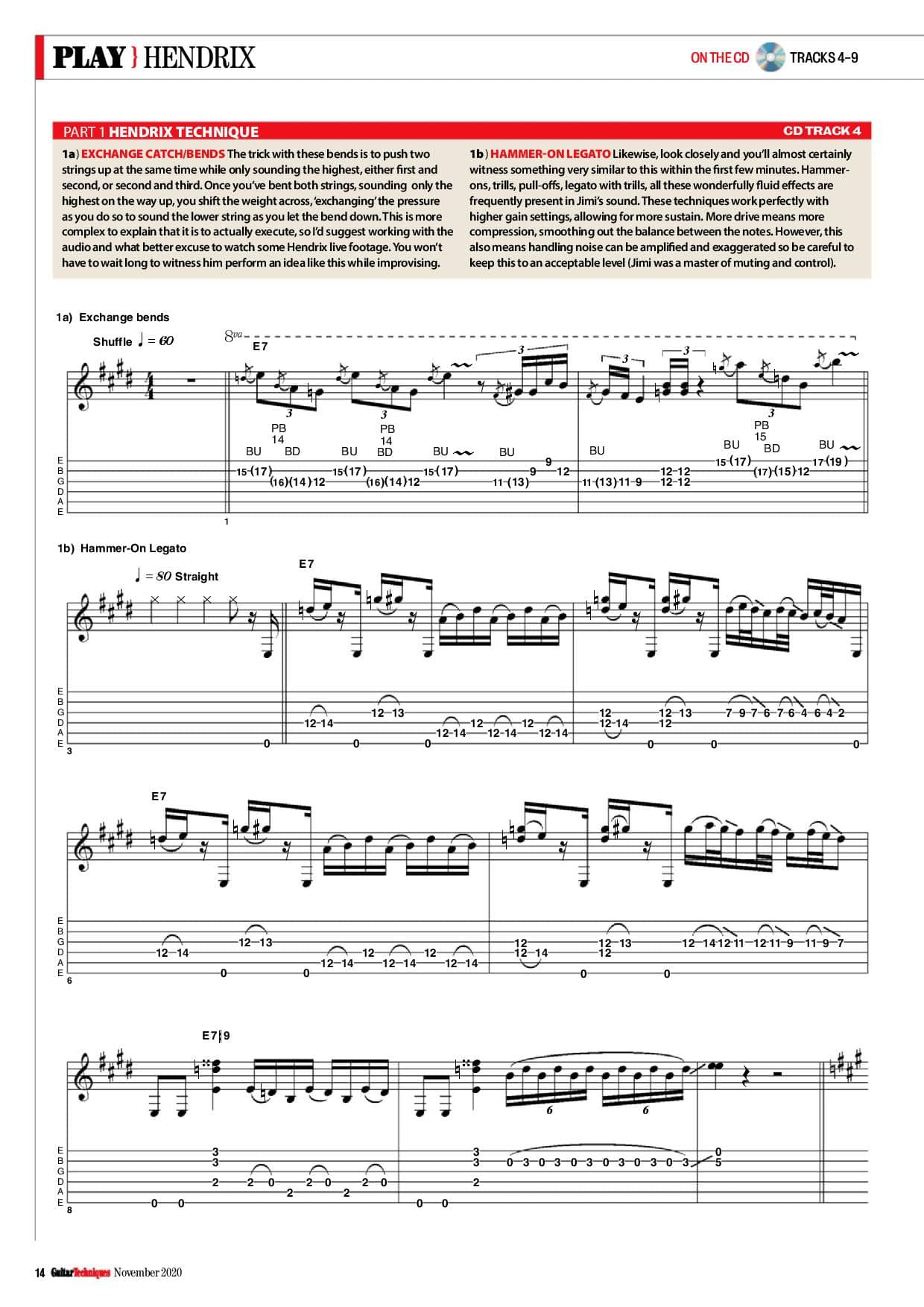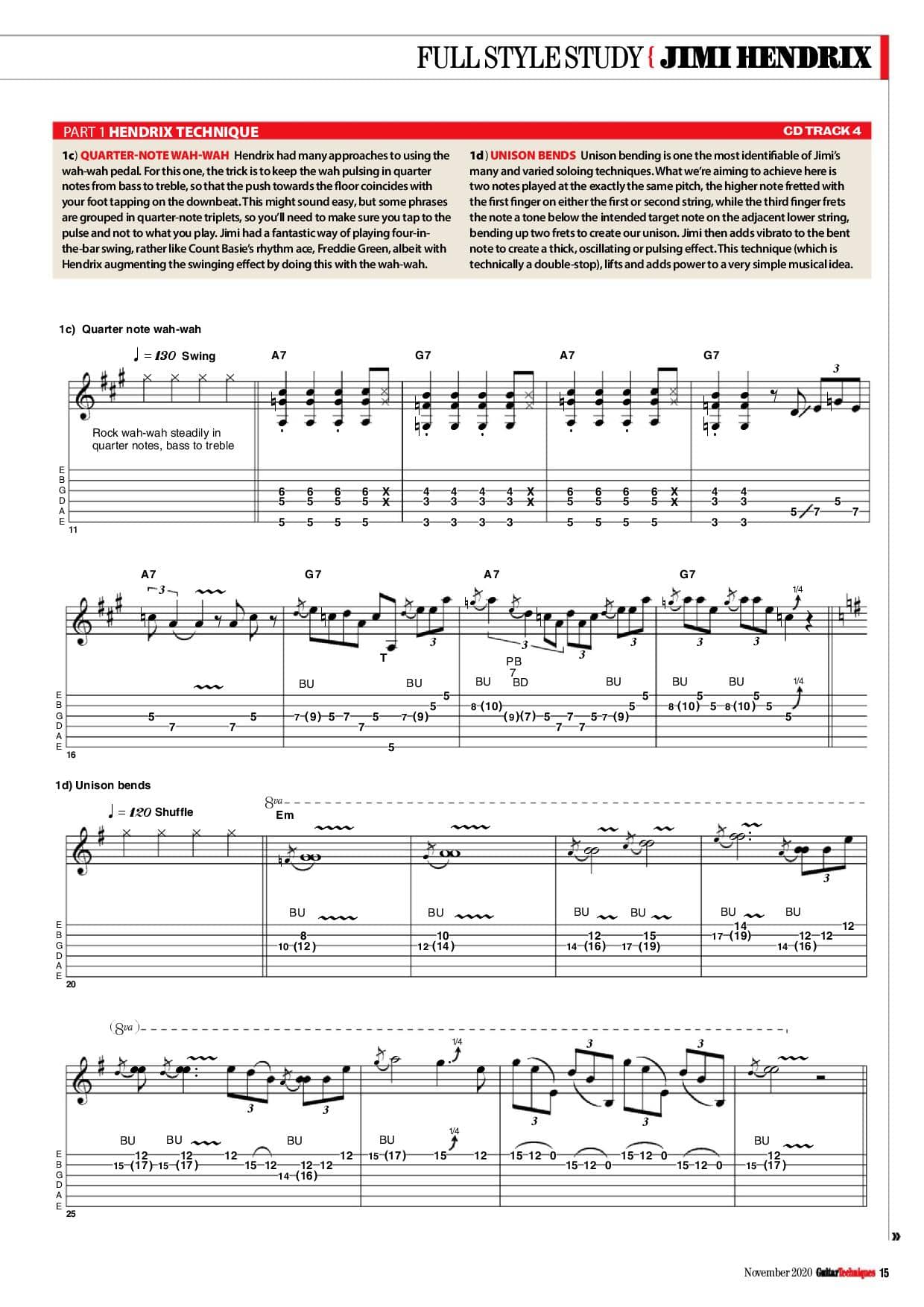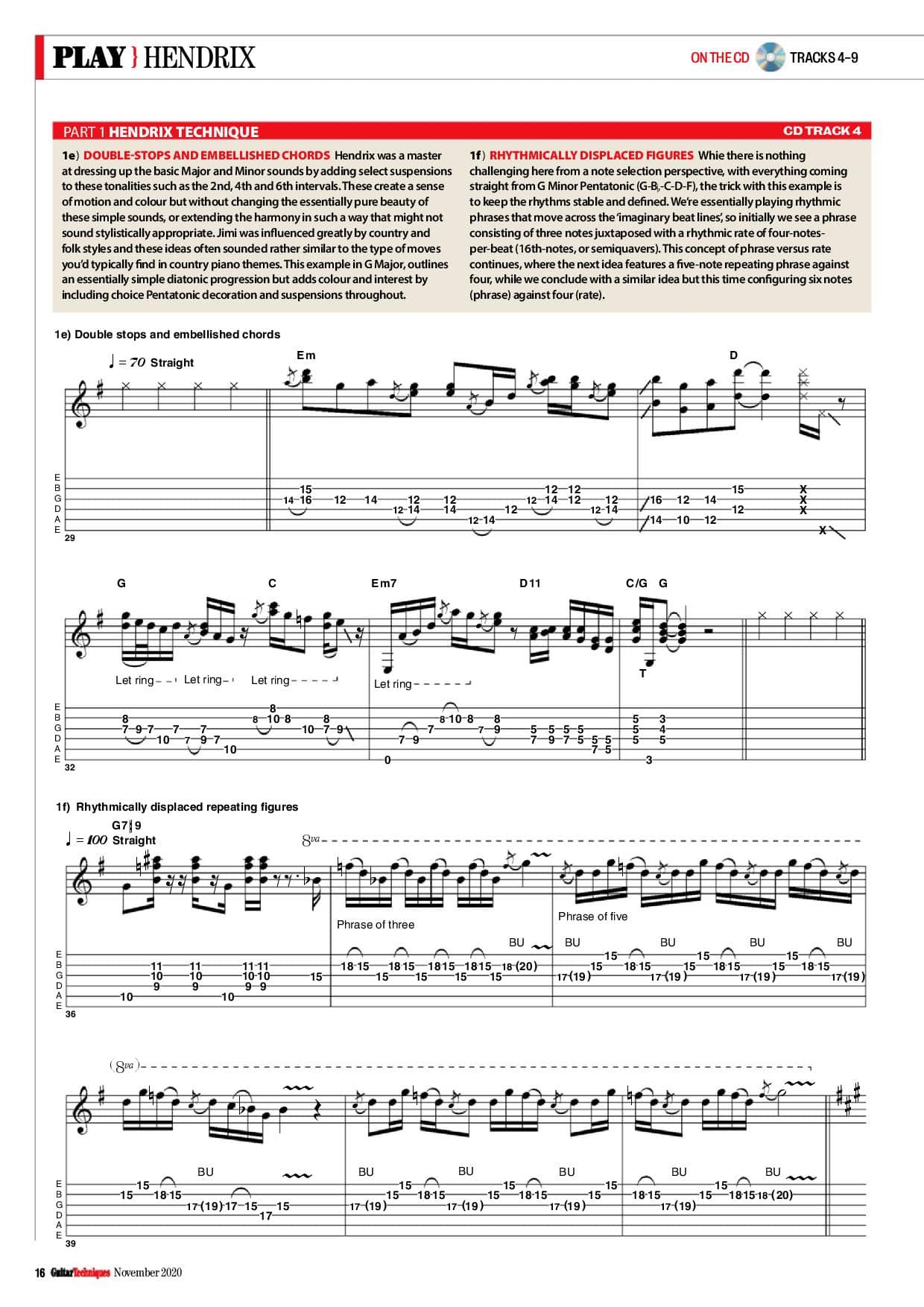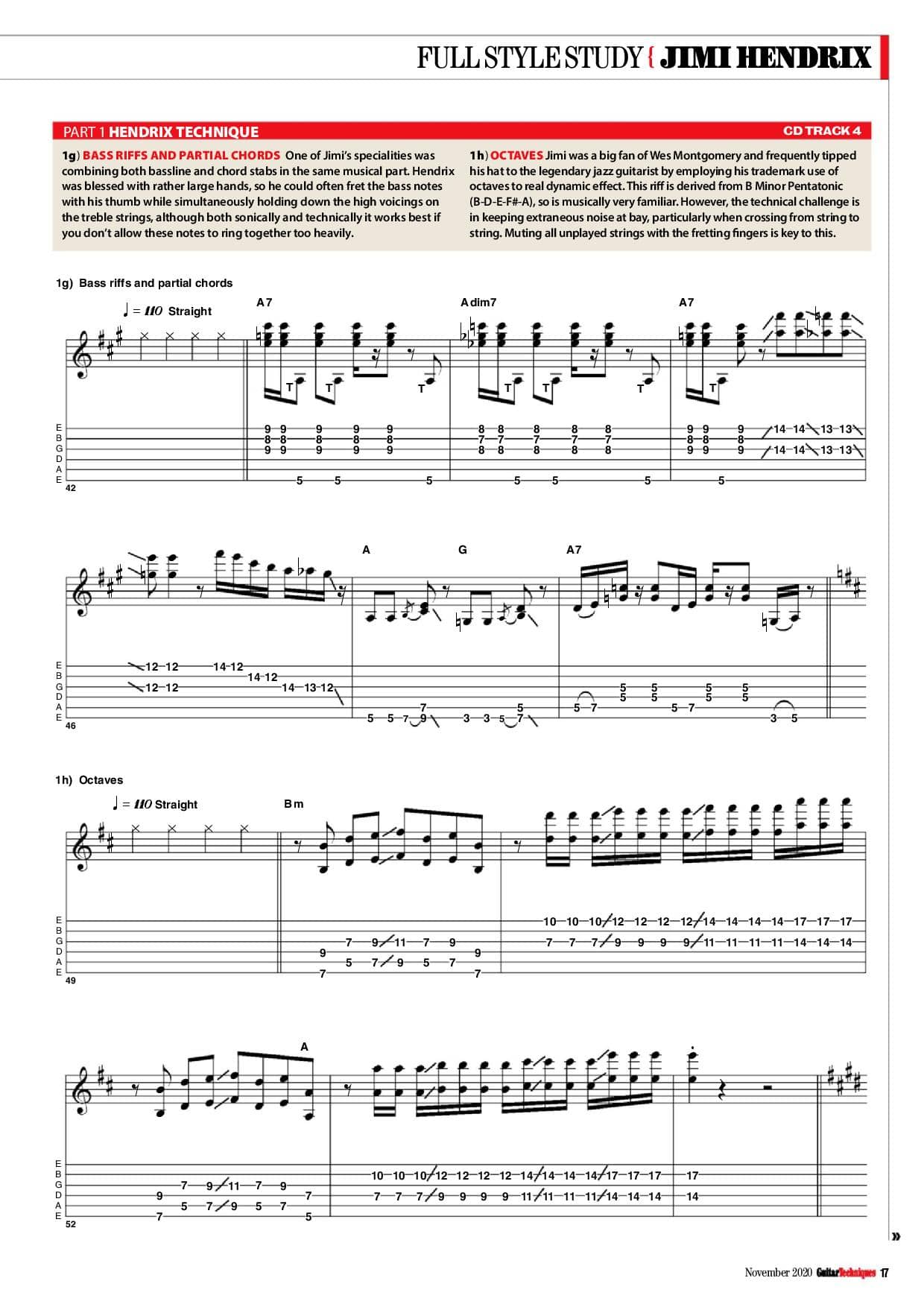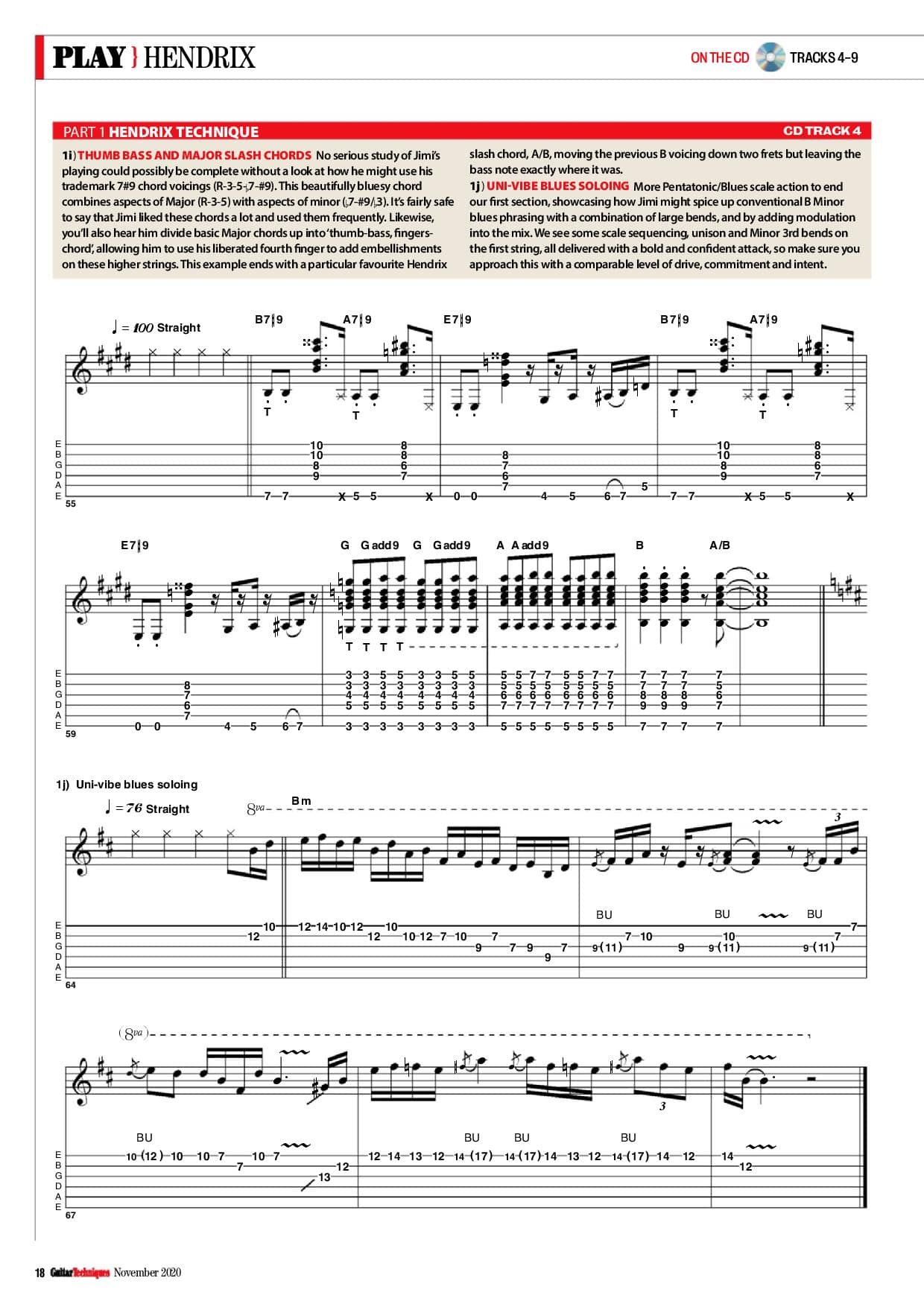 The Jimi Effect Pt 1
We asked an array of phenomenal guitarists three questions about the influence that Hendrix had on their own guitar development, on music in general, and on creative culture. Question 1:
What did Jimi Hendrix mean to you as a player?
JAN AKKERMAN
I think he was a great musician and showman, but I had very different influences like Django Reinhardt, Wes Montgomery or the first rock pioneers, and all different styles because I used to play the accordion when I was six years old. So in short, NO secondhand blues licks. So in the beginning I didn't pay too much attention. I did like Hey Joe and The Wind Cries Mary as compositions, but didn't think much of it until I hooked up with Joachim Kuhn, a monster keyboard player, and friend and totally into free jazz and a big fan of Hendrix. He emphasized the freedom of Jimi's playing, which I loved, also especially the albums Electric Ladyland and Axis: Bold As Love.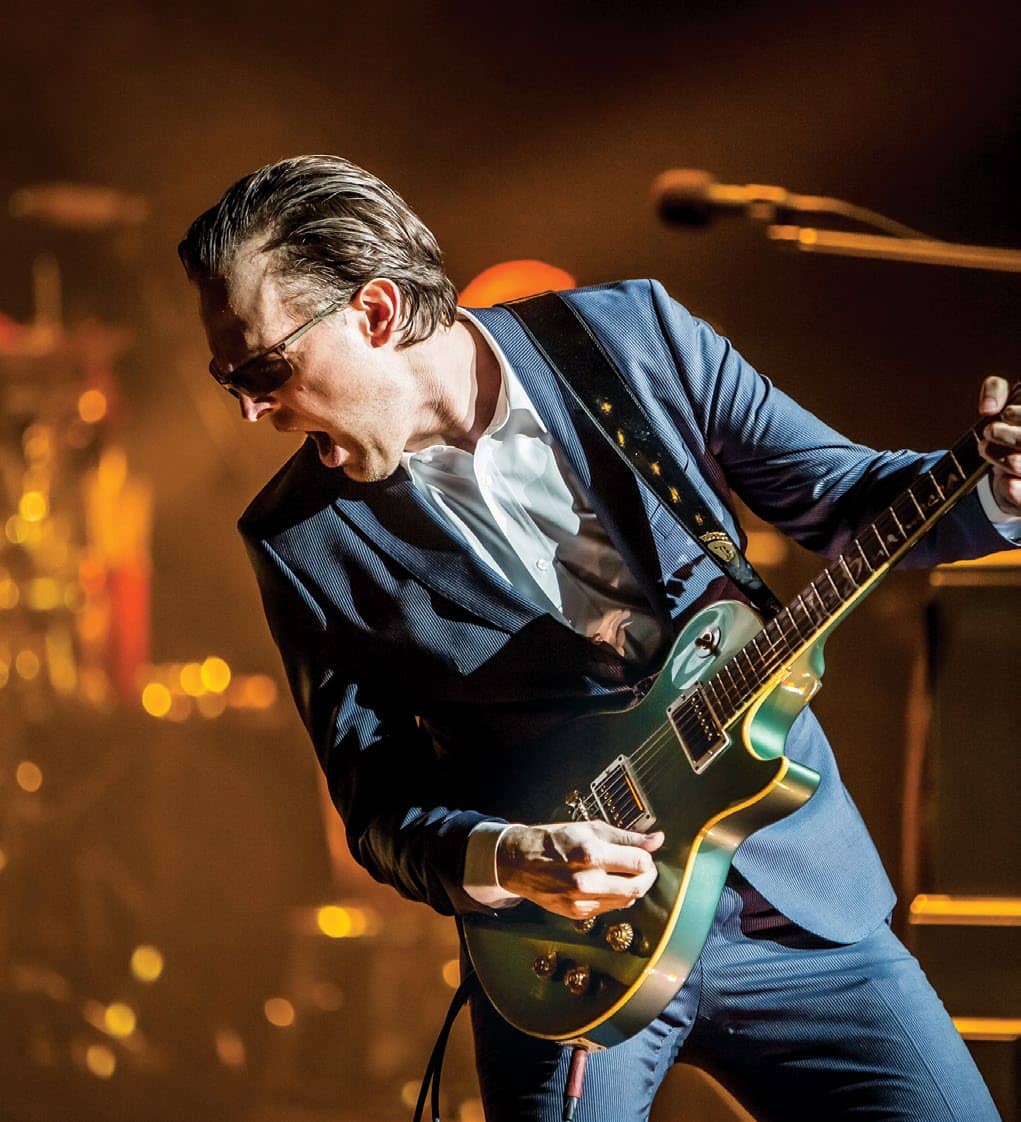 JOE BONAMASSA
Jimi Hendrix meant the world to generations. He was the total package. Player, showman, and writer. As innovative and revolutionary as his playing was it's the songs that stand the test of time. Great guitar playing needs a vehicle for it to do that. Jimi has great songs… period.
JENNIFER BATTEN
He represented a movement in the electric guitar of breaking the boundaries of what had gone before and challenging expectations in the role of the guitarist in a band. With his presence, the guitar's potential became adventurous, dangerous, exciting, and wild.
KIRK FLETCHER
Jimi Hendrix has meant many things. When I was a kid I saw Hendrix as an amazing guitarist both in and out of the studio. A sonic genius way ahead of his time. His command of sound with this deep understanding of soul. As I grew older I started thinking about how he came up with his guitar parts and his lyrics, and also studio techniques. And then for myself becoming a songwriter, it made me view his work in another light. When I listen to Are You Experienced the man could write a song three minutes long, like Purple Haze or The Wind Cries Mary, and it's still played somewhere on the radio to this day. Imaginative storytelling lyrics with the most beautiful melodic guitar in a three-minute pop song? I mean, wow!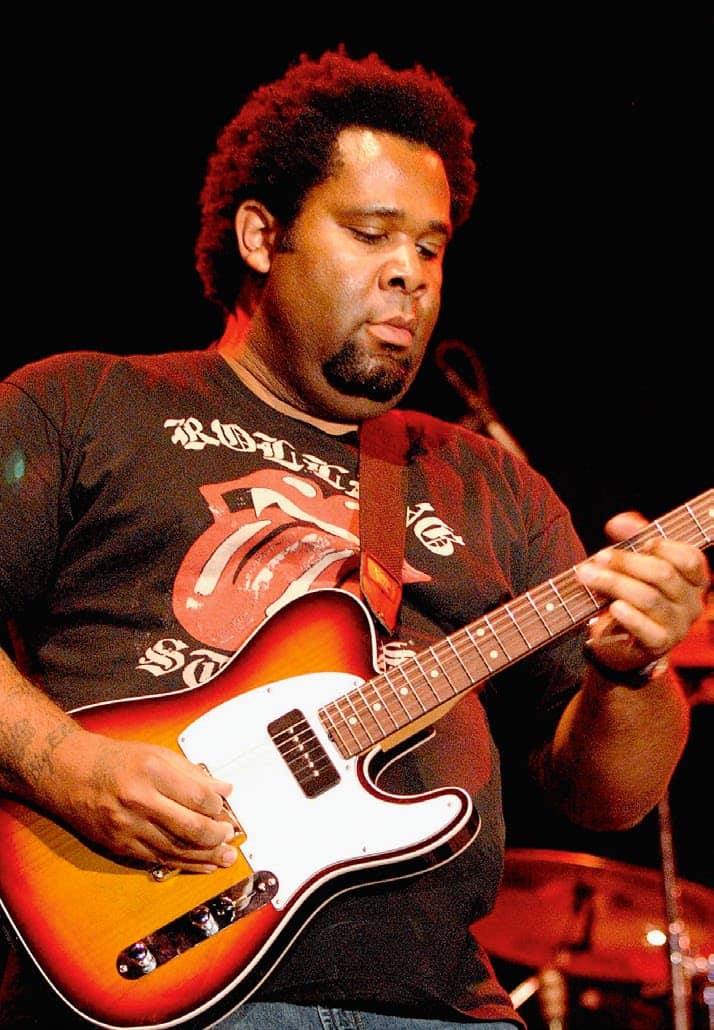 MARTY FRIEDMAN
When I was a kid, I was a massive fan of Uli Roth, Frank Marino, and Robin Trower. I loved their playing and learned so much of it, inside and out. I was told that those guys were heavily influenced by Hendrix, so I checked him out. I understood the connection, but Hendrix just sounded very weak and undeveloped compared to those guys. Kind of like being used to an iPhone 11 and then someone tells you that if it weren't for the iPhone 1, there would be no iPhone 11. This is true, and very important. But I'd still rather use an iPhone 11, figuratively speaking, especially as a teenager discovering music. I wasn't there in the 60s when he did the things that inspired literally all of my guitar heroes. So I just never 'got' it. I was never into hippie, psychedelic, druggy mind-altering motifs in music so there was just never anything about him that attracted me to his music. How I filtered these same elements out of Trower's and Marino's music is anyone's guess. Had I been around when Hendrix came out I might have felt different. So even though I certainly know, respect, and admire his monumental influence on music and great musicians, his music never connected to me personally. Recently I was on a long flight and listened to a huge collection of Hendrix to try to find something that I could get excited about. Believe it or not, I still couldn't hear what everyone else is hearing. Maybe I'm missing something. People have this magical unconditional love for the guy, which is fantastic, but they never seem to point me towards some great piece of music that I need to hear from him. I'm always open to suggestions. I feel like it's in the 'you had to be there' category.
ERIC GALES
What Jimi meant to me is hard to sum up. But what I can say is that he brought to the world things that had never been explored in music, period, and also the guitar. He was a major influence on every guitarist in the world that came after him and even during him. That was a domino effect that added to a lot of others' styles, which led to them carrying on the inspiration and influence.
BRETT GARSED
My older brother had the Isle Of Wight album and also the Woodstock soundtrack which I was listening to before I even attempted to play the guitar. So Jimi was feeding the urge to give it a go. I went on to learn the version of All Along The Watchtower from the live album note for note and was astonished when I heard the studio version with all the overdubs. The live version sounded massive to me and it was incredible to think it was just three musicians creating that wall of sound.
PAUL GILBERT
Jimi's rock songs grabbed me first. I liked Foxy Lady, Purple Haze, Spanish Castle Magic, and Crosstown Traffic. My uncle Jimi (who changed the spelling of his name to match Hendrix), recommended an album called War Heroes. I bought that and listened to an instrumental called Midnight a lot. My parents also had a live record from the Monterey Pop Festival. One side was Otis Redding. The other side was Jimi. So I heard Jimi's live versions of Like A Rolling Stone, Rock Me Baby, and Wild Thing. When I was around 12, my mom took me to a midnight movie showing the Jimi Hendrix documentary. The clip of Jimi playing Rock Me Baby at Monterey was one of those breakthrough moments when I suddenly 'got it'. As time went on, I started to love Jimi's rhythm playing with a cleaner sound as well. Wait Until Tomorrow, Castles Made Of Sand, and the intro of Bold As Love are all so beautiful. Now that I'm older, I love to listen to Jimi as an improviser. He was fearless, soulful, melodic, angry, gentle, and seemed to be singing through the guitar. Sure, there were some noises and 'wrong' notes. But when you blast a hole in the side of a mountain, some boulders are gonna fall. And he was 'chopping it down with the edge of his hand'.
DAVID GRISSOM
I was in junior high deep into The Stones and Beatles when I got Hendrix In The West. It was like finding the Holy Grail. I immediately got a wah-wah and obsessed on the live version of Voodoo Chile until I got close to copping some of it. I dreamed of having a Stratocaster and dug into the studio albums. Just as important to me was being inspired to discover Jimi's influences. I was lucky to take lessons from a guy who turned me onto the three Kings and helped me connect the dots to Jimi.
STEVE HACKETT
Initially, I thought he came across rare animal power, but when you look more closely, his lyrics are full of poetry. Sometimes the words are very dark with lots of references to imminent death and allusions to the next world. He played like a reanimated zombie, with a haunting otherworldly aspect. His showmanship seemed to come naturally to him. No-one ever moved as gracefully with the guitar in hand, as if he possessed this extra electric limb. I feel it was his fluidity as well as his innovation and risk-taking that impressed and influenced me. His playing was heady stuff for me as an aspiring teenage rocker.
ALLEN HINDS
I remember my older brothers and sisters buying Are You Experienced? First thing was, "holy crap, this is the coolest guy I've ever seen", so the nostalgia factor is high. He could play really well and I fell in love with the songs. Even though I loved The Beatles, he was the first 'guitarist' I wanted to emulate.
GREG KOCH
Jimi was and is my main inspiration. He was a true innovator as a guitarist, songwriter, performer and purveyor of sonic mayhem. My chordal approach as well as blues playing is heavily influenced by Jimi's.
MICHAEL LANDAU
I first heard the song Purple Haze when I was eight years old. We were driving around in my mother's car and when it came on the radio it scared me to death. But after I heard the song a few times, it started to have a calming effect on me and I couldn't get enough of it. His music and his guitar playing demonstrated all of the different sides of human emotion in such a beautiful way. His influence has always been enormous.
RONNI LE TEKRO
I started playing the electric guitar in 1976, just a few years after Jimi passed away. At the time 1970 seemed like 100 years ago, being 13 myself. My uncle gave me The Wind Cries Mary. It was a revelation. I loved his voice, playing, and image from day one. Later, when I was able to hear more material I instantly understood that Jimi was one of a kind. His ability to push the guitar into new landscapes stunned me and has been a big inspiration. Especially his extensive and abusive use of the vib-bar as well as implementing large doses of feedback.
You can read up to 3 premium stories before you subscribe to Magzter GOLD
Log in, if you are already a subscriber
Get unlimited access to thousands of curated premium stories, newspapers and 5,000+ magazines
READ THE ENTIRE ISSUE
November 2020