The Conjurer
Guitar Player|December 2019
COAXING NEW SOUNDS FROM OLD EFFECTS, ROBBIE ROBERTSON RAISES THE GHOSTS OF HIS YOUTH ON SINEMATIC.
"IT'S THRILLING, AFTER all of this time, to be both making new noises and rediscovering things I found stimulating at a very early age," Robbie Robertson says. That sentence could conceivably sum up the legendary, songwriter/guitarist's artistic career. Before the world had discovered Jimi Hendrix and Eric Clapton, John Hammond's 1965 album, So Many Roads, helped introduce many blues fans to the full glory of the electric guitar. As wielded on that record by Jamie "Robbie" Robertson, the Fender Telecaster became a slashing, piercing sword, eliciting our first thoughts of "What is that, and how do I do it?" Rife with energy and an almost punk attitude, it was an amalgam of twang and deep R&B roots unlike anything we had heard before — the bite of Muddy Waters' slide interpreted through the fingers of a 22-year-old white boy who had been playing chicken-wire bars from Toronto to Arkansas for six years.
The history has become legend. For the uninitiated, it's recounted in Robertson's autobiography, Testimony. He joined Ronnie Hawkins' group, the Hawks, at 16. In 1964, the Hawks went on their own and eventually backed the newly electrified Bob Dylan. The group then left Dylan and went from being a band to the Band, before breaking up and marking their dissolution with an iconic all-star 1976 concert, immortalized in Martin Scorsese's 1978 film The Last Waltz. The book leaves off there, but Robertson went on to score music for a number of movies, act in a couple, and make five solo records, including his latest, Sinematic (Universal). Like his memoir, Sinematic draws from his past. "Dead End Kids" recalls his teen years in Toronto, while in "The Shadow" he evokes a crimefighting radio show hero from his youth. And in "Once Were Brothers," the guitarist celebrates his time with the Band and mourns its members who have passed on.
For Robertson, the past is never very far away. At a very early age, he found stimulation in the music of Chuck Berry. A recent acquisition is a custom shop version of the Gibson ES-350 that Berry played, ordered for Robertson by his son Sebastian as a birthday present. "The sound of his guitar on those early records was never matched by the ones that he used later," Robertson says. "He went to a 335 [or an ES-355], which is easier on the hands and more comfortable to play. But the sound of this 350 with the original-gauge guitar strings was something. I couldn't wait to plug it in to see if it still had that sound, and it's exactly the same thing."
Back then, of course, guitar strings came in only one gauge — fairly heavy, and with a wound G — but players seeking to play blues and country bends soon discovered workarounds involving the use of banjo strings to create a light-gauge set. Legend has it that the method was invented by James Burton, while playing the Louisiana Hayride television show. Fred Carter, who also played on the program, may have learned it from him, and he hipped Robertson to the trick when they shared guitar duties with Ronnie Hawkins. Robertson reveals that there were two approaches to the system. "Sometimes they would use banjo strings for just the first and second strings. That way the rhythm wasn't thinner when you were playing on the low strings," he explains. "And sometimes you moved them all down" — by which he means some players would use unwound banjo strings for the highest three strings and then shift the guitar strings such that the wound G became the D, the D became the A, and so on. These days, he says his favorite strings are D'Addario, with the gauge adjusted for the instrument.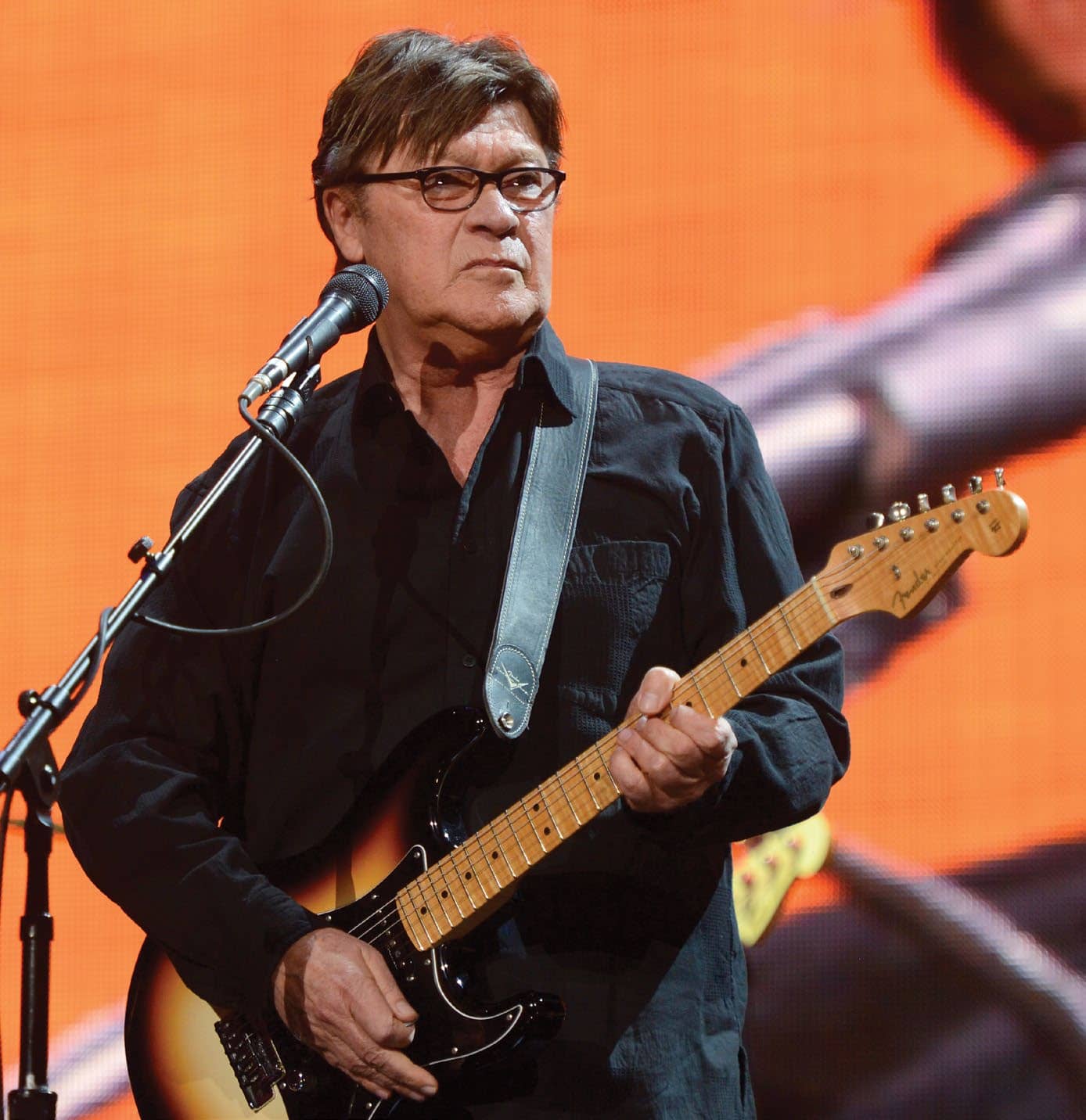 You can read up to 3 premium stories before you subscribe to Magzter GOLD
Log in, if you are already a subscriber
Get unlimited access to thousands of curated premium stories and 5,000+ magazines
READ THE ENTIRE ISSUE
December 2019