ROCKET SCIENCE
Guitar Player|June 2020
GIBSON'S FUTURISTIC FLYING V WAS ON A DOWNWARD TRAJECTORY UNTIL A FEW INVENTIVE GUITARISTS PROPELLED IT TO ASTRONOMICAL SUCCESS — AND VALUE. WE EXAMINE A HIGHLY DESIRABLE 1969 EXAMPLE.
WHEN THE FLYING V's original patent appeared in 1957 alongside the Futura/Explorer and Moderne, it might have been argued that Ted McCarty's heady 1950s sci-fi-style brainstorming sessions in the Gibson boardroom were a little too far out in the modernist field. As it turned out, these guitars were way ahead of their time and took many years to catch on. The Flying V stuttered, stalled and got off to a few false starts before it really began to fly. Fender's Stratocaster and Telecaster models consistently captured the guitar-buying public's imagination by embodying the modernist design principle that "form follows function." But for the Flying V, function appeared to follow its form, as it eventually took off and found its wings as an archetypal hard-rock statement.
"It's very much a rock guitar," says Mike Long, proprietor of ATB Guitars (atbguitars.com) in Cheltenham, England, where the 1969 Flying V shown here was taking up temporary residence. "And that's probably dictated by its shape as much as anything else. It evokes a certain kind of playing style. You can't exactly sit down and play folk music on it. You're more likely to strap it on, stand up and rock out with it. The pickups are very raunchy-sounding mid-'60s humbuckers with lots of bite and sustain. You won't see many of these being played through clean Fender amps, but they really come into their own through something like a Marshall stack."
Although synonymous with Gibson, the Flying V immediately feels different when compared with other classic rock guitars. "They feel nothing like a Les Paul," Long says. "When people pick up a double-humbucker solid-body, they often expect it to be a bit on the hefty side, but one of the first things you notice when you pick up a Flying V is how light it is. This one-piece Honduran mahogany body is incredibly light, but it's a really powerful instrument. They're very easy to use and play for a long time. This one has brilliant action up and down the fingerboard, and you can easily access the upper frets. It's a joy to play."
This particular Flying V has a one-off factory original black-painted headstock face. The tuners are nickel-plated Kluson Deluxe units. Later Flying Vs from this batch had Gibson-branded tuners.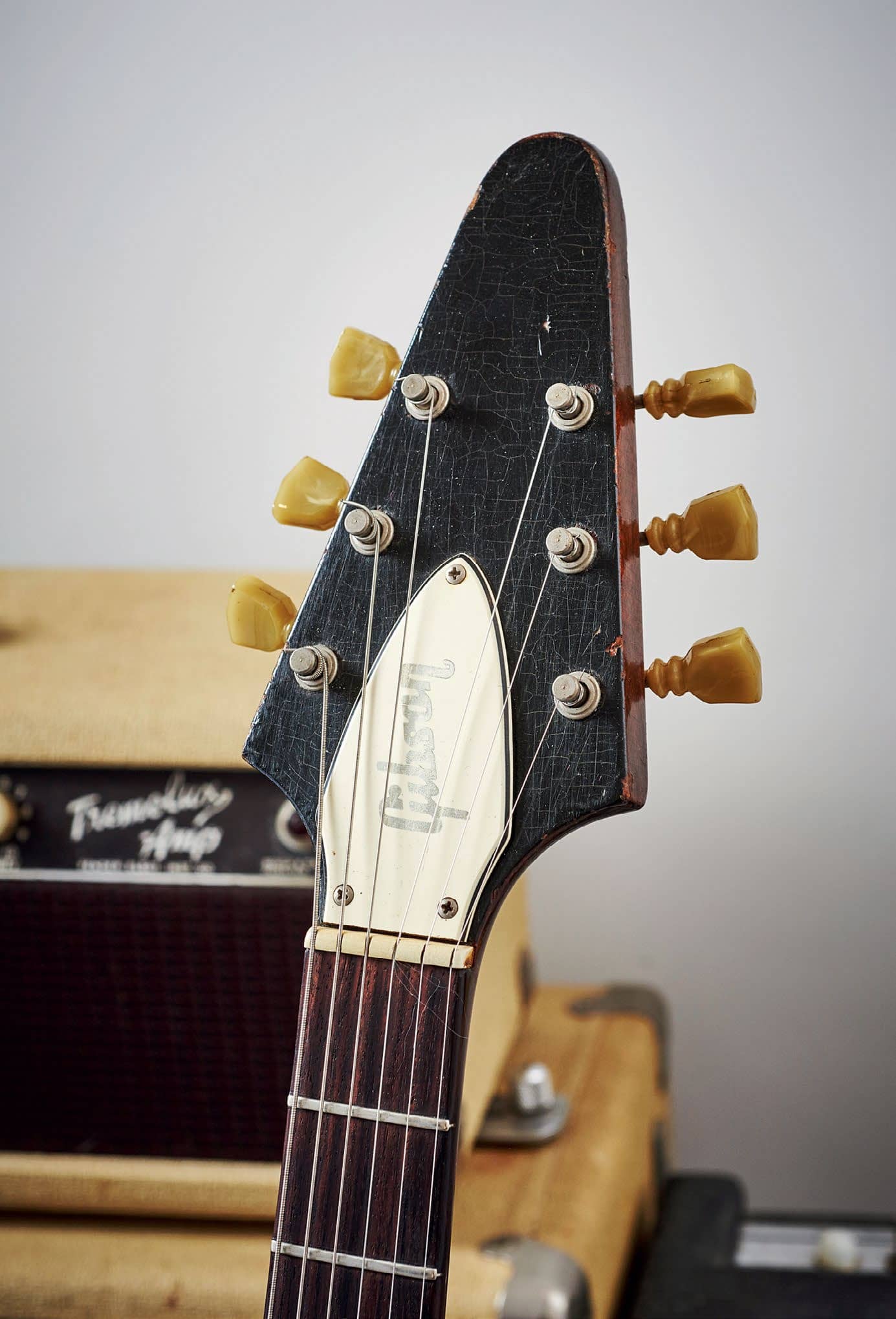 The Flying V's joys were not always immediately obvious, however. "It was a very unpopular guitar for Gibson," Long explains. "They made about 100 of the original gold-plated hardware korina [African limba wood] Flying Vs between 1958 and 1959, and they're extremely rare and desirable these days. After only a handful of Flying Vs with nickel-plated hardware came out around 1962 to '63, they were reintroduced in the late 1960s with chrome-plated hardware, but they didn't sell very well either. It was a bit of a disaster, really. It wasn't until a few key players cottoned to them in the '70s that they started to gain favor. They were reintroduced a couple more times before Gibson brought out various reissues, and they steadily grew in popularity."
As the Flying V's stature grew, so did the demand for rare, original examples from the earlier periods of production. Today, the prices of original 1950s Flying Vs reach well into the six-figure range, while this 1969 Flying V sold for about $39,000 in 2018.
The majority of late-'60s Flying V pickups are pre-T-Top patent-number sticker humbuckers, although the occasional PAF has been known to show up.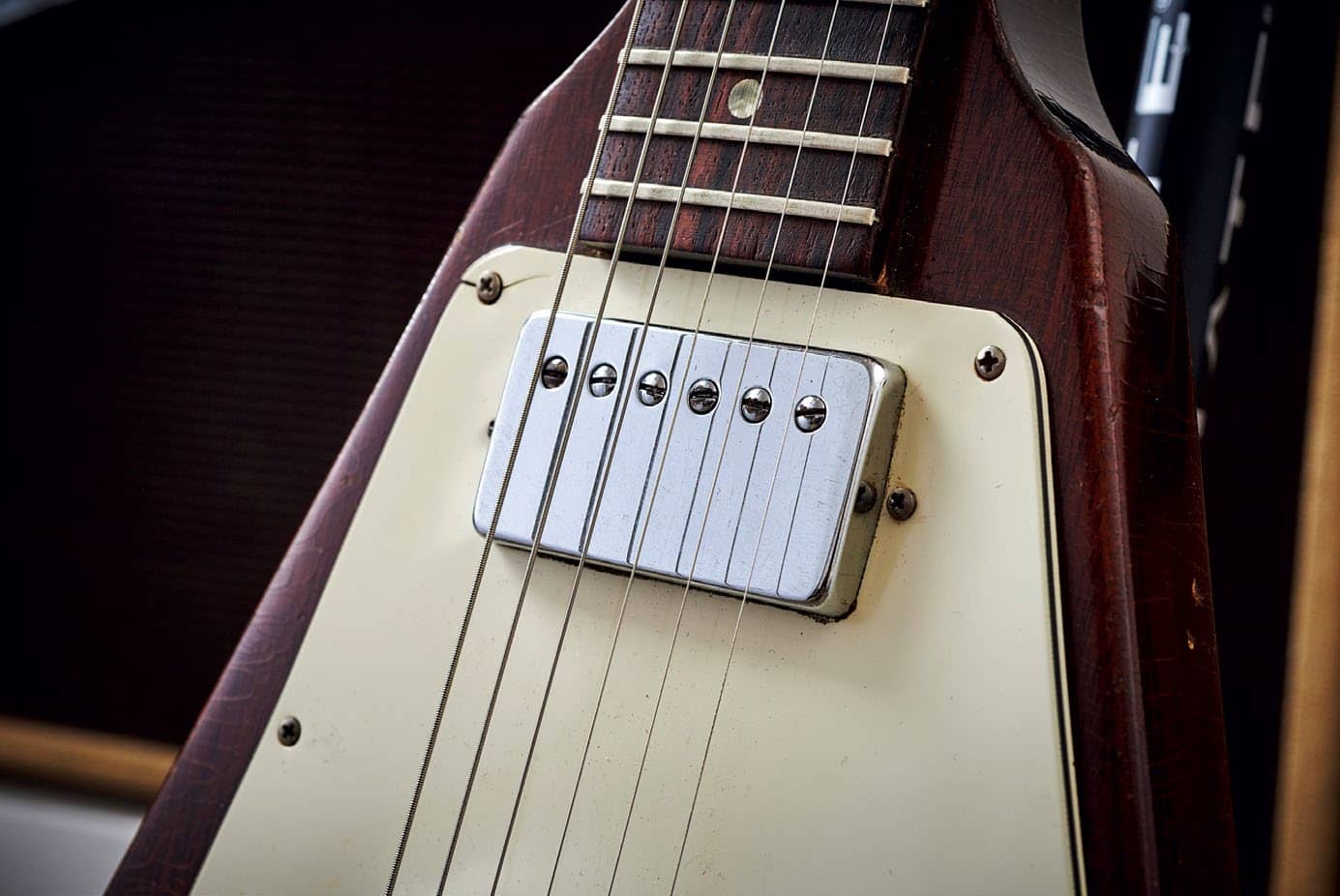 You can read up to 3 premium stories before you subscribe to Magzter GOLD
Log in, if you are already a subscriber
Get unlimited access to thousands of curated premium stories and 5,000+ magazines
READ THE ENTIRE ISSUE
June 2020