THE BOOK ON FRAMPTON
PETER FRAMPTON RELEASES AN ENGAGING MEMOIR CHRONICLING HIS PERSONAL AND PROFESSIONAL HIGHS AND LOWS.
By his own admission, he really shouldn't be a guitar player, due to not having long fingers. After tell-ing Fleetwood Mac's Peter Green he was a Taurus, Green abruptly ended their guitar jam. And about a year before he became a superstar, his name was thrown into the proverbial hat by his friends Bill Wyman and Charlie Watts to be the new guitarist in The Rolling Stones.
These are among the many fascinating tidbits and tales Peter Frampton writes about in Do You Feel Like I Do?: A Memoir, released in October by Hachette Books. It's a book for casual as well as hardcore Frampton fans, full of detailed accounts of his days as a member of The Herd and also Humble Pie, his sideman gigs for some of rock's biggest names and, of course, his successful solo career, with plenty of pages devoted to the Frampton Comes Alive! period.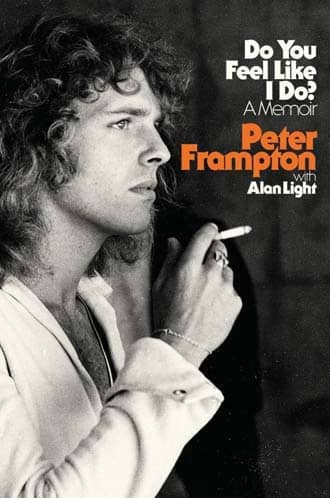 Frampton doesn't shy away from the negatives that came with the success of Comes Alive!, nor does he gloss over his ongoing battle with inclusion body myositis (IBM), a muscle disease that causes weakness in the fingers, wrists and thighs.
GOLDMINE: Was writing a memoir something you'd wanted to do for a long time, or did the impetus for the book come to you recently?
PETER FRAMPTON: It all sort of started to ferment around the same time we decided to do the farewell tour of the U.S. first. We haven't been able to do the South American or European (legs) for obvious reasons. Ken Levitan, my manager, over the years had said, "You know, when you're ready for the book …" I kind of felt that now that the decision had been made to stop touring, it was probably a good time to do the book.
It's not something that I looked forward to — it's purgatory! (laughs) No, I did have fun doing it, but it was hard. It was much more difficult than I thought, and it's not the actual writing of it, it's the mental anguish (laughs) of going through everything that you prefer not to.
GM: Prior to working on your book with Alan Light, how well did you know him personally and professionally? PF: I read Gregg Allman's book (2012's My Cross to Bear), and I had heard of Alan Light, but I did not know him. I loved Gregg's book, and I'd seen some stuff (Light) had done on (Bob) Dylan. I met with Brant Rumble at Hachette first, and once we decided that we wanted to work together, they suggested different writers to me. I had heard of Alan, I liked his stuff, I read (the Allman book), and that was it. I decided this was a good team.
GM: What parts of your life and career were the most difficult or unpleasant to write about?
You can read up to 3 premium stories before you subscribe to Magzter GOLD
Log in, if you are already a subscriber
Get unlimited access to thousands of curated premium stories, newspapers and 5,000+ magazines
READ THE ENTIRE ISSUE
November 2020