SWEET AND SOUR
"IT'S BECOME A LAST MAN STANDING SITUATION NOW WITH STEVE'S PASSING," SAYS ANDY SCOTT, THE LAST SURVIVING MEMBER OF THE CLASSIC SWEET LINEUP.
So says Sweet guitarist—and at times and in some manner, leader of the band—Andy Scott, upon the death of bassist and vocalist Steve Priest, from pneumonia June 4, 2020. This follows the deaths of lead vocalist Brian Connolly in 1997 and drummer Mick Tucker in 2002. Still, we are not here to be grim, but rather, celebrate the life of Steve and the band that he, Andy, Brian and Mick took to considerable chart and sales success, at least in the U.K. and mainland Europe.
Nor were we immune to the band's glammy charms in North America either. A compilation version of the band's third album, Desolation Boulevard, was RIAA-certified gold on May 25, 1976, a little less than a year after "Fox on the Run" and "Ballroom Blitz" became ecstasy-inducing roller-rink hits all over the U.S. and Canada. What followed was arguably more impressive — 1976's Give Us a Wink is now hailed as a masterpiece in hard rock circles, and it too made a dent in the pop culture fabric, through a hit single called "Action," an exquisite symphony of sound impossibly crammed into less than four minutes of event after musical event.
"Action," with its vaulted vocal harmonies and its production sleight of hand, had the band compared favorably to Queen, but of course, in many ways, evidenced by a slew of glam-era hits from '71 through to '73, Sweet were there doing this first. A series of career mishaps and miscalculations would ensure that the band's arc would go in the opposite direction to Queen's, but that doesn't mean that an impressive catalog has not been left behind for us to enjoy.
Indeed, we've all heard about the big records in the middle, and so along with a reminder of who this band were in a general sense, our Q&A with Andy Scott is going to touch down upon some of the band's roundly ignored later material, an exercise that hopefully gets across to Goldmine readers the opinion that Sweet could be as thoughtful and artistically daring as their most noted comparative, namely the aforementioned Queen.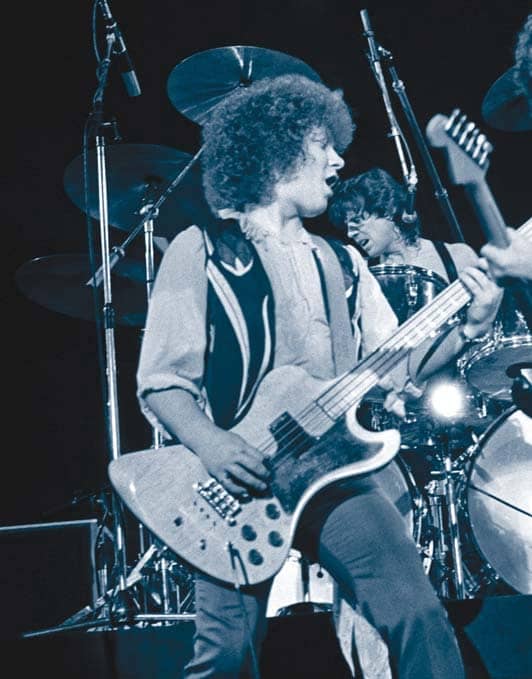 GOLDMINE: To begin with, Andy, what could an aspiring 20-year-old rocker learn from what Sweet did?
ANDY SCOTT: We live in a very open world, I think, musically. Everything is available to anybody and that can't be a bad thing. But what it does is it also gives you immense choice that probably wasn't there when I was growing up 50, 60 years ago. So the inherent problem with that is that you now have so much, how can you ever listen to it all? And the way that the internet and certain sites are, they push things towards you because of your listening habits. So I mean, I love it when we played — well, we used to perform gigs — and teenagers, 18-year-olds, would come up and say, "Love it, love your band." You're just wondering, how did you come by us? And the answers and stories are just wide-ranging. I would say that the legacy that The Sweet have left behind is that we were one of the few bands that jumped across the genres and would not be put in a box. That's the way I would like to think of us: You'll get from us whatever you want to get from us, not what you're told to get from us.
You can't remember what you've learned and that's why when you look back and you look at bands in their era, you wish that they stayed there, but you realize why they hadn't, because they were progressing. And some progress in the right way and some don't. With Sweet, it's a twisty road. It's not that obvious. I would have hoped that somebody who likes rock music, but also likes it to be accessible, you couldn't have found a better band than Sweet. You had a sound that sounded like the heavier rock bands like Deep Purple and Zeppelin, but you had vocals that sounded like Crosby, Stills and Nash or The Hollies, you know, these four-part harmonies and some of them fairly complex.
You can read up to 3 premium stories before you subscribe to Magzter GOLD
Log in, if you are already a subscriber
Get unlimited access to thousands of curated premium stories, newspapers and 5,000+ magazines
READ THE ENTIRE ISSUE
September 2020