SPACE TREKKIN'
THE LEGENDARY HARD ROCK BAND DEEP PURPLE CHOOSE TO 'WHOOSH!' INTO A NEW DECADE. SINGER IAN GILLAN AND DRUMMER IAN PAICE TELL THE STORY GOING FORWARD.
It's a bloody fight, but I'm constantly finding myself in it, defending the idea that Deep Purple are — and have been for 25 years now — making some of the best records of their long, distinguished career, right here in the Steve Morse era. But it's also the Bob Ezrin era, with the band's 21st album, Whoosh!, being the third in a row produced by Ezrin, famed for Destroyer, The Wall, plus records for Lou Reed and lots for Alice Cooper.
If you liked 2013's Now What?! and 2017's Infinite, chances are you will devour the sounds and the musings burbling to the surface all over Whoosh!, for it's a work of a band feverishly creative into their official senior citizen years, and recorded with a certain poshness that is hard to describe, never particularly heavy but always sizzling and electric, rich of taste, regal and purple like heavy plush drapery at an English castle.
Goldmine cornered the band's two Ians — Paice, drums and Gillan, vocals (the band are rounded out by Steve Morse on guitars, Roger Glover on bass and Don Airey on keyboards) — to give us the goods on where the band are situated as septuagenarians. The answers are both surprising and inspiring.
GOLDMINE: Let's start with Bob Ezrin. How does he contribute to the band dynamic? How does he help facilitate these records?
IAN PAICE: Every collection of people needs a leader. Doesn't matter if you're hiking across the hills or in an army, or you're in the studio. (laughs) Musicians left to their own devices tend to get sidetracked and a bit myopic about their bit. "My bit is more important than everybody else's." You get hung up on getting your bit heard and noticed, and sometimes your bit isn't the most important bit; it's somebody else's. And Bob has a very, very shrewd ear. He just picks out what is important, and you might not initially agree with that if you think your bit is the important bit. But at the end of the day, when the mix is done, he's 99% correct. So he's looking at the whole picture. And he makes sure we don't waste time trying to get to the solution he would get to immediately — he has a great musical brain. If we're going around with something that isn't working, he'll come out of the control room, and he'll pinpoint what's wrong. And he'll do it in a musical way. He'll say, "That chord isn't working" or "That change is wrong" or, "We need a drum fill there." He'll make a musical critique of it. Which, again, 99 times out of 100 it's something that improves the actual track. When we're on stage, that's our world. Here in the studio, that's his world. We are there for a few weeks every three or four years. He's in the studio 48 weeks a year. If you're gonna work with somebody that talented, then you have to understand that he's going to have input, and you better listen to it.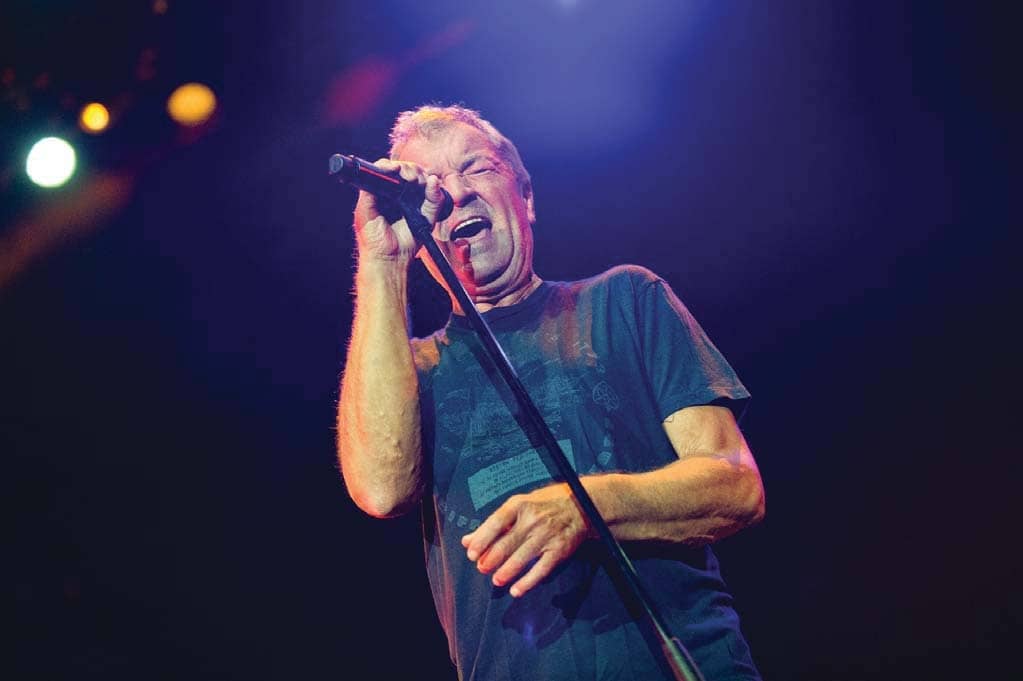 GM: And what has Steve Morse done new this time out?
You can read up to 3 premium stories before you subscribe to Magzter GOLD
Log in, if you are already a subscriber
Get unlimited access to thousands of curated premium stories, newspapers and 5,000+ magazines
READ THE ENTIRE ISSUE
September 2020