PRESENTING - SAUCERFUL OF SECRETS
PINK FLOYD DRUMMER NICK MASON JOURNEYS ON HIS OWN TO DELIVER A GIFT TO FANS YEARNING FOR THE EARLY PSYCHEDELIC DAYS.
In a perfect world, you'd have had the album six months ago, and be looking forward to seeing the show in a few weeks' time. In a perfect world, Nick Mason's Saucerful of Secrets would already have their biggest tour to date poised to tour the USA. In a perfect world.
"I'm fine," Mason answered when the question was posed to him back in March. "Whether one could say that about the rest of Europe at the moment is a different matter."
Today, with all that we've undergone in the months since then, his prediction that "certainly touring is going to be held up for a little while" has been proven several thousand times over. As has his condemnation of the preparations (or otherwise) that were allegedly in place at the start of all this. "It shows we haven't quite made the strides we think we have."
Nick Mason's Saucerful of Secrets is a bit of a mouthful as band names go, but with the vagaries of internet search machines having rendered single words and simple phrases utterly redundant — go on, try Googling 'Yes' and see where you get — NMSoS tells you exactly what you're going to get. The second Pink Floyd album, and more besides, as seen through the drumsticks of one of just two Floyd founding members who are still with us.
Mason formed the band in 2018, initially as a low-key affair whose first live shows, clubs and pubs around London testified to the lack of expectation that went into the band's creation. Mason was joined, as he still is, by sometimes Floyd bassist Guy Pratt, Spandau Ballet's Gary Kemp, guitarist Lee Harris and keyboard player Dom Beken.
Looking around at a world in which tribute bands now outnumber the bands worth paying tribute to, Mason has always been adamant that NMSoS has never been interested in joining the crew. If anything, the group are more interested in the spirit of the era that allowed Pink Floyd to flourish in the first place; that glorious blend of artistic freedom, anarchic energy and, most of all, hope that fired the late 1960s into the history book, and which only slowly dissipated as the new decade emerged.
It's for that reason that there is nothing in the band's repertoire that post-dates 1972's Obscured by Clouds soundtrack album; for that reason, too, that NMSoS received such plaudits once word started to spread. They weren't quite performing the Floyd that history has forgotten, but close.
"I won't say I'd forgotten about 'Nile Song' (from the More movie soundtrack)," Mason corrects. "But most of these tracks certainly haven't been played by Pink Floyd for 50 years, because they were overtaken by more successful records.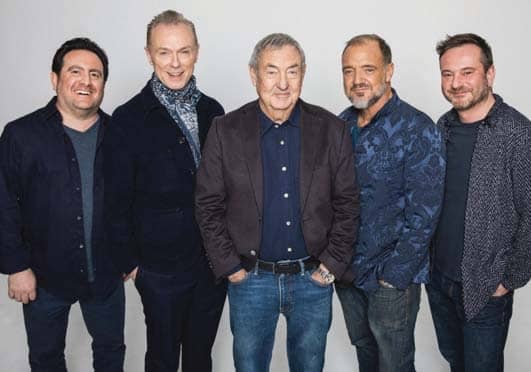 "That's true particularly in America — in the U.S., people seem to think we started with Dark Side of the Moon, and the early material is comparatively unfamiliar in America... although there are the fans who will sit on the forums and argue endlessly over which mix is superior."
He laughs as we consider the sheer devotion that fires so much of Pink Floyd's audience, but he would never hide his affection for those fans. They're the ones who do howl with delight as NMSoS launch into another lost Floyd classic; they're the ones whose support pulled the band from three nights at the Half Moon pub in Putney in May 2018, to the now hoped-for October 2020 showing at the Royal Albert Hall in London.
"We're not playing little clubs anymore," Mason confirms. "We're playing theaters, but that is still fairly intimate. We don't really want to go out in front of audiences of 30 or 40 ... it'd be nice, but it's end up costing an arm and a leg if we took anything other than one roadie with us. Also, there's a big problem with the small venues, which are the lifeblood of starting-up bands, because a lot of areas are gentrifying and the pub with a room above it is too noisy for the local residents. So they're turning the venues into luxury (apartments)."
You can read up to 3 premium stories before you subscribe to Magzter GOLD
Log in, if you are already a subscriber
Get unlimited access to thousands of curated premium stories, newspapers and 5,000+ magazines
READ THE ENTIRE ISSUE
September 2020