NEIL GIRALDO'S BEST SHOT
GUITARIST NEIL GIRALDO TALKS ABOUT HIS ROCK AND ROLL CAREER AND NEW VENTURES GOING FORWARD.
Neil Giraldo has been Pat Benatar's guitarist, keyboardist and co-writer for over 40 years, and her husband for almost that long. Together they achieved 15 Top 40 hit singles in the 1980s, including Top 10 gold singles "Hit Me With Your Best Shot" and "Love Is a Battlefield." In addition to Giraldo's musical endeavors, including his work with Rick Derringer and Rick Springfield, he is also a co-founder and chairman of the board of Steel Bending Spirits featuring its Three Chord Bourbon beverage, with a mission to band together and help those in need.
GOLDMINE: At your 2015 concert, I enjoyed watching you play both guitar and piano.
NEIL GIRALDO: Thank you. I got my first guitar when I was six years old so that I could play duets with my sister, who played accordion, and together we could do Italian songs and entertain family and friends. For piano, I listen to jazz like Duke Ellington and Count Basie. Huey Smith has a lot of energy. I love Bill Evans as a piano player and enjoy him with Miles Davis on his album Sketches of Spain.
GM: The first time I saw you perform was with Rick Derringer in 1978 as part of his Derringer band.
NG: When I joined the Derringer band in 1978, truthfully, I didn't think I would get the job with over 200 guitar players auditioning. I heard a great player through the door ahead of me and it scared the hell out of me, but I got it and I am very thankful. My gratitude to Rick goes beyond words. None of this would have happened with Patricia and me, and all the other things that I have been able to do is because of Rick. He taught me a lot. When I joined the band, Rick told me that I held the guitar pick wrong. Now I have picks with a smooth side and a rough side which helps with downstroke and upstroke movement. Todd Rundgren co-produced with Rick the first album that I did with him, called Guitars and Women.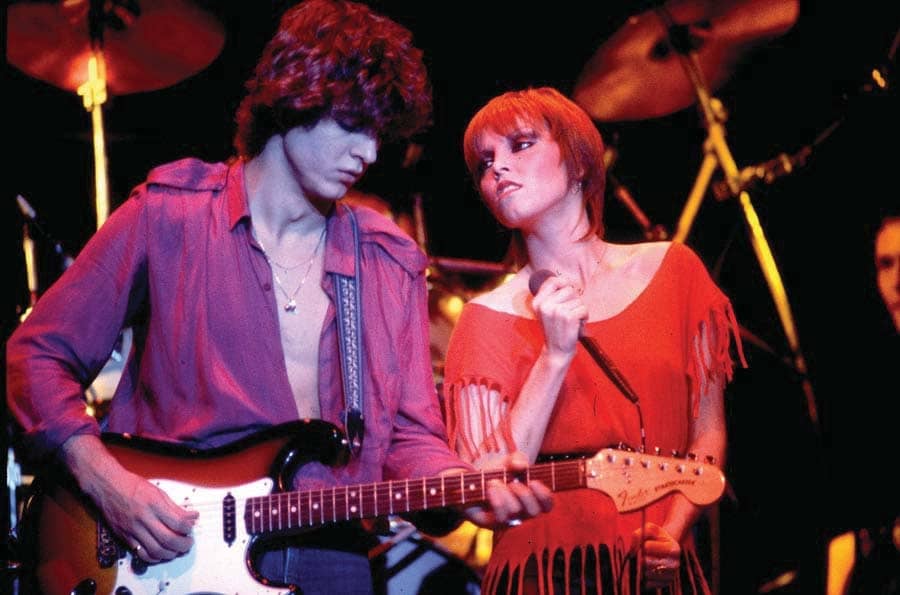 GM: The first time I heard you and Patricia together was 40 years ago on my car radio in early 1980 during my lunch hour with "Heartbreaker." I remember coming home to our apartment that night and saying that I heard a new act today, right up there with Blondie, not knowing that day that you were also on the same label, Chrysalis. It was so intense and wonderful.
You can read up to 3 premium stories before you subscribe to Magzter GOLD
Log in, if you are already a subscriber
Get unlimited access to thousands of curated premium stories, newspapers and 5,000+ magazines
READ THE ENTIRE ISSUE
October 2020