HOWE MELODIC
AS A GUITARIST, STEVE HOWE HAS ALWAYS BEEN A TEAM PLAYER. BUT ON HIS NEW SOLO ALBUM, LOVE IS, HE CONDUCTS THE MELODY ON HIS OWN AND SINGS LEAD ON MOST OF THE SONGS.
By his own estimation, guitarist Steve Howe has been in 10 bands, the most famous of which, Yes, in '69, started without him. His debut on the band's third record, in 1971, though, was the one that catapulted Yes into the stratosphere. For the next 49 years, Howe, in whatever project drew his attention, has been one of the most significant, unerring, thrilling, complex and entertainingly satisfying lead guitarists in all of progressive rock.
Now comes his 13th solo album, Love Is (BMG Records), his first in nine years. It's not the progressive jazz-rock fusion instrumental blockbuster that he's totally capable. It's mellow. It's melodic. And he sings lead on five of the 10 songs.
It was an honor to finally speak with him and, as a lifelong fan, this longtime music journalist just had to gush a bit.
GOLDMINE: This new album is very melodic. You've written some melodies that stick in your brain long after the music stops. Was it your intention to write so melodically?
STEVE HOWE: No, not at all. My intention was simply to get some very good material together in building a solid album. There was never any particular focus on melody, though. Maybe it's just me liking that style more in my own solo work when I write. It delights me that you think that.
GM: You also have some very profound lyrical themes as well on this album in an environmental sense. I love the quote from (naturalist) Alexander Humboldt where he warns over 200 years ago about destroying the planet. Boy, was he right!
SH: Isn't that amazing? And I quote 1970 Joni Mitchell, too, on the same subject. It's still going on. We just don't learn. That's probably why we are where we are now.
GM: I didn't realize you were such a good singer!
SH: I do believe I got better over the years. I did get to sing on some of the early Yes records with no experience at all. As I've aged, I liken my voice to a good old piece of leather that wears well. I'm more competent than I used to be. I mean, that's how I sing. If you can't deal with it, then don't!
GM: I guess being in a band with possibly the greatest progressive-rock singer of them all, Jon Anderson, might've made you not do too much singing.
SH: Somewhere along the way, I did have but one singing lesson and it started me on understanding vocal technique. I mean, I didn't want to know too much as I'm more an instinctual singer, but I still maintain my few minutes of vocal exercises.
GM: Closer "On the Balcony" hints at more of a muscular jazz-rock fusion direction. It's been nine years since your last solo effort. Usually, the last track on an album is a portend of what's to come. Might that be true in this case?
SH: Hold on. Before we talk about the next solo album, let's talk about this one. Let me just answer your question... well, it was kind of a question. Those nine years between solo albums were spent recording two records with Yes, two records with Asia, four solo tours of the U.K., and relentless touring with both Yes and Asia. I mean, it wasn't like I was sitting around thinking about this album all the time.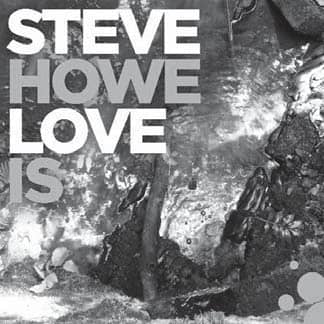 I love accumulating solo material to develop gradually. I've always been a writing guitarist. I'm not the kind of guy who just wanted to play guitar in a band; although I must say, that was, indeed, my original dream. When I was a kid, I wanted to be Scotty Moore, but even when I first met Jon Anderson, my writing was important to me. I added my own style to the existing style of Yes and it all became mixed "in the soup," as they say. It was always very much about melody. So it doesn't surprise me that Love Is is like it is, because that's what I wanted it to be. And I purposely segmented it into 50/50 instrumental/vocal tracks. That's precisely how I wanted to get it, so there'd be a balance of the two styles. Certainly the construction of such gives me pleasure. The precise arrangement of each song gives me pleasure. And, of course, playing lead guitar gives me pleasure. And we've already talked about the singing. That's a real factor to it all as well. That's why I moved incrementally in preparation for Love Is with that kind of balance.
Now, about your comment of the closing "On the Balcony" as indicating some kind of direction going forward, lyrically maybe. But I started writing about ecology in 1967 in the hippie age of love and flowers and the planet. It used to be all about that kind of stuff and that mindset sort of got railroaded through the years when things became highly commercial. The labels, the bands themselves, man, it was like "Let's just make a ton of money and keep milking it!" True, it kept us working, but who's looking out for the planet? We should have been, but we weren't. But, basically, "On the Balcony" is slightly descriptive of a mindset that says, "Shut up! Everybody just shut up and let me hang here on the balcony."
You can read up to 3 premium stories before you subscribe to Magzter GOLD
Log in, if you are already a subscriber
Get unlimited access to thousands of curated premium stories, newspapers and 5,000+ magazines
READ THE ENTIRE ISSUE
September 2020