ALL THE RIGHT KEYS
CHICK COREA, WITH HIS LATEST ALBUM, PLAYS, CONVINCES AUTHOR MIKE GREENBLATT THAT HE'S AMERICA'S GREATEST LIVING PIANO PLAYER.
In celebrating the legacy of Chick Corea, 79, America's greatest living piano player, Sting might have said it best: "He completely devastated the landscape. It was like scorched earth — so musical, so powerful, so incredibly virtuosic."
On Corea's new 2-CD package, Plays (Concord), he needs no rhythm section, no blaring horns to make his points. His 10 fingers cascading wildly over the 88 keys of his piano creates new vistas of meaning to 300 years of compositional gems by such composers as Stevie Wonder, Antonio Carlos Jobim, Thelonious Monk, Wolfgang Amadeus Mozart, Jerome Kern, George Gershwin, Domenico Scarlatti, Bill Evans, Frederic Chopin and Alexander Scriabin. It's a live set that actually has him bringing up people from the audience to perform duets with him onstage.
Corea is a man who revolutionized progressive rock in 1972 with his fusion group, Return To Forever. He pioneered world music. He has been a touchstone through the decades for bebop, swing, classical and the avant-garde, putting his indelible fingerprints on everything he transforms. And to think this was all after Miles Davis used him for such seminal American landmarks as Bitches Brew and In A Silent Way.
GOLDMINE: Congratulations on a wonderful new solo piano record that really has so many different components to it. How did you choose this stunning array of composers to transcend?
CHICK COREA: It came naturally out of living my life that way. I wanted to share it with the audience, as in my mind I associate things a certain way I put things together. Music has all the historical components. I grew up learning from certain other artists. I gathered ideas. When I sit down to practice, improvise or research a new piece of music, I go through a big array of sound that fits together, although you wouldn't think so at first. I have music sheets that I've collected over the years, most of which I've never really had the time to get into, of Bach, Beethoven, Debussy, Tchaikovsky, Scriabin and on and on and on. These are the artists in my line: pianists and composers who have developed and handed it off. Bach handed it off to Haydn. Haydn handed it off to Mozart. Mozart handed it off to Beethoven. Down the line, y'know?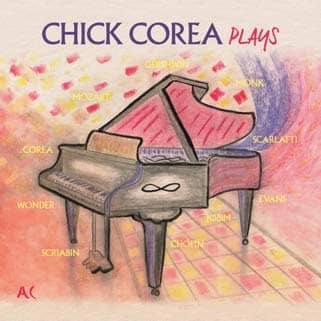 Here in our country, Duke Ellington picked up those same influences and the world then became more of a give and take. Now, in the recent past, of course, we have the Internet and YouTube, so it's all there. It's like the big library of the universe. You can go there and put in "Beethoven" and spend weeks. Put in "Ellington" and spend months. The information is all there to be accumulated. And I don't delineate between genres. It's all one. When I get on stage, I want to show the audience how I think. I don't want to go into that square box of playing this song now and then playing that song later. That bores me. I don't hear it that way. I hear it as Bartok to Gershwin to Monk to me. We're all handing it off to the next guy, man.
As far as my thought processes for this particular project, I pretty much stuck to what I had under my fingers. I didn't want to practice in front of the audience, although I do that with my Academy to show how the workflows. The way I use my time is such that I do a lot of "studying" on the road while traveling and playing. I also compose a lot, but unlike a classical pianist who spends so much time working on repertoire, I don't have time to do that. It would be a luxury for me to be able to. I'd love to sit down for a year, for instance, and get some Bach under my belt. That's a devotion, y'know?
So the composers on the record are some of my go-to composers. I love Scriabin. I put some melodic Chopin pieces in there, too. And Scarlatti's a real hoot. Scarlatti saved me, in a sense, because sometimes when I would try to approach Bach's music, it would be a little daunting in terms of the amount and its technical difficulty to play. I could dive into Scarlatti quick, and his music is a little more uplifting to me. So I spent time with him. I'm doing a duet project now arranging and recording some Scarlatti and some Bach with (flautist) Hubert Laws.
You can read up to 3 premium stories before you subscribe to Magzter GOLD
Log in, if you are already a subscriber
Get unlimited access to thousands of curated premium stories, newspapers and 5,000+ magazines
READ THE ENTIRE ISSUE
October 2020