ALBUM GUIDE - FOR TURTLES FANS
UNDER THEIR FLOEDCO BANNER, VOCALISTS MARK VOLMAN AND HOWARD KAYLAN HAVE OVERSEEN THE VINYL REISSUE OF THE SIX ORIGINAL TURTLES LPS. VOLMAN TOOK THE TIME TO DESCRIBE EACH ALBUM IN DETAIL.
Howard Kaylan and Mark Volman, founders, co-leaders and co-vocalists of The Turtles, are equally revered for their music as they are for their significant work advocating that artists get their due. They took on unauthorized samplers, sparred with SiriusXM over broadcast royalties, sued to regain use of their own names (and The Turtles band name), and took control of their own back catalogs.
Under their FloEdCo banner, they' ve overseen Manifesto Records' vinyl reissue in 2020 of the six original Turtles LPs, each with bonus material. The new double-LP versions of the first three Turtles records – It Ain't Me Babe, You Baby and Happy Together – are presented in both monaural and stereo formats. The band's later three LPs – The Turtles Present the Battle of the Bands, Turtle Soup and Wooden Head – are appended with non-album tracks and other rarities.
Volman says that the journey toward making these expanded reissues available on vinyl really began 20 years ago, when he and Kaylan worked with Rhino Records. "That part of our history had a lot to do with the ownership of the recordings," he says. Rarities releases like Chalon Road and Shell Shock (both 1987 Rhino projects) – along with annual Happy Together package tours – helped keep The Turtles in the minds of fans.
On the occasion of the reissue project – and with this year's Happy Together Tour canceled – Volman took the opportunity to chart The Turtles' history using the band's six main albums as mileposts. In addition to being filled with some of the finest pop-rock of that era, those records mark The Turtles' creative path through folk protest music, sunshine pop, psychedelia, hard rock, comedy music and even concept albums.
IT AIN'T ME BABE (originally released October 1965)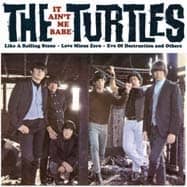 Though they got their start as a surf-rock band called The Crossfires, by the time the group signed with White Whale Records, they had changed their name to The Turtles. Produced by Bones Howe, the band's debut LP combined moody folk-rock with hints of the upbeat direction they'd pursue on later records.
"We were young – 18 or something – and we didn't really know what we were doing," Volman says. "We were just kids singing some folk songs." Seeking to build on the success of the band's Bob Dylan cover recording, the first Turtles LP is nonetheless "a pretty good showcase of (our) originality," he says. While it might not have explored the group's tongue-in-cheek character, It Ain't Me Babe drew from a rich crop of top-notch songwriters. "What it didn't have," Volman observes, "was the kind of pop sensibility that we would move into."
Alongside covers of songs by Dylan (the hit title track, "Love Minus Zero," "Like a Rolling Stone") and like-minded tunes from P.F. Sloan ("Eve of Destruction," "Let Me Be"), the record featured four Kaylan originals, including the lovely "Wanderin' Kind," a folk-pop gem that sounds like an all-male version of Peter, Paul & Mary. And a recording of the Barry Mann-Cynthia Weil composition "Glitter and Gold" offered a preview of The Turtles' musical future.
The young group benefited from the skills of an excellent mentor. "Bones Howe had worked with Elvis; the guy was a monumental record producer," Volman says. "A lot of credit has to go to him. He was older than us, and so he brought a kind of reality to the situation. He knew what he needed to do to make a good record, and he wasn't going to let White Whale spoil that."
The heads of the relatively small label – Lee Lasseff and Ted Feigin – wanted more product to capitalize on the success of the "It Ain't Me Babe" single, which reached No. 8 on the Billboard Hot 100 chart. Second single "Let Me Be" did nearly as well, and a cover of "It Was a Very Good Year" – released within weeks of a Grammy-winning version by Frank Sinatra – hit the Top 10 in Canada. "Right in the middle of making that first album, they were already saying, 'What are we going to do for the next record?'" Volman says. "So we were moving on almost immediately."
YOU BABY (originally released April 1966)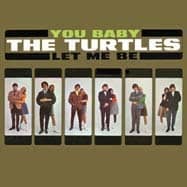 A mere six months after their debut LP hit the shelves, The Turtles returned with You Baby.
And while the record featured five original songs, more than half of the tunes came from other composers. "We had a knack of being able to pick some really good songwriters," Volman says. Among the most intriguing choices was Side Two's opener, "Down in Suburbia." A sardonic, sarcastic look at the hypocrisy and intolerance of America's middle class, the tune wrapped a serious message from the burgeoning counterculture (courtesy of songwriter Bob Lind) inside a catchy pop song.
Volman quotes from Lind's lyrics: "'All they ever smoke is tobacco in suburbia.' We were beginning, as a band, to express ourselves nonchalantly using the overhang of the drug scene." But the song – and the band who performed it – had more on its mind. "Just think of the lyrics: 'Everybody's got a list of negroes, Jews and communists,'" Volman says. "I'm telling you, we were already bordering on trouble. And the record company was not very excited."
You can read up to 3 premium stories before you subscribe to Magzter GOLD
Log in, if you are already a subscriber
Get unlimited access to thousands of curated premium stories, newspapers and 5,000+ magazines
READ THE ENTIRE ISSUE
September 2020