ACROSS THE TRACKS
Future Music|June 2020
Polyend's new sampler brings the cult 'alt-DAW' format to the hardware realm. But what actually is a tracker, and how do they work?
For many, the classic late-'80s/early-'90s computer music setup would be one based around an Atari ST, but a thick wallet was needed for extra outboard gear like a MIDI keyboard, a synthesiser and possibly even an Akai sampler for good measure. However, at the very same time, an underground computer music movement was already brewing, and its only requirement to create kickass tunes was a humble Amiga – no external gear necessary.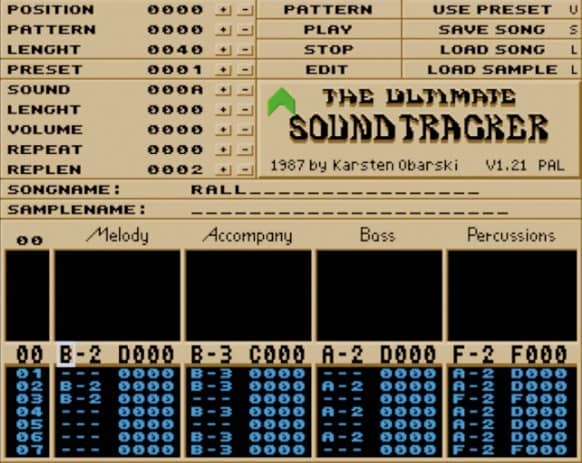 Composing music that played back purely on a home computer was once the domain of video game musicians who also happened to be skilled programmers, but all this changed thanks to a German musician/coder named Karsten Obarski with his release of the first commercially available tracker. The Ultimate Soundtracker – or simply Soundtracker, as it was known – revolved around four vertical tracks with music programmed as rows of alphanumeric characters. It lacked appeal for traditional musicians when compared to software with notes shown on much more traditional staves such as Aegis Sonix or EA's Deluxe Music Construction Set, but it quickly became the tool of choice for both game and demoscene musicians. Soundtracker and its many unauthorised spin-offs (eg, ProTracker, NoiseTracker, etc) dominated the Amiga landscape.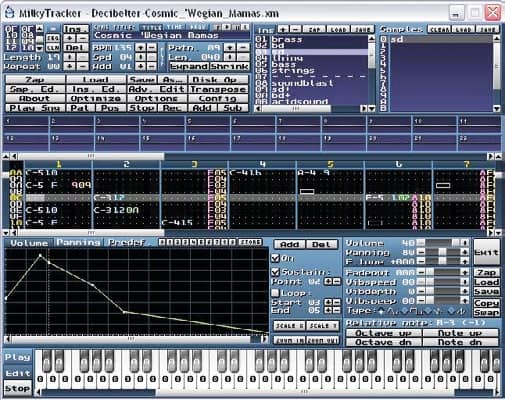 Since then, trackers have graced almost every platform, from 8-bit machines and handheld consoles such as the Nintendo DS right through to the advanced powerhouses we see on modern desktops and mobile devices today. Some are platform-specific, and some serve a specialised purpose. Renoise is often recommended for its sheer DAW-rivalling power and plugin support, although many also go for Psycle, Buzz and OpenMPT. For something a little more esoteric and hip, you might plump for SunVox or a chip tracker like HivelyTracker or Musetracker. Those interested in the demoscene tend to flock to MilkyTracker or Protrekkr.
Composition, tracker-style
So how can it be possible to get sophisticated music out of a program that's based around coded patterns of monophonic tracks? Overcoming the limitations of basic trackers requires creativity and innovation, and pushing the boundaries leads to distinctive results that you're unlikely to achieve by pursuing more conventional routes.
Early trackers like ProTracker on the Amiga could only play four samples simultaneously, so methods were devised to give the illusion that more sounds were playing together than was possible on the software and hardware of the time. For instance, if you knew you wanted a C major chord, rather than playing C, E and G notes across three channels, you could mix those three notes into a single sample – resampling, in other words – playing your new 'major chord' sample on one channel instead.
You would need other samples for non-major chords, but what was lost in sample space was gained in valuable channel space. Another trick to create the illusion of polyphony is to use the built-in arpeggiator to play notes in rapid succession. In a traditional tracker, there are 'hidden' subdivisions between each row/line called 'ticks' (confusingly, in some trackers the rows themselves are called ticks), and tracker commands like arpeggiation, note slide, etc, are calculated on each of these ticks.
By placing a simple numerical command next to a note, the tracker will arpeggiate between the root note and the two other intervals specified, in semitones, above the root. For example, an A with the numbers 3 and 7 next to it plays an A minor, the 3 and 7 corresponding to C and E.
You can read up to 3 premium stories before you subscribe to Magzter GOLD
Log in, if you are already a subscriber
Get unlimited access to thousands of curated premium stories and 5,000+ magazines
READ THE ENTIRE ISSUE
June 2020