Royal Rumble
Bass Player|June 2020
Gibson's head of Product Development, Mat Koehler, and Fender historian, Terry Foster, explain how the two industry titans battled it out over the electric bass in the early days—and changed the course of popular music in the process…
The post-war period of the early 50s was a time of great innovation. Following major advancements in instrument design after the war, radical developments at Fender saw the release of both the seminal Esquire and Broadcaster by 1950 (renamed the Telecaster in 1951). In 1952, Gibson's Les Paul model similarly heralded the beginning of a new era in guitar building. As creativity flowed between musicians and guitar builders alike, popular culture and music technology moved forward in tandem and a new style of the instrument began to take shape, beginning with Fender's Precision Bass in 1951, followed by the Gibson Electric Bass or EB-1 in 1953. As the decade progressed, the electric guitar industry's biggest rivals—Gibson in the east, Fender in the west—began battling it out for their stake in the expanding marketplace of electric basses.
"Commercially, Gibson was playing catch up with Fender from the start," begins Terry Foster, co-author of Fender: The Golden Age 1946-1970. "In 1950, the Broadcaster and Esquire came out, and in 1952, Les Paul came out. It was the same thing when the Precision Bass came out in 1951 and then the EB-1 came out in 1953. That's a large expanse of time. And at that point, there wasn't just the one almighty NAMM trade show twice a year; there were multiple trades shows all over the country. The Gibson representatives would have had a chance to check out those instruments multiple times and see the dealers' reactions. Then they'd go back and say, 'Okay, guys, we need something as well.'"
"The EB-1 was Gibson's first foray into electric bass and it was initiated by Fender's Precision Bass," confirms Mat Koehler, former proprietor of Santa Monica's Holy Grail Guitars and now head of Product Development at Gibson. "The reason they chose the violin shape with the leg extension was because of Les Paul's influence—the bassist in his trio played upright bass. They were keenly aware of Fender, but [Gibson president] Ted McCarty didn't realize exactly what kind of a competition they were in. The EB-1 did not do well. It was not a commercial success. That's why Gibson later pursued the EB-2 and the EB-0 [released in 1958 and 1959 respectively]."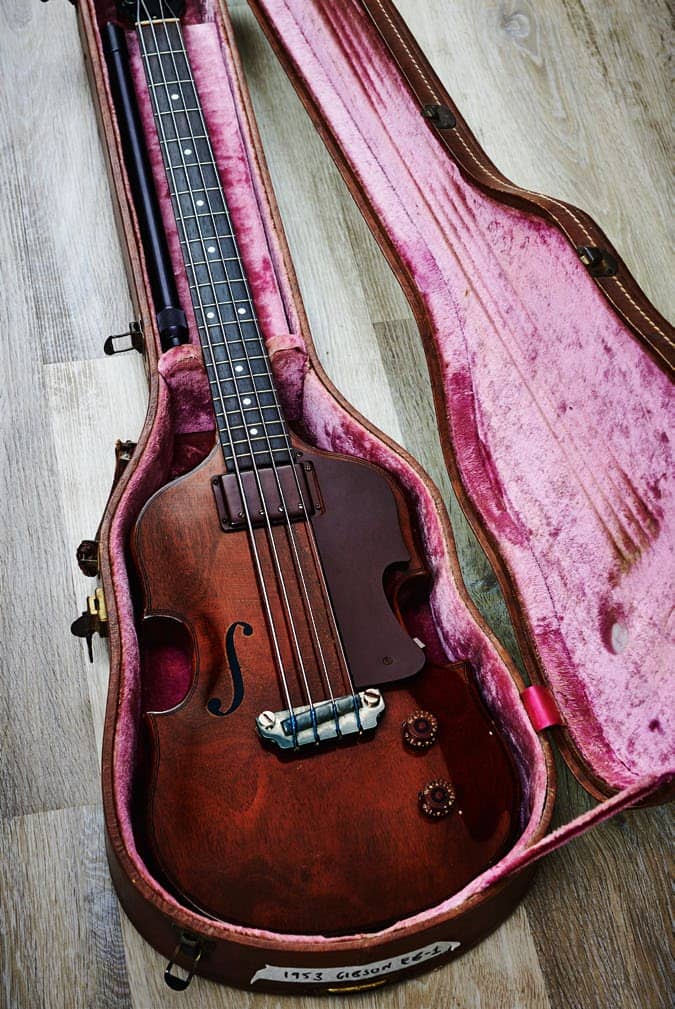 "It's funny, I was just talking to my Epiphone cohorts here about how Ted was still after Epiphone's upright basses in the late 50s, even when the Precision Bass was pretty standard across the music industry. He did want to counter that with the EB-1 early on, but he was still convinced upright basses were where it's at. The whole Epiphone thing started because Gibson were pursuing upright basses. The craziest story is that when Gibson purchased Epiphone [in 1957], Ted McCarty sent John Huis, his plant manager guy, to New York to evaluate what Epiphone had and oversee the transaction. They both thought they were purchasing Epiphone's upright bass business only, but when John went over there, he reported back to Ted, 'They think we're buying everything—the whole company!' We still have some of those original memos."
"YOU COULD ARGUE THAT THE PRECISION BASS HAD MORE OF A CULTURAL IMPACT THAN ANYTHING ELSE FENDER DID" TERRY FOSTER
Although the Precision Bass was not the first fretted horizontal electric solid body bass model on the market, having been preceded by Paul Tutmarc's pre-war era instruments, its design was a convincing move away from upright basses and marked a watershed in music history.
"Fender weren't the first to build an electric bass," concedes Terry. "There are some examples that existed before the P-Bass, but they're culturally irrelevant. The Tutmarcs were little short-scale things that didn't play very well, and it's unlikely that Leo Fender or anyone at the company ever saw one. Leo invented that [34-inch] scale length and virtually every [electric bass] design that followed was derived from the Precision Bass. You could even argue that Leo inventing the Precision Bass had more of a cultural impact than anything else Fender did. It spanned virtually every genre of modern music. It would be hard for someone to argue against that.
"It's part of the soundtrack of the 20th century. In the early days when studios were calling for sessions, they asked for someone to either play 'bass', or the 'Fender bass', meaning the electric bass—the two things were synonymous."
"I'm a huge Leo Fender fan," remarks Matt. "And I think he nailed it on the very first try with the P-Bass. Even from Gibson's side, I would argue that the Precision Bass is the most influential bass design ever. The fact that you didn't have to lug around an upright bass in your station wagon was a nice plus! It made the bass a lot more accessible for people. It just makes sense."
You can read up to 3 premium stories before you subscribe to Magzter GOLD
Log in, if you are already a subscriber
Get unlimited access to thousands of curated premium stories and 5,000+ magazines
READ THE ENTIRE ISSUE
June 2020