PEARLS of WISDOM
Bass Player
|
November 2020
Jeff Ament of Pearl Jam returns with a solo project, American Death Squad, and advice that applies to all of us.
As Pearl Jam bassist Jeff Ament awoke on New Year's Day, 2020, he knew that in a few short months, his band would release Gigaton—their hotly-anticipated eleventh album, and the veteran rock quintet's first clutch of new material since 2013. Sprawling tours of North America and Europe would follow. For Jeff and his bandmates—vocalist Eddie Vedder, guitarists Stone Gossard and Mike McCready, and drummer Matt Cameron— this was shaping up to be their busiest and most important year in quite some time.
And yet on this warm July day, we find him relaxing with a cup of tea in the cosy confines of his Montana home, half a world away from the stages of Europe. The Pearl Jam tours, of course, are casualties of the current global pandemic.
"Montana's where I grew up, and I typically come back here when I'm not touring," he tells Bass Player. "I'm doing what I'd normally do. I go into the studio in the morning and then do some sort of activity in the afternoon, like go for a bike ride or a hike, or go skating."
Recalling those chaotic days in early March, Pearl Jam were in the final push before their tour was to kick off in Toronto on March 18. As headlines grew progressively darker, the band faced some hard decisions. "We'd spent about two and a half weeks doing tour rehearsals," Ament says, "and we were going to have a week off, mainly to get the gear to the East Coast. Everybody was trying to find out what was going on, because we weren't getting information from the epidemiologists at that point. We had three or four days of tough conversations. Going to Toronto and having fans from over 10 different countries show up at the first show didn't seem like the right thing to do. We realized, 'We've got to do this now, before people start travelling.'"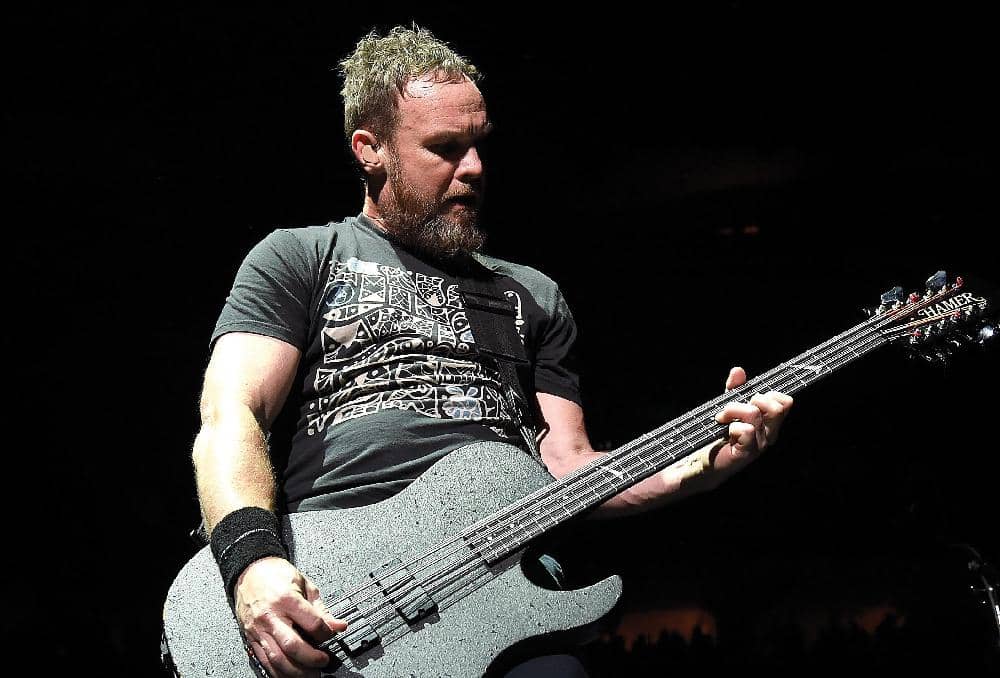 On March 9, the band announced that the tour would be postponed until 2021. Long recognized for their activism and charity, Pearl Jam have kept 20 people on the tour payroll, even though there are no current live dates. Meanwhile, in late March, Gigaton dropped as expected, to rhapsodic reviews from critics and fans, many rating it among their best.
Friendly, engaging, and enormously laid back, Ament, 57, speaks with the easy candor of a man entirely comfortable in his own skin. Over the years, he's earned a reputation as one of the most creative and hard-working bassists of his generation. He's played in several now-legendary bands, with Pearl Jam alone selling upwards of 100 million albums worldwide, snagging a Grammy and entering the Rock And Roll Hall Of Fame in 2017.
Ament has also endured his fair share of setbacks along the way, and so, accepting that the chain of events lay far beyond his control, he wasted little time in pivoting. "My wife and I got in the car and came out to Montana," he says. "There was a lot of watching TV and listening to the radio, but after three or four days, we were just feeling worn out. We realized, we've got to change things up. Just sitting around, waiting for the apocalypse to come knocking, isn't a healthy lifestyle."
As he's highly prolific and fortified by extra gym workouts in preparation for the tour, it was all but inevitable that Ament would make productive use of lockdown. "I had a ton of energy," he says. "Finally I said, 'I'm going to go in and try to write a song every day for a week'. That was my goal, and I mostly succeeded." Adding to his two-album solo catalog, Ament released American Death Squad on June 28, a five-track EP bristling with scathing political lyrics and a punchy rave-up of punk and classic rock.
You can read up to 3 premium stories before you subscribe to Magzter GOLD
Log in, if you are already a subscriber
Get unlimited access to thousands of curated premium stories, newspapers and 5,000+ magazines
READ THE ENTIRE ISSUE
November 2020