I SPY… THREE-NOTE SEQUENCES
Bass Player
|
November 2020
Hey there, bass players! Welcome back to our game of 'I Spy'. Let's take a moment to recall the rules. In this game, our goal is to refine the most essential tool in our musical arsenal: Our ears. By highlighting a particular theme and attempting to spy it on a record, we're actively listening for something that lies beneath the surface of the songs that we love. Our goal is to draw attention to it, to call it by its name, and to recognize it in its natural habitat.
In the last issue, we discussed the ubiquitous nature of chromatic lines and focused on a four-note sequence. While this is a common definition of chromaticism, particularly as it pertains to our four-fret span, we can't overlook the popularity of the three-note chromatic sequence.
While a four-note chromatic line is used to move in the direction of a minor third, such as descending from the root note to the sixth of the scale, a three-note chromatic line allows us to move in the direction of a whole step. Integrating the chromatic note allows us to sneak in a bit of dissonance, again under the guise of voice leading.
Let's learn a few exercises and get a feel for how this will fall on the fretboard. Each exercise is written with a triplet feel, an obvious pairing for this three-note phrase. Once you get the notes under your fingers, get creative and apply the same patterns to different rhythms.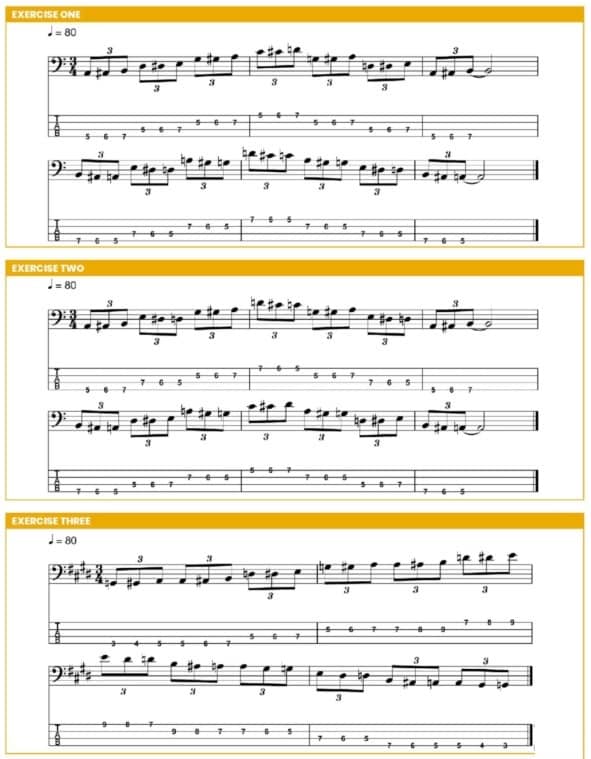 You can read up to 3 premium stories before you subscribe to Magzter GOLD
Log in, if you are already a subscriber
Get unlimited access to thousands of curated premium stories, newspapers and 5,000+ magazines
READ THE ENTIRE ISSUE
November 2020