BEHIND THE WALL OF SOUND
Bass Player|July 2020
You think you know who the late, great Ian 'Lemmy' Kilmister of Motörhead was? We thought so too, until we met the singer songwriter Lynda Kay, who reveals a tender side to the great man that we never knew existed
The acclaimed singer, guitarist and actor Lynda Kay was born in Dallas, Texas and resides in Los Angeles, appropriately so as she has been a regular on the music scene and on TV shows such as Amazon Prime's
Goliath
for many years. Along the way, she struck up a close friendship with the late Motörhead singer Lemmy, a hero in our world—not just for his unique bass playing, but also for the sheer force of his intellect and personality.
Kay's new album, Black And Gold, features a beautifully heartfelt duet with the man himself called 'The Mask'— required listening for anyone interested in his more introspective side. Here, Kay recalls her many memories of life with the last true rock star.
How did you first meet Lemmy, Lynda?
My husband Jonny and I own Coffin Case, the guitar case company, and Jonny knew Lemmy because Motörhead was sponsored by Coffin and he had a great relationship with him and his management. I met Lemmy through Coffin, and I was in a roots duo called the Lonesome Spurs with Danny B. Harvey, the guitarist who played with him in Headcat. I knew Slim Jim Phantom too, the drummer. I'd be at a lot of the Headcat shows and I was the little Angie Dickinson to their Rat Pack, I guess. In 2006, Lemmy came to one of our shows and was very impressed. I was playing guitar, singing and playing a suitcase kick drum, and he told me 'You keep good time!'
Lemmy was 61 in 2006. Was he in good shape?
He was in great shape. He looked great, he felt great, and he was still living the rock'n'roll life—he was prime Lemmy! From there we ended up hitting it off, and we developed a friendship, and he invited me over to his place to hang out. I was like 'Sure!', and went over to the classic apartment that he had in West Hollywood. I'm sure you've heard about that apartment—it was pretty wild. It featured heavily in the Lemmy documentary that was being made at the time, and I got to know the directors.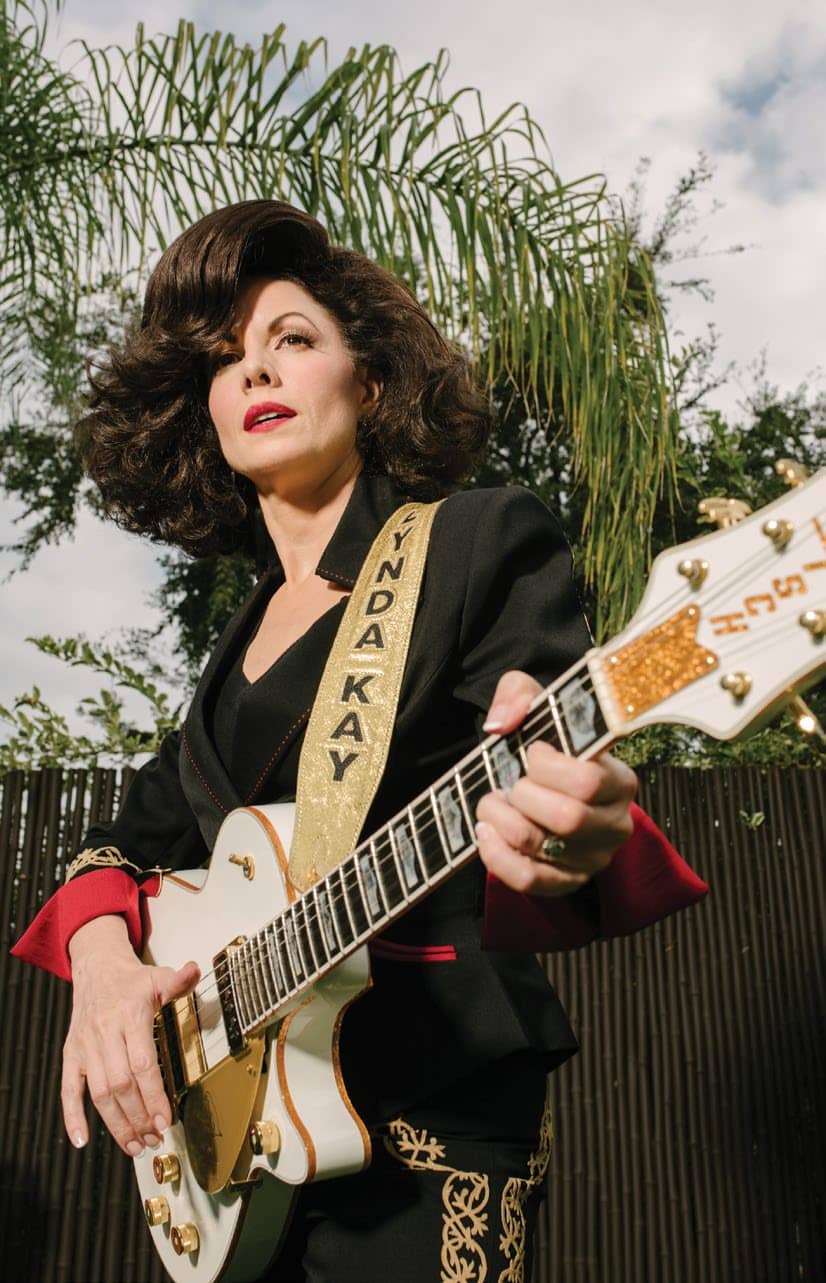 What was the lair of Lemmy like?
The first time I was there, it was scary as hell to see all the things that he had in the apartment. He had so many knives— hundreds, of all different sizes. They were lined up on the walls, diagonally. It was really intense, and it freaked me out so much because they were all over the walls, everywhere. He also kept every piece of fan art that anyone ever made for him— every single piece. He had them in glass cases all around his apartment, to honor the work of these people. It was really something. The first time I came over I had a Ramones T-shirt on and he said 'That's a good band. This one's better. Here' and he pulled out a Motörhead shirt and gave it to me. It had silver foil lettering and he said 'This here is the executive model!'
Did you ask him why he collected knives?
You can read up to 3 premium stories before you subscribe to Magzter GOLD
Log in, if you are already a subscriber
Get unlimited access to thousands of curated premium stories and 5,000+ magazines
READ THE ENTIRE ISSUE
July 2020