400 ISSUES OF WISDOM
We're celebrating 400 issues of Bass Player in this issue, but that doesn't mean we're just congratulating ourselves on how great we are—we want you to benefit from the distilled wisdom we've learned along the way. Apply these nuggets of knowledge from the world's greatest bass players to your playing, and you'll be well on the way to bass nirvana...
PRINCE
November 1999
Space is what it's all about. I'm always telling people in rehearsal, you've got to shut up once in a while. Solo spotlights are fun and everything, but if you make music people want to hear, they'll keep that tape.
GEDDY LEE, RUSH
November/December, 1988
The freedom of the trio is that you're allowed to be as busy as the thing can take. Obviously you have to use taste and discretion where and when you're being busy. You really have to serve the song the best way possible. If it serves the song to be busy, that's fine, but if it best serves the song to be a bit more fundamental and groove-oriented, then you have to do that.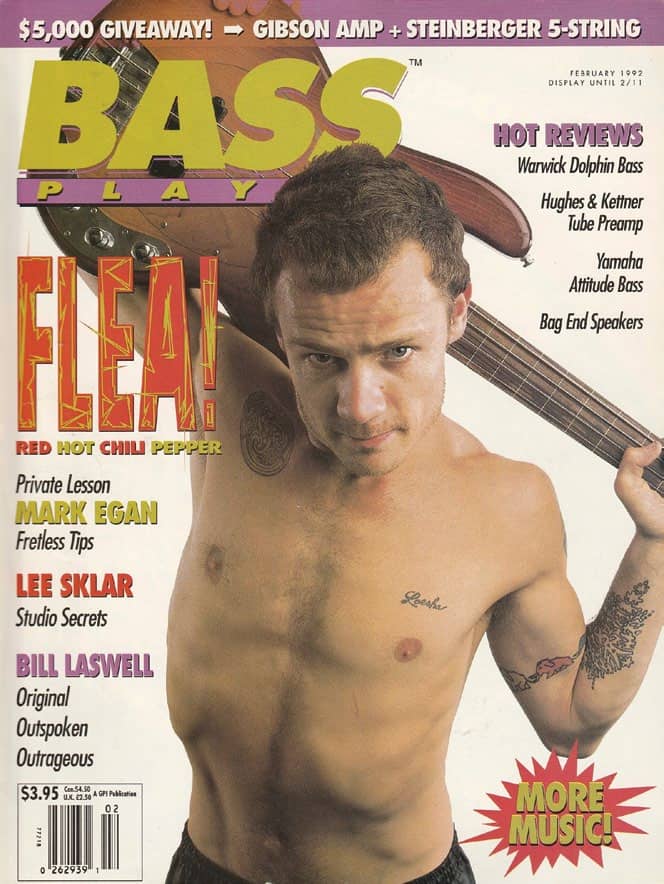 NATHAN EAST
May 1997
I quickly realized if I stayed on the same note when the chord changed, it made a difference—and if the chord stayed the same and I changed my note, that made a difference as well. That's how I discovered the common tone and the substitution, and learned how I could control the complexion of the music.
STU HAMM
July/August 1991
The sound you get is in your fingers and the bass. I try to use gear that gives me a true reproduction of that sound, without having to mess with a rack full of parametric EQs that are always going down.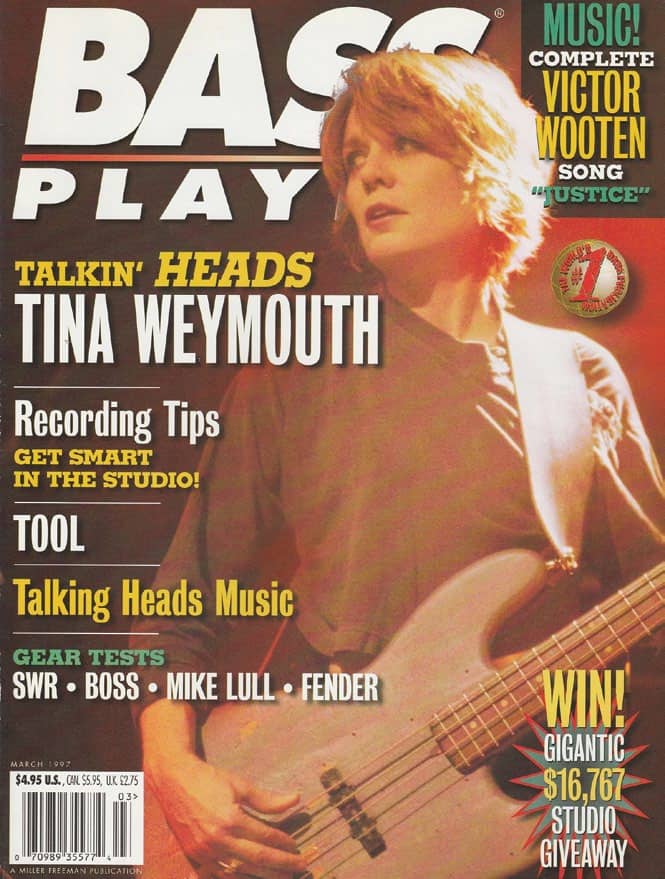 JASON NEWSTED, METALLICA
September/October 1991
I've learned that there's nothing easy about laying down a line with exact consistency—being right there in the pocket. I'm pretty much an orthodox player. I'm not against special techniques—if I took some time to figure out something, I'd be pretty proud of myself.
TINA WEYMOUTH, TALKING HEADS/ TOM TOM CLUB
November/December 1988
I don't consciously look for particular licks to use. If anything, I try not to repeat myself. If I've done something before, I try to avoid using it again.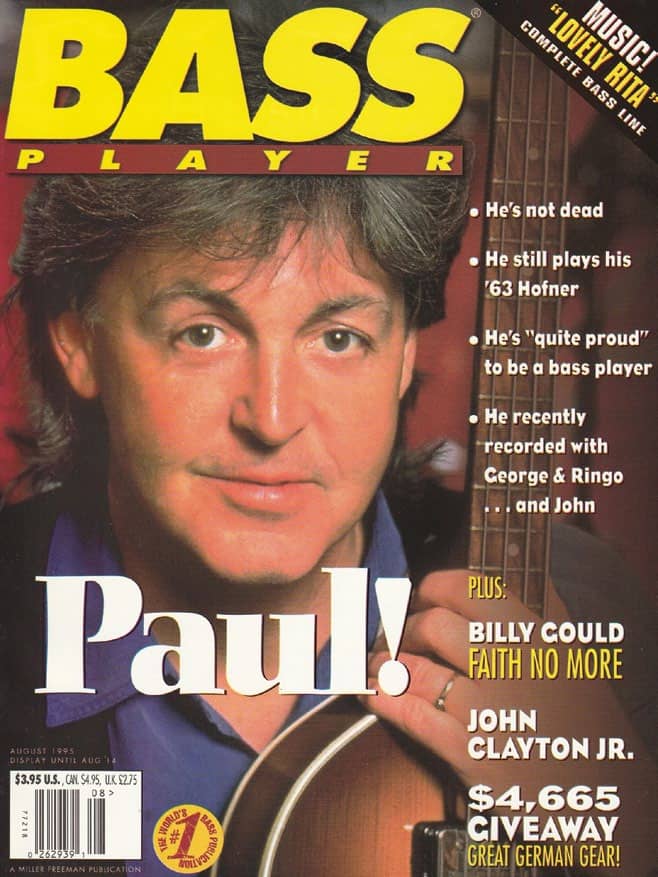 PAUL MCCARTNEY
July/August 1995
I started to realize the power the bass player had within the band. Not vengeful power—it was just that you could actually control it, so even though the whole band is going along in A, you could stick in E.
WILL LEE
Fall 1990
My basic approach can be summed up in two words: the pocket. The most important function of the instrument is creating and holding down the groove.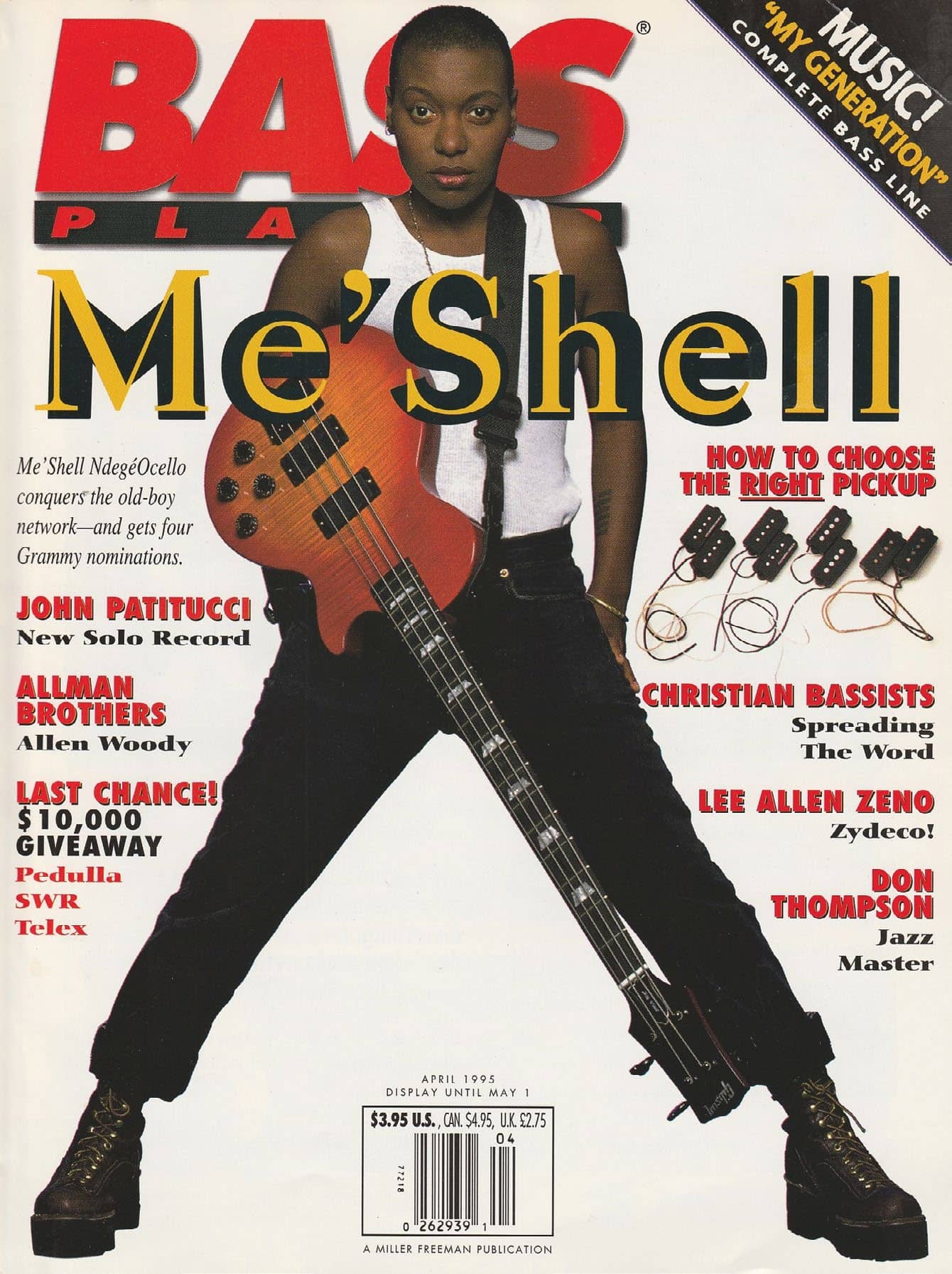 MESHELL NDEGEOCELLO
April 1995
I am averse to real showy playing. I think allowing for the space is as artful as the notes... All the notes don't necessarily equal better playing or better feeling... If you want to be a pop star, that's a path to follow. If you want to be a follower of your musical muse, that's a different path. Understand the difference.
FLEA, RED HOT CHILI PEPPERS
January/February 1992
I'm into the punk ethic: play every note like it's your last! You could be dead tomorrow.
DARRYL JONES, ROLLING STONES
January/February 1995
I felt that it was important to play bass in my own style, so they [the Rolling Stones, in which Jones has played since 1993] would be hiring me for me. On certain songs, however, I play the lines note for note, because they're essential parts.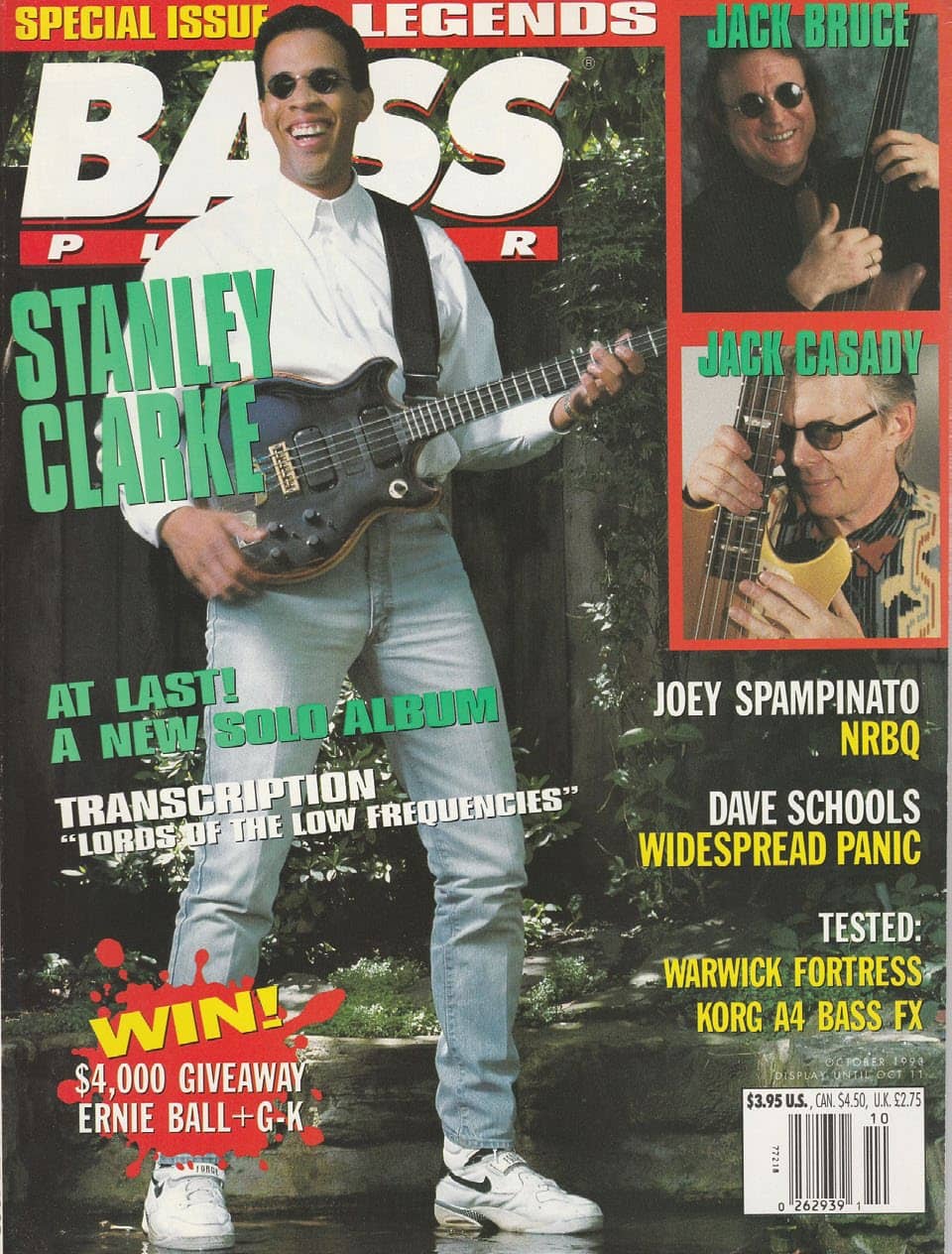 STANLEY CLARKE
March 2015
The true genius bassists are not the ones who play a million notes—it's the ones whose bass-lines are loved worldwide and remembered through history.
MICHAEL LEAGUE, SNARKY PUPPY
August 2014
One cool discovery I made some years back is getting an octave sound without an effect pedal. I was plucking up over the fingerboard, and I realized that if you turn your tone all the way off and you pluck the note you're fingering at exactly an octave up, you get this subtle, sub frequency an octave below the fingered pitch; I use that a lot.
RHONDA SMITH
June 2004
A device I use is the flamenco slap, which is like a drum rudiment; I ball up my fist and then let my fingers go out and hit the strings, starting with the pinky nail, subsequent fingers and the thumb.
BILLY SHEEHAN
Holiday 2013
My general approach to a new technique is to drill it all day long to get the hand strength and the patterns in my head robotically, and then throw all of that out the window and hope the result is some real, organic music down the line.
LEE SKLAR
July 2014
I'm not one of those guys who talks about the good old days. I just look at each day as the first day of my career, and I keep moving. I don't care about what I've done in the past; the only thing I'm looking forward to is the next gig.
You can read up to 3 premium stories before you subscribe to Magzter GOLD
Log in, if you are already a subscriber
Get unlimited access to thousands of curated premium stories, newspapers and 5,000+ magazines
READ THE ENTIRE ISSUE
October 2020