Future Infantry Combat Vehicle (FICV) Needs A De Novo Look
FICV, a key spearhead of the restructured Integrated Battle Groups, cannot be put in a limbo and such a critical capability programme must be classified as project of 'National Strategic Security Importance", for its national security sensitivity and multi spectrum operational capability and to address the future operational requirements and envisaged force profile with a de novo concept, design and technologies.
Lt General A.B. Shivane (Retd)
The Elusive Capability
FICV is yet another case history of self-inflicted injury, creating a capability gap with no effort to seek its accountability and responsibility. The Make 1 project seems to be a snakes and ladder game with more snakes than ladders, so the FICV is likely to be back at the starter block of discussion stage, that it was in 2004. Thus, FICV remains an illusion marred by frequent changes in procedural stance, bureaucratic apathy, cold feet for honouring promised financial support inspite of an AoN (October 2009) and disregard for the last EoI of July 2015 immaculately evaluated and sent to Ministry of Defence (MoD) in November 2016. Termed as a game changer and the biggest catalyst for an indigenous Integrated Defence Eco System and Defence Industrial Base, it has failed as a test case for 'Make in India', creating a glaring gap between expectations and outcomes. Resultantly, it has created disillusion in the nascent, yet vibrant indigenous private defence industry. A detailed analysis of the quagmire and way forward was penned in the article appeared in SP's Land Forces 5/2018 on page number 1. Its time now to find a way ahead with a de novo look in the light of all options of Make1/Make2/SP not making a headway. Given our fragile security matrix, intentions can change fast, but capability building takes time. Thus FICV, a key spearhead of the restructured Integrated Battle Groups, cannot be put in a limbo and the impasse needs a fresh resolution.
Global Fire Power Index and Armoured Fighting Vehicle Ranking
2019 Global Fire Power Index recently unrevealed, rates India 4th (after USA, Russia and China) among 137 nations based on 55 individual factors. The criteria used in the rankings to determine military strength, included natural resources, local industry, geographical features and available manpower, besides military capability in each of the military-specific sector. What is revealing is in some hidden analysis. While China stood third in the overall ranking, it was second in Armoured Fighting Vehicle (AFV) Sector, which primarily includes ICV and APC's, while India was overall 4th, it ranks 25th in the AFV sector and Pakistan overall 15th ranked 19th in the AFV sector. Thus, not only has India slipped 21 ranks in AFV sector as compared to its overall standing, it ranks below Pakistan and the gap with China has widened. While it may be argued that numbers can be manipulated but we cannot adopt an ostrich approach to this widening capability gap by the FICV quagmire. Further, in the Global Armoured Vehicles Market Report, Armoured Personnel Carrier (APC) market is estimated to register a CAGR of nearly 6 per cent during the forecast period of 2018 to 2023. Asia-Pacific is projected to be the fastest-growing regional market during the review period. This growth was attributed to the procurement and indigenous development of these vehicles in countries such as China, and India (FICV). However with FICV been put in a loop, the market trend will need to be reviewed impacting not only the indigenous defence industry but also induction of advance technologies in defence sector. Internally we need to introspect the foundational need to energise 'Make in India' in the defence sector, which in turn could resuscitate the FICV.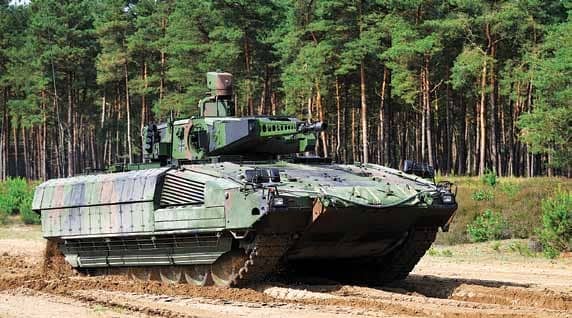 Energising Make in India – A Driver for FICV
Continue Reading with Magzter GOLD
Log-in, if you are already a subscriber
Get unlimited access to thousands of curated premium stories and 5,000+ magazines
READ THE ENTIRE ISSUE
October - November 2019