IT'S A GREEN WORLD!
Private Military Contractor International
|
July - August 2020
Gear recommendations are all very well, but gear that's been worn, tried, tested, and downright abused and comes back kicking and screaming for more certainly deserves a mention! In many of his pictures you'll often see Bill in just simple, plain green, and his ongoing search for his perfect "green gear" continues, and he updates us now with his latest additions!
Although I spend a great deal of time working with gear that will make life easier for you I'm often asked what I use myself, and what goes into my selection process for clothing, footwear, gear and accessories. The simple answer to this is that I have a number of brands I've been using for years that work for me. Please remember that I've been knocking around both the shooting and tactical gear scene for many moons, and time has really been on my side when it comes to my personal "gear locker". Considerations for me though are always about the fitness for purpose of whatever bit of kit I'm looking at. If it boots they need to have a great grip and be comfortable and supportive. If it's clothing it has to perform and by this, I mean both the fabrics used to make it and the way it's designed and put together. For load-bearing gear it's always toughness and modularity that comes to the fore; I'm a real chest rig fan and although I have several models from different manufacturers, they're all set up exactly the same so that what is carried sits in the same spot. Muscle memory is an important part of being slick in something as simple as a quick mag change, and knowing exactly what is where should become second nature.
My advice to you is to really find out what works for you and buy from brands that you trust; if you've not used a certain brand before then ask around as undoubtedly someone at your local range has, and knowing shooters they'll be more than happy to tell you all about it!
FIRST LINE
Now I've tried many different clothing brands over the years, but one that has become a firm favourite is Clawgear from Austria. I wanted to create a solid colour set of kit, and their RAL7013, or "Brown Grey" gear was, and is, very interesting. I contacted them from memory back in 2014 to see if I might test a few items and they kindly agreed to send a few key garments over to me, and this arrangement has continued to this day. This to me says an awful lot about any manufacturer; yes, Clawgear work with the very best in terms of fabrics, have amazingly high design and manufacturing standards, and offer an exemplary service, but would they come up with the goods? Many manufacturers claim what they do, but in many years of experience in this area I've learnt that few truly do; Clawgear though unequivocally do in every respect!
Before I go into the clothing itself you may be wondering what is "RAL7013" and why is this colour suddenly so popular? In 1927 the German Reichs-Ausschuß für Lieferbedingungen und Gütesicherung (State Commission for Delivery Terms and Quality Assurance) invented a collection of standardised and numerically referenced colours which has been continually expanded from that day on. If you check out www.ralcolorchart.com and search for RAL7013 you'll find it in the "Grey" palate; RAL provides a colour standard for all manufacturers to adhere to.
In the tactical world this colour works in a wide broad range of ways; although officially termed "Brown Grey", in some lights it looks properly green, whilst in others, it becomes greyer especially in low light settings. For professional end-users, the Brown Grey colour blends into a broad spectrum of environmental settings and can be perfectly combined with other block-colour or camouflage clothing or equipment. Brown Grey gear is becoming increasingly popular because it works very effectively in all settings; it's equally at home in towns and cities as it is in the backwoods, and if you look at images of either SWAT or HRT teams you'll see a lot of "Ranger Green" which is broadly in the same palette, either as a standalone or mixed with black/tan gear. It's a subtle and clever tone that allows the user to visually blend into their surroundings.
RAL7013 was until very recently though the colour predominantly used by the Austrian Armed Forces so it's hardly surprising to see Clawgear, who are based in Steyr-Gleink, being at the forefront of this colour adoption. Clawgear are highly innovative in what they produce not just in terms of cutting edge design and their use of the most up to date fabrics but also in their choice of colour options.
The first garment I had from them was the Aviceda Fleece as a thermal layer; this lightweight mid-layer garment is still extremely comfortable to wear and the modern styling allows a full range of unrestricted movement. It's made from a 100% polyester fleece fabric which looks and feels great, and high quality YKK zips are used throughout. The fleece itself is water repellent and breathes extremely well, making the Aviceda a superb layering piece. I especially like the low-profile hood which works perfectly in conjunction with a hard or softshell outer layer, effectively eliminating cold spots around the neckline. The Aviceda also benefits from two lower, mesh-lined handwarmer pockets, pockets on both upper arms with velcro patches for team/unit patches, and an inner pocket which allows routing for comms cables; the outer pockets are neatly trimmed with black fabric which gives the jacket a visually stunning appearance as well.
Weighing in at just 410g the Aviceda is easy to pack and takes up minimal space in a pack, so it's absolutely ideal if you want to stow it away "just in case". Overall it's a superbly designed jacket made of high-end fabrics and components, and the finish of it just oozes quality and attention to detail. If you're in the market for a new performance fleece jacket in the very latest "tacticool" colour then I would thoroughly recommend you take a very close look at the Aviceda.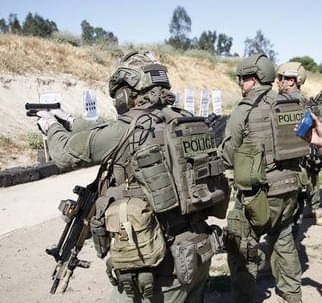 You can read up to 3 premium stories before you subscribe to Magzter GOLD
Log in, if you are already a subscriber
Get unlimited access to thousands of curated premium stories, newspapers and 5,000+ magazines
READ THE ENTIRE ISSUE
July - August 2020