VIVE LA FRANCE!
Daniel Brooker returns with France's 'What-if' Cold War Super Tank.
After the fall of France in June 1940 French tank design, which had led the world in the 1930s, took an enforced hiatus. In 1945 the designers at the AMX factory designers chose the heavy route for future tank design. The first plans were drawn up and named 'Char AMX M4' or 'Project 141' between 1946 to 1948. This design changed many times and had similarities to the German King Tiger with a projected weight in excess of 50 tonnes. The final weight of the vehicle this was dependant on its armour thickness and armament arrangement and it would not be until 1953 before a first prototype was built featuring a 120mm gun housed in a full rotating turret with a total weight of 59 tonnes. Over the next few years many design changes were introduced to finally produce what the AMX 50 Surblindé ('AMX 50 Uparmoured'). This still featured the 120mm main gun, but with a piked nosed hull design similar to the Soviet IS-3. The weight exceeded that of the first prototype which, in part, froze any future progress on this heavy tank project, and it was not until 1958 that the project was restarted with a new design and prototype, the AMX 50 Surbaissé ('AMX 50 Low Profile'). A short while later, in January 1959, the thirteen-year heavy tank programme was finally cancelled after unpromising field trials.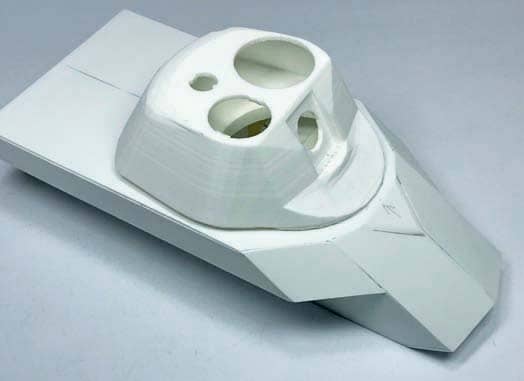 AMX 65
With the ever-expanding interest and popularity of the online tank gaming scene designs submitted and produced for these games can often be a good reference for us modellers and this formed the idea for this project. AMX factory plans were drawn up of this tank during the late 1940s with limited details of the intended finished tank available. I used some artistic licence with help from some 3D renders produced by an online tank gaming site and then decided on an idea of a post-War heavy tank produced and put into action in a fictional future conflict.
The Build
With the plans printed and scaled to 1/35, I cut them out and glued them to card which were used as templates to be traced onto some 2mm styrene sheet. I started by gluing the lower hull together using Tamiya Extra Thin Cement. This allowed me to get everything straight and square and once happy Super Glue could then be applied to every joint and cured with CA activator. Further supports were added in areas that would support the turret ring, engine deck and other key structural areas. With the basic shape now ready I carefully selected parts from my donor kit (Tamiya's old King Tiger kit). I could then carefully measure and drill the holes in the lower hull for the torsion bars, along with the road wheels. The chassis was then placed on a flat surface to make sure there was no floating wheels while the glue dried. Some more careful measuring saw the final drives and idler arms installed and, with this stage complete, I moved onto constructing the engine deck.
I planned its layout using the 3D render as a guide and rough measurements from the King Tiger kit. I fitted the engine fan housings along with fuel cap covers, engine hatch and recessed bolt holes.
You can read upto 3 premium stories before you subscribe to Magzter GOLD
Log-in, if you are already a subscriber
Get unlimited access to thousands of curated premium stories and 5,000+ magazines
READ THE ENTIRE ISSUE
February 2020