WHY CHINA IS DOING WHAT IT IS DOING AND DELHI IS DOING LITTLE
Geopolitics|June 2020
Noted defence analyst BHARAT KARNAD suggests measures that New Delhi should take to deal with Beijing
The press reported that on May 23, 2020, the Army Chief, General MM Naravane, briefed Raksha Mantri Rajnath Singh about the state of affairs in the Ladakh sector of the Line of Actual Control he visited in the previous days. That the National Security Adviser Ajit Doval and Chief of Defence Staff General Bipin Rawat attended this briefing suggests the situation is more worrisome than the army has let on.
Indeed, in a short interview carried by The Indian Express on May 14, 2020, Naravane was complacent, pooh-poohing the violently intrusive tack the PLA has taken in asserting China's territorial rights to the detriment of India's claims. "All such incidents are managed by established mechanisms where-in local formations from both sides resolve issues mutually as per established protocols and strategic guidelines given by the PM after the Wuhan and Mallaparam summits," he averred. He clarified, helpfully, that such confrontations arise due to the unresolved "differing perceptions of the alignment of boundaries". To tamp down on speculation regarding the potential for such incidents to snowball into active hostilities, he added that the Chinese aggression in the Pangong Tso Lake region of eastern Ladakh and on the Sikkim border in the Naku La section (on May 5-6) are not "correlated nor do they have any connection with other global or local activities". In other words, that these were one-off incidences with no connecting policy skin and that the Indian media would do well not to play them up.
However, on May 13 newspapers had reported serious injuries to a Colonel and a Major in the Pangong Tso environs because they were clubbed by the intruding Chinese troops with a new version of a medieval weapon — nail-studded wooden batons — that were being swung freely and with intention to do harm. In short, it was not latest in the series of mildly fricative pushing and shoving matches (as at Doklam in 2017) that have to-date typified Sino-Indian border interactions.
Apparently, General Naravane and the Modi government do not consider the use against senior Indian field officers of long nail-studded wooden clubs by Chinese troops an escalation nor perceive such incidents to be other than of little account because their public statements seem to be drafted by the worst of the panda huggers in the Ministry of External Affairs. The best possible spin on this is that Army Headquarters have imbibed a bit too much of the Wuhan and Mallapuram spirits brewed up by Modi than is good for India's security, thereby indicating that they cannot be relied upon to call a spade a shovel where China and LAC are concerned, let alone to respond heftily in kind. Not for the forward-deployed Indian units then the retaliatory joys of cracking open a few senior Chinese officers' heads with a policy of ambush and hammer.
A weak-kneed Indian government has long been suspected as infecting the Indian military with its preference for shambolic gestures instead. So, two Su-30s were dispatched from the Leh airbase to patrol the skies around the Pangong Lake located at 5,000 metre altitude to do what good is anyone's guess. Because a Sino- Indian agreement to peacefully manage the LAC bars combat aircraft from flying within 10 kms of it. If an aerial gesture had to be made, why did the PMO (which has to clear any and every proactive measure or meaningful action and reaction on the 3,800 km-long China border) not deploy an armed helicopter or two for low-level flying the PLA troops could see to deter them from physically belabouring Indian soldiers in the cruel manner they did? Helicopters are permitted by the same accord to fly within one kilometre of LAC. In any case, the minimum response to such PLA atrocities should have seen Naravane decree that, along with normal infantry weapons, every Indian soldier be armed with a heavily weighted baseball-type bat with sharp protruding metal spikes he can pull out and smash PLA troopers' faces with at the first hint of trouble at close quarters. This, of course, hasn't happened.
Indeed, Indian Army brass have taken great care to mention that these border ruckuses also involve Indian troops, thereby in effect equating Indian soldiers guarding the peace on LAC and the Chinese troops disrupting it, perhaps, because they expect the Indian jawans to stand still while getting whacked in their faces. In fact, the over-conciliatory tone adopted by Naravane with subdued action in train may now be the military's norm. This even when PLA troops seem at liberty, when not wielding their 5.8 mm QBZ-95 assault rifle, to clobber Indian soldiers with metal spiked clubs. The Indian political and military leadership alike take comfort, ironically, from the short duration of these faceoffs, little realising that such PLA actions can, when not meant to intimidate, instantly lead to unanticipated but planned followup actions. Absent the sort of dense military use infrastructure build-up on the Chinese side of LAC and beyond into Indian territory, the Indian forces, will find such moves hard to resist.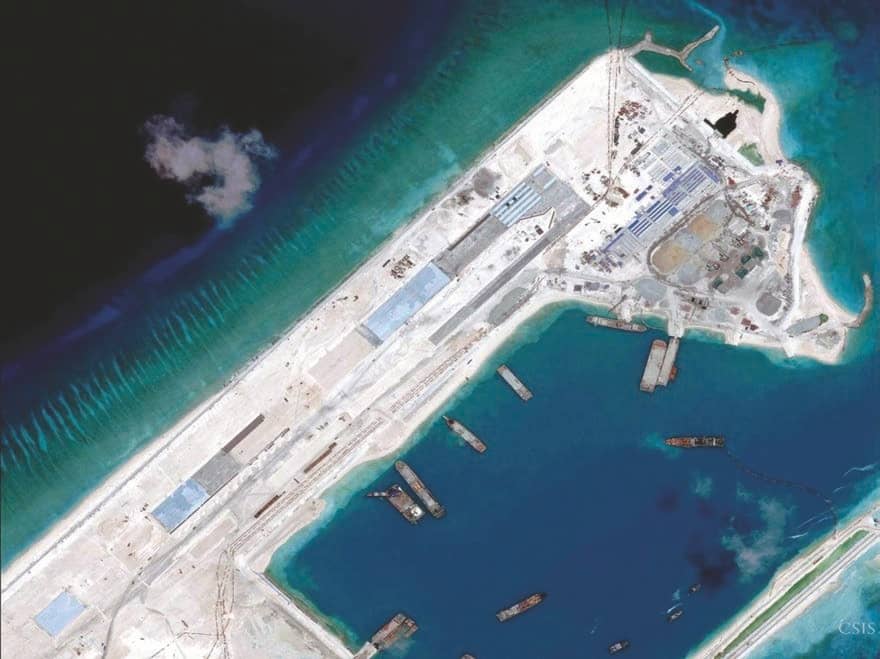 You can read up to 3 premium stories before you subscribe to Magzter GOLD
Log in, if you are already a subscriber
Get unlimited access to thousands of curated premium stories and 5,000+ magazines
READ THE ENTIRE ISSUE
June 2020