NUCLEAR 'CHINDIA' RISING OR UNBOUND?
Geopolitics|June 2020
The sub-text is crystal clear…India and its armed forces; its warfighting support system and strategic infrastructure must be ready for the worst even as we insist on status quo pre-May 2020 as non-negotiable. This is because agreeing to "adjustment/acceptance" of current Chinese positions on ground "as is where is" will hand over critical strategic and geo-political space to China. It will make Sino-Pak collusion in Eastern Ladakh a nightmarish reality; make Leh, Siachen/Saltoro/DBO/Chushul and our communications/command and control set up fraught with risk of sudden attack and loss. GEN RAJ MEHTA examines the issue and takes a macro view above the cacophony of satellite driven nit-picking about weapons, bunkers, tents, vehicles and such wearisome detailing
The India Today issue datelined June 8, 2020, carries more than a delicious oxymoron: what was considered Nuclear-armed China-India (Chindia) rising falling down to "clashing with clubs and stones" across portions of the 3488 km long LAC that separates the two countries; thus darkly echoing a quote often attributed to physicist Albert Einstein about how a future war would be fought. That the two nations which did $90 billion of bilateral trade, of course, added a key strand to the irony. So did the expected outcome of the General Officer level border talks between the two warring nations at the Chushul/Moldo border meeting point on June 6, 2020 whereby among chants of both sides "seeking a peaceful way out" the MEA indicated that both countries were in for a long haul before a tenuous peace can be restored across the alpine Himalayan wastes. This, even as Lt Gen SL Narsimhan (Retired), a member of the National Security Advisory Board (NSAB) remarked that "reading into the happenings of the past few days, there is a possible solution".
Readers will of course wonder how Chindia; the clever marketing buzzword of 2008 vintage has come down to streetfighters like slugfests and stone-throwing with both sides soldiers carrying weapons sheathed and with barrels pointing downward; having last fired weapons in anger 45 years ago at Tulung La in October, 1975. Both sides are reflecting a refrain which amounts to neither breakthrough or breakdown… Just "stasis in glacial progress" as it has been since November, 1962 as veteran defence analyst C Uday Bhasker put it succinctly in an article datelined June 8, 2020.
A Navy veteran, Uday who heads a respected think-tank, Society for Policy Studies, opines that there is need to look beyond the LAC where a grueling, grinding confrontation will stay for longer than the Doklam faceoff perhaps and take constructive action about our historical "sea blindness". He suggests that China's ambitions about becoming the lead superpower by 2049 needs secure sea lines of communication for its vast trade and energy imports. A Pacific Ocean power, it is at sea in the Indian Ocean which should have been an Indian Navy's strength but isn't. It is hurtful that while China has allotted 30 percent of its $180 billion defence budget ($54 billion), India has allotted only 14 percent of its $46 million to the navy ($7 billion). By current projections, the Chinese Navy by 2030 will have 550 ships compared to an optimistic 175 ships for the Indian Navy. Uday suggests that managing China has to be a multipronged approach in which development of trans-border capabilities should include all three services including the security and growth for all in the IOR (SAGAR) a 2015 PM Modi initiative which will have to be navy driven and will need heavy investment in capital assets like ships/submarines/marine aircraft.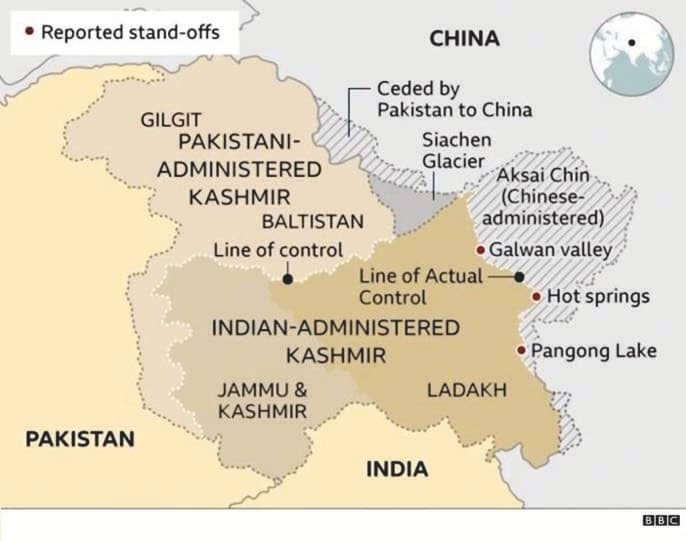 A word about Chindia is necessary here to add an uber dimension to the largely linear and jingoism led territorial dispute on both sides that has been aired on several public and social media platforms. The book 'Chindia Rising' by Professor Jagdish Sheth, Kellstadt Professor of Marketing Goizueta Business School, Emery University, USA says that in Thomas Friedman's words, nations that are both part of the same major global supply chain are extremely unlikely to go to war with each other. Micheal Dell, Sheth avers, says much the same in his "Dell Theory of Conflict Prevention" by defining it thus: "These countries (Chindia for instance) understand the risk premium that they have and they are pretty careful to protect the risk equity they've built up". For emerging China he says after many visits there that the average Chinese has tasted economic independence, a better lifestyle and a better life for family and they don't want to give it up. Strategic thought leader Francis Fukuyama says that economic interdependence has largely rendered conflict counterproductive and China and India are aware of this reality.
This view may be far too liberal because China is waging war in some far from Asia Pacific to South Asia and the ongoing competition between China and India has made both nations bellicose; China leading the stakes by a length in that space as has now happened image That said, the book concludes that with people in Chindia pre-COVID 19 finding new jobs, improving their lot in life and both rising to economic and political parity with the developed world, such progress rather than military conflict is more likely to be the new normal.
This economic pragmatism and enlightened self-interest is probably what Chindia is more likely to embrace and leave the territorial and political dispute recessed for later times and opportunities, so far as China is concerned. If we carefully read the tea leaves post the June 6, 2020 border meeting of apex Generals on either side, the careful MEA/Chinese statements as also NSAB member Gen Narsimhan's cautious but perceptive prediction of a solution sooner rather than later, Professor Sheth's conclusion match perfectly. There is far more space for peace rather than there is for concerted military action above unarmed combat of the jousting kind as has been on current display.
You can read up to 3 premium stories before you subscribe to Magzter GOLD
Log in, if you are already a subscriber
Get unlimited access to thousands of curated premium stories and 5,000+ magazines
READ THE ENTIRE ISSUE
June 2020