MORE HEFT AND FIZZ
Geopolitics
|
November 2020
Will India's latest Defence Acquisition Procedure 2020 speed up military capability - building through indigenous efforts, help in achieving the turnover of ₹1,75,000 crore and exports of ₹35,000 crore by 2020- 25 as per the targets enunciated in the draft Defence Production Policy 2020? AMIT COWSHISH answers
It is hard to encapsulate 650-odd pages of Defence Acquisition Procedure 2020 (DAP-2020) released by the Ministry of Defence on September 30. Like its predecessor, Defence Procurement Procedure 2016 (DPP-2016), this document is a curious mix of good intentions, ambitious policies, and Byzantine procedures.
It took the 12-member committee set up by the Ministry of Defence (MoD) in August last year to align DPP-2016 with the government's atmanirbharta abhiyan (campaign for self-reliance), which has now subsumed the 'Make in India' call given by the Prime Minister in the course of his Independence speech in 2014, and finalise the new draft.
Considering that DAP-2020 is the outcome of extensive deliberations involving the civil and military bureaucracies, Indian and foreign industry, and many other resource persons, it would be fair to expect that the policy and procedural changes incorporated in this document will spur indigenous defence manufacturing, reduce dependence on imports and hasten acquisitions. However, this expectation engenders a sense of déjà vu.
The DPP-2016 was also promulgated based on the recommendations made by a Committee of Experts after extensive interaction with various stakeholders, and it had similar objectives as DAP-2020. Evidently, however, the changes made in 2016 were of little help in reducing dependence on imports despite a steady increase in domestic production.
According to MoD's latest annual report for 2018-19, the value of production (VoP) of the 9 state-run Defence Public Sector Undertakings (DPSUs) grew from ₹39,729 crore in 2015-16 to ₹45,011 in 2018-19 (provisional). Some other media reports suggest that in 2018-19 the overall VoP by the defence industry was ₹80,558 crore. This implies that the private industry and the Ordnance Factory Board (OFB) accounted for approximately 44 percent of the total VoP that year. These figures look impressive but fail to explain why increased production did not reduce India's dependence on imports.
As a matter of fact, according to the renowned Stockholm International Peace Research Institute (SIPRI), India was the second largest importer of arms in the world during 2015-19. It is also the period when many big manufacturing projects like Futuristic Infantry Combat Vehicle (FICV), Medium Multi-role Combat Aircraft (MMRCA), Tactical Communication System (TCS), and C-295 Medium Transport Aircraft (MTA) either fell through or remained in limbo. It was nothing unprecedented, though.
Even after adoption of the Strategic Partnership Model (SPM) in 2017, none of the projects for local manufacturing of fighter aircraft, submarines, helicopters, etc. have reached the contracting stage. The C-295 MTA project, which was conceived a decade back and would have established a parallel aircraft manufacturing capability in the private sector by now only if the contract had been finalised in time, is still lingering although all procedural formalities were completed long back.
Three inferences can be drawn from these facts. One, increase in defence production in India does not necessarily mean corresponding decrease in imports. Two, procedural changes do not automatically translate into self-reliance. And three, domestic production will pick up, notwithstanding the constraints arising from the policy and procedures, if there is a real demand for the products and services from the MoD, or the foreign buyers, or both.
It is a harsh reality that the services' requirements do not always translate into firm demand because of the financial constraints and several other reasons. As for defence exports, MoD's annual report for 2018-19 mentions that the defence export 'authorisations' have gone up from ₹1,521 crore in 2016-17 to ₹10,745 crore in 2018-19. This is an impressive jump of 700 percent, but it is disconcerting that according to some reports the 9 DPSUs and 41 Ordnance Factories (OFs) accounted for just 7.6 percent of the total defence exports.
The SIPRI data of March 2020 shows that while India has become the 23rd largest exporter of arms, it accounts for just 0.2 percent of the global arms market and its biggest clients are Myanmar (46 percent), Sri Lanka (25 percent) and Mauritius (14 percent). At any rate, the fact is that India has not yet acquired the status of a major arms exporter, developed niche products or captured any major markets.
The question is whether DAP-2020 will address these multiple issues, speed up military capability - building through indigenous efforts, and help in achieving the turnover of ₹1,75,000 crore and exports of ₹35,000crore by 2020-25 as per the targets enunciated in the draft Defence Production Policy 2020. It would be inappropriate to make any predictions, but some inferences can be drawn from the general drift of the DAP-2020.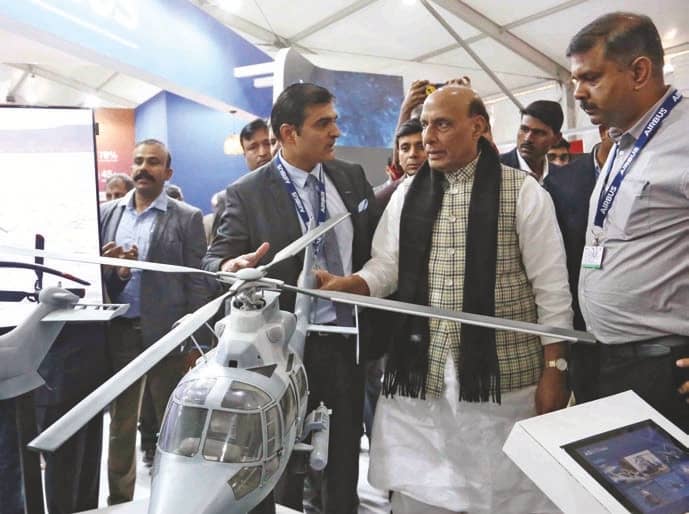 What is DAP-2020 all about?
The changes made in the DAP-2020 relate to the procurement policy as well as the procedures, and its contents can be divided into seven segments: defence planning, promotion of indigenous solutions, categorisation of acquisitions, procurement cycle, customised procedures, other miscellaneous features, and post-contract management. Each of these segments is important, but efficient defence planning is undoubtedly the sine qua non for achieving atmanirbharta.
New defence planning architecture
You can read up to 3 premium stories before you subscribe to Magzter GOLD
Log in, if you are already a subscriber
Get unlimited access to thousands of curated premium stories, newspapers and 5,000+ magazines
READ THE ENTIRE ISSUE
November 2020