FORWARD MOMENTUM
Geopolitics
|
November 2020
With the ongoing border tensions with China showing no signs of cooling off and a diplomatic thaw seeming too far as a mirage, Indian military is preparing for the long-haul in Ladakh
India's ongoing border confrontation with China is likely to continue for the foreseeable future. The current situation has meant that a large number of Indian troops will need to be maintained on a permanent basis to fortify and protect our Eastern borders with a belligerent China. Speaking in the Lok Sabha on September 15, Defence Minister Rajnath Singh listed the key areas of disagreement with China, who he said continues to be in illegal occupation of approximately 38,000 sq. kms in the Union Territory of Ladakh. Pakistan has also illegally ceded 5,180 sq. km. of Indian territory in Pakistan Occupied Kashmir (POK) to China, under the so-called Sino- Pakistan 'Boundary Agreement' of 1963. Approximately 90,000 sq. kms. of Indian territory in the Eastern Sector of the India-China boundary in Arunachal Pradesh are also claimed by China. Evidently, this is a complex boundary issue and the recent aggressive steps taken by China have derailed the considerable progress made by both nations since 1988.
"As the House is aware, India and China are yet to resolve their boundary question. China does not accept the customary and traditional alignment of the boundary between India and China. We believe that this alignment is based on well-established geographical principles confirmed by treaties and agreements, as well as historical usage and practice, well-known for centuries to both sides," Singh said. "The Chinese position, however, is that the boundary between the two countries has not been formally delimited, that there exists a traditional customary line formed by the extent of jurisdiction that they claim was exercised historically by each side, and that the two sides have different interpretations of the position of the traditional customary line," Rajnath Singh said in Parliament.
Speaking to senior Indian Army commanders on October 29, during the Army Commanders' Conference, an apex biannual event, held in New Delhi, Rajnath Singh complimented the forces for the high standard of operational preparedness and capabilities which he experienced first-hand during his visits to forward areas. Commenting on the current situation along the Northern borders, he expressed confidence that while troops are standing firm, the ongoing talks for peaceful resolution of crisis will continue. "Creation of CDS and DMA is a momentous decision in Indian history and the concept of Integrated Battle Groups, Integrated Theatre Commands and Integrated Air Defence Commands will be game changers in the way Indian Armed forces fight future wars," he said, while adding that establishment of the Defence Cyber and Space Agencies will further enhance the kinetic potential of the forces.
An increased defence partnership with the USA is now well underway and on October 27, following the India- USA 2+2 Meeting in New Delhi, Singh announced the signing of the Basic Exchange and Cooperation Agreement for Geo-spatial Cooperation (BECA) with the USA. The latest agreement follows the inking of two other important agreements; Logistics Exchange Memorandum of Agreement (LEMOA) in 2016 and Communications Compatibility and Security Agreement (COMCASA) in 2018. "I would also like to highlight some of the other noteworthy steps taken by both India and US in follow up to our earlier discussions. These include Positioning a USN LO at IFC-IOR and Indian LO at U.S. Naval Forces Central Command (NAVCENT), Bahrain; greater interaction and coordination with United States Central Command (CENTCOM) and U.S. Africa Command (AFRICOM); setting up of the COMSEC account and increasing the scope and complexities of our exercises. Now LO's at each other's establishments could be leveraged to enhance our information sharing architecture. To sum it up, our military to military cooperation is progressing well," Rajnath Singh highlighted.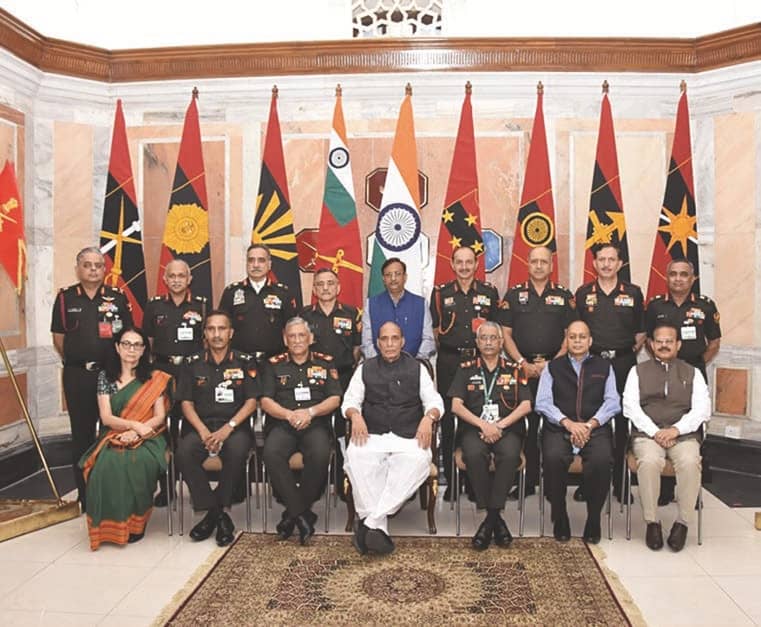 Upping the Ante
You can read up to 3 premium stories before you subscribe to Magzter GOLD
Log in, if you are already a subscriber
Get unlimited access to thousands of curated premium stories, newspapers and 5,000+ magazines
READ THE ENTIRE ISSUE
November 2020