BUILDING THE ORDER BOOK
Geopolitics
|
November 2020
The orderbooks for LCA, LCH, HTT-40 and LUH are poised for robust growth at HAL, with the DPSU also getting ready to come up with a whole gamut of world-class products in the new decade, explains DHIRENDER JAMWAL
It has been a quick turnaround in the fortunes of India's only military aircraft manufacturing and design organisation, Hindustan Aeronautics Limited (HAL). Only a few years, ago, HAL had lost or decided not to proceed with key aircraft programmes such as the manufacture of Dassault Rafale in India (as part of the original MMRCA contract) in addition to deciding to cancel partnerships with Russia for Multi-Role Transport Aircraft (MTA) and PAK-FA (Sukhoi Su-50). It has taken some time, but HAL now has a host of indigenously designed and developed fighter aircraft, helicopters and basic trainer aircraft, that will drive its growth in the future.
Securing a bright future
The Government of India has taken a number of steps to ensure that HAL, has its order books full. The main programmes in the coming years are mainly related to manufacture of 83 Tejas Light Combat Aircraft (LCA) MK- 1A, 15 Light Combat Helicopters (LCH) and 106 HTT-40 Basic Trainer Aircraft for which Defence Acquisition Council (DAC) approval has been obtained and orders are expected shortly.
The contract for 83 Tejas Mk 1As (73 single seaters and 10 twin-seaters) will be worth more than US$5 billion and will be India's largest order for an indigenous aircraft. The next new HAL product due to enter production is the Light Combat Helicopter (LCH) with 15 Limited Series Production (LSP) examples to be built. The HTT-40 programme will also be an important due to potential additional orders in the years to come. In August, the DAC approved procurement of 106 Basic Trainer Aircraft. Post Certification 70 Basic Trainer Aircraft will be initially procured from HAL and balance 36 after operationalisation of HTT-40 fleet in IAF. Prototypes and certification process is presently underway.
HAL is also nearing completion of design, development work and flight testing on the Light Utility Helicopter (LUH) for which orders for 187 helicopters are expected. The creation of a Joint Venture with HAL, M/s Russian Helicopters & M/s Rosoboronexport for supply of 200 nos. Ka-226T helicopters is also progressing with HAL having responded to a Request for Proposal (RFP) issued by the Ministry of Defence (MoD). Orders in the coming years for HAL helicopters from the Indian armed forces, across Dhruv MkIII, MkIV, LCH, LUH and Ka-226T will be close to 650 helicopters.
In 2019-20, HAL recorded a turnover of ₹21,218 crore as compared to ₹19,821 crore in 2018-19; an increase of 7 percent. However, HAL's order book as of 31st March 2020, stood at a healthy ₹52,965 crore. Production of new aircraft, during the year 2019-20, stood at 31 aircraft and helicopters, covering Su-30 MKI, LCA Tejas, Dornier Do- 228, ALH Dhruv, Cheetal and Chetak helicopters.
The company also overhauled 201 fixed wing and rotary wing aircraft, 486 aero engines of Russian and western origin were also overhauled. HAL also produced 117 new engines and accessories during the same period. HAL is also engaged in supply of structures for PSLV and GSLV programmes of ISRO. The 50 th L-40 stage of Geo Synchronous Launch Vehicle (GSLV-MKII) was handed over to ISRO by HAL in February. HAL is also manufacturing the riveted structures, propellant tanks, feedlines of PSLV, GSLV MKII and GSLV MKIII launch vehicles and structures of various satellites for ISRO.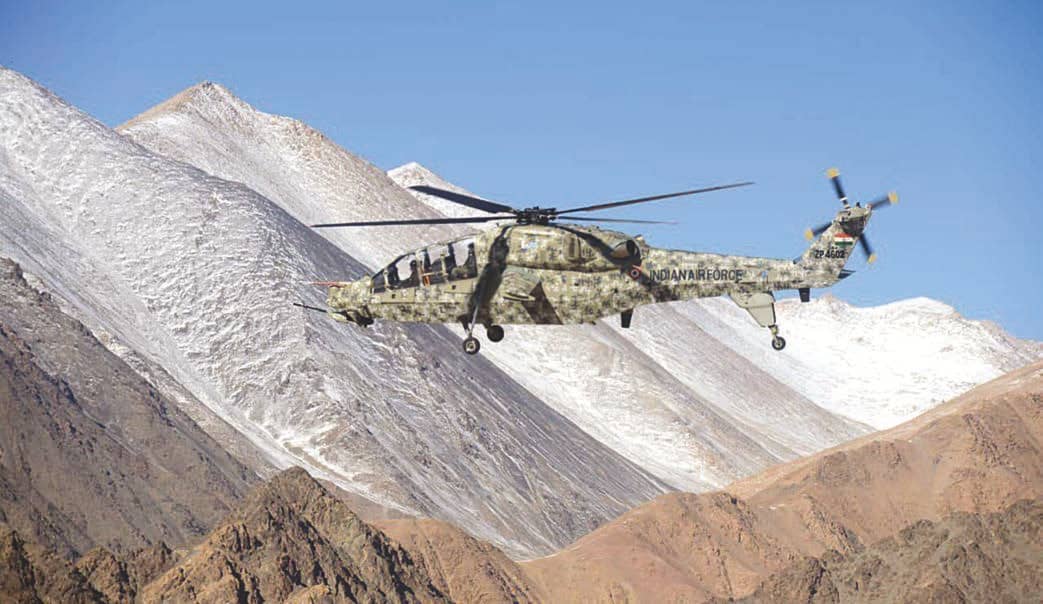 Tejas LCA
Orders for 83 Tejas Mk-1A aircraft, which feature enhanced capabilities with an Active Electronically Scanned Array (AESA) Radar, Beyond Visual Range (BVR) missile, Self-Protection Jammer (SPJ) and Air-to-Air Refuelling (AAR) are expected shortly. Delivery of Tejas Mk-1A aircraft would commence three years from the date of signing of contract. The first Tejas Mk 1A is slated to make its maiden flight next year.
Tejas Mk 1As will carry new Air-to- Air Missiles (AAMs) including MBDA's ASRAAM and Elta 2052 AESA radar along with a new Unified Electronic Warfare suite. The Tejas Mk-1 and Mk- 1A are powered by the same engine - General Electric's F404-GE-IN20 engine. The manufacturing capacity at HAL's production facilities in Bengaluru for Tejas aircraft, has been ramped up from 8 aircraft to 16 aircraft per annum, for which the HAL was sanctioned an amount of ₹1381.04 crore by the Government, in March 2017.
You can read up to 3 premium stories before you subscribe to Magzter GOLD
Log in, if you are already a subscriber
Get unlimited access to thousands of curated premium stories, newspapers and 5,000+ magazines
READ THE ENTIRE ISSUE
November 2020