Jesse Levitt
Skin Art|Issue 174
Jesse Levitt
Dan Henk: What lead you into tattooing? Was it direct, or a sidestep? I went to art school and moved to NYC with the plan of being a comic artist.
Jesse Levitt: I was about to graduate from college and I knew that I needed a direction to go in that was going to pay bills, but still be artistically satisfying. One day I was looking for references for a painting I was making and I came across some Tommy lee Wendtner and Victor Portugal work which absolutely blew my mind. I knew then that I wanted tattooing to be my future. At the time I was going to school for computer art. So, I moved to Chicago to find an apprenticeship and after a couple months I did find one.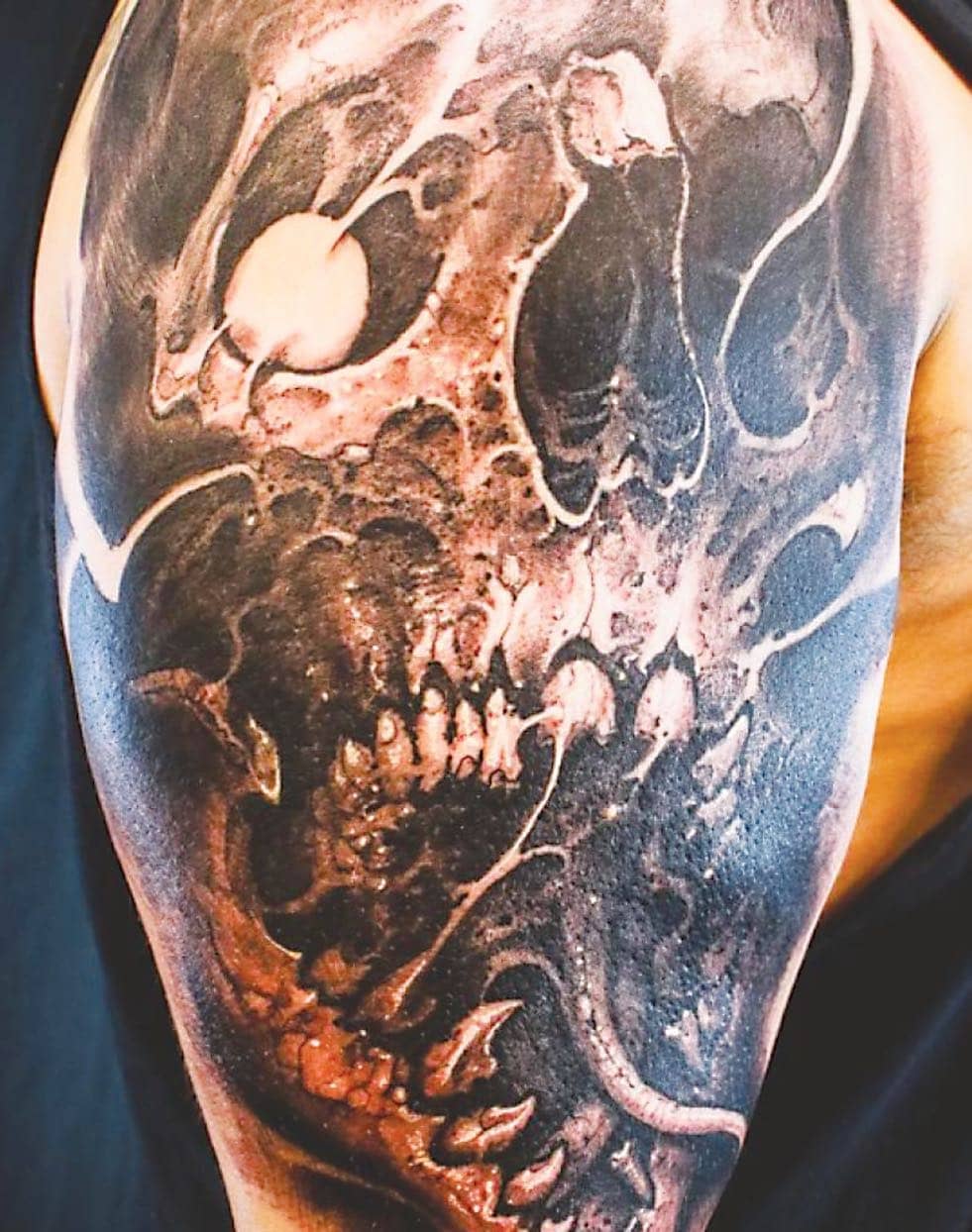 DH: Tell me who was that with? How did it go?
JL: It was a tano-name shop, being loosely mentored by some street shop/walk-in artist. I think the apprenticeship could have been better, but it could have been worse. I had very little direction and I think if I wasn't as driven as I was it could have gone badly. However, I spent almost 100% of my free time drawing, sketching, and trying to find people that let me practice on them. I had people letting me free and entire sleeves of skulls and bio only 4-5 months into my apprenticeship. I think they trusted me because of my already developed art skills. Some of those early sleeves came out better than you might expect from such an inexperienced tattooer, but still they were nothing spectacular. As time went on, I learned very fast, mostly through trial and error, not to mention the occasional technical help from my "mentors" at the shop. But come to think of it, I doubt a traditional apprenticeship would have allowed me to develop my style so quickly.

DH: You moved to Chicago from where, upstate New York? Was that a big deal? I remember when I was trying to start a career tattooing in NYC, I was eating tuna in a can from Bodega's and barely making rent.
JL: (Laughs), Yes. I moved from upstate NY to Chicago with almost no money at all. I had a part-time job at Staples during my apprenticeship and was broke as hell. Luckily my best friend was also living in Chicago (he went to college there) so I slept in a tiny fort I erected in the corner of his apartment and paid him what I could for rent.

DH: Yeah, that sounds almost like me. I worked at a restaurant part-time and stayed in my friend's apartment in Queens. How long did it take you to actually make some money off tattooing, and when did you start to develop your signature style?
JL: I started making small amounts of money in the last half of my apprenticeship, which only lasted for a little over a year. At that point, a reputable Shop back in NY had reached out and offered me a full-time position. I moved back to NY to work at Needle wurks in Saratoga Springs, I stayed there for about 3-4 years. I started really honing in on my style at that point and after I about 2 years (3 years of tattooing in total) I started doing conventions and winning awards. That gained more attention and clients. I would say it was around then that my style really transformed into something desirable.
You can read up to 3 premium stories before you subscribe to Magzter GOLD
Log in, if you are already a subscriber
Get unlimited access to thousands of curated premium stories and 5,000+ magazines
READ THE ENTIRE ISSUE
Issue 174