Wits And Giggles
Playboy Sweden
|
November 2019
With Joker bringing an iconic grin back to theaters, we consider why the diabolical hedonist continues to captivate us — even if we never figure him out
It's the bared teeth. Slightly yellow but still gleaming between the candy-apple lips. Clenched and hungry. Ruthless. You wouldn't call the Joker's expression a smile — not unless you were kidding yourself.
There's agony in the villain's bloodthirsty grin. There's rage behind the eyes, battling against the pain for dominance. Maybe there's a smear of satisfaction — let's face it, the man loves his work — but he isn't necessarily happy. He's ferocious.
In the nearly eight decades since he began menacing the good people of Gotham City, the Joker has taken on many identities, worn many faces and had many names. Just like the devil himself.
Still, for all his varying origin stories, he's instantly recognizable, and not just for the green hair, pale skin, and purple suits. All Jokers share an unrepentant delight in chaos for its own sake; their antics aim to torment the helpless and innocent, and they're always able to spring surprises on Batman, a hero who prides himself on preparing for the worst.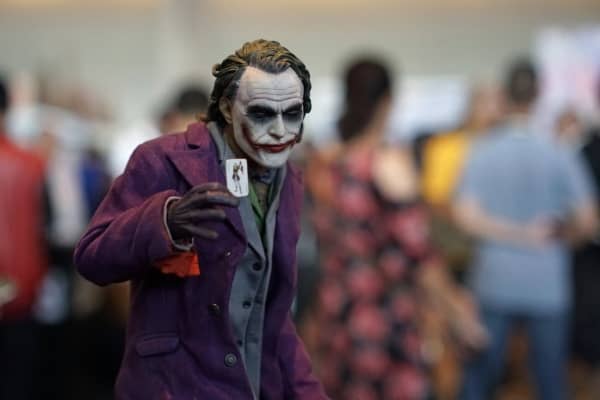 In its official character biography, DC Comics lists the Joker's defining power as "complete unpredictability." That aligns perfectly with his latest screen incarnation which released on October 4. Joaquin Phoenix stars in the savage, heartbreaking R-rated character drama titled simply Joker. The film spirals into the ruined psychology of a man named Arthur Fleck, a wannabe stand-up comic who makes ends meet as a clown for hire on Gotham's mean streets. Crippling mental illness and a long history of abuse make it increasingly difficult for Fleck to deal with life's mounting indignities and defeats. He's a constant punch line, until the day he snaps and decides to hit back. But in true Joker fashion, each of the film's seeming revelations only raises more uncertainty about its main character.
"I really like the idea of something that challenges the audience," Phoenix tells PLAYBOY. "Every time I felt we were certain about what motivated his actions, I became less interested. We would constantly try to challenge ourselves while making it. There's not one moment, not one catalyst that creates this character. The pleasure for me in being part of it was not having the easy answers."
The Wayne family looms over the story, but there's no giant bat here; the Joker's nemesis is within. This is the DC Comics version of Taxi Driver or The King of Comedy featuring Norman Bates instead of Rupert Pupkin. It's no coincidence that Robert De Niro turns up as a late-night talk-show host revered by the main character.
Arthur Fleck is a name comic book fans won't recognize, an original creation of director and co-writer Todd Phillips, the filmmaker behind the Hangover trilogy. Phillips acknowledges that he could have made the same movie about a struggling comedian who turns homicidal without any of the DC Comics frameworks. But what's the fun in that?
You can read up to 3 premium stories before you subscribe to Magzter GOLD
Log in, if you are already a subscriber
Get unlimited access to thousands of curated premium stories, newspapers and 5,000+ magazines
READ THE ENTIRE ISSUE
November 2019