Hare Force One
Playboy Sweden
|
April 2019
The Playboy empire hit cruising altitude in the early 1970s with the Big Bunny, a private jetliner that embodied luxury and indulgence —and, on occasion, embraced charity
IT WAS THE FRIED CHICKEN that scared flight attendant Gwen Wong Wayne the most. Not the turbulence, or the passengers who drank one too many glasses of wine, but the dish she and other Jet Bunnies prepared from scratch for their boss, Hugh Hefner, on the Big Bunny, h is p ersonal plane. The recipe was simple: chicken pieces, a handful of flour, Lawry's seasoning salt, garlic powder and dried parsley, all shaken together in an air-sickness bag and then fried. The location — a tiny forward galley in a DC-9 jet flying at 30,000 feet and cruising at a speed of 565 miles an hour — was not. Decades after her stint in the skies, Wayne says she always prayed they wouldn't hit an air pocket that might jolt the plane and send hot oil spattering.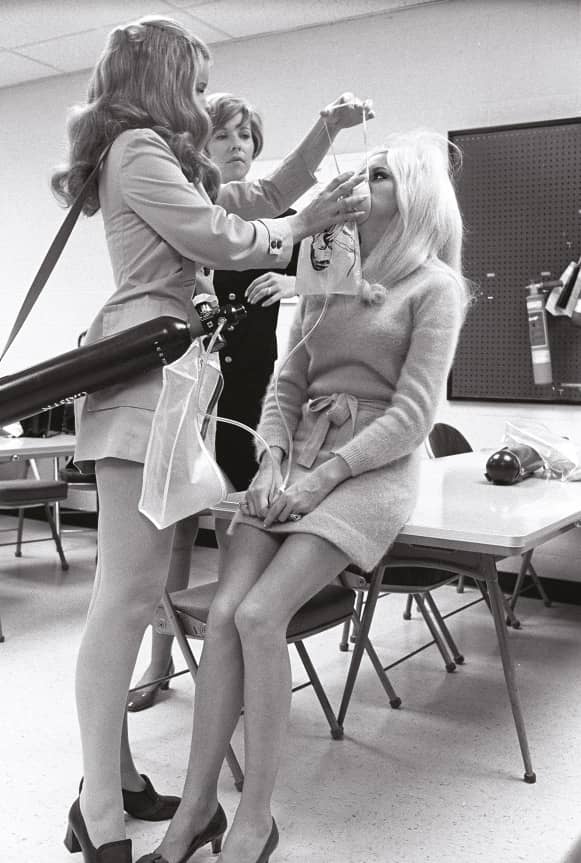 "He liked to eat certain things," Wayne remembers about Hefner, whose tastes, when it came to food, were famously consistent and unadventurous. Boxes of Twinkies were stashed so they'd never run out on long flights. A bottle of Pepsi had to be waiting for Hefner when he boarded (to be refreshed every hour) and a glass of cold milk served with his meal. Meal preparation was the only nerve-racking part for Wayne, a Playmate (April 1967) who had been working at the Los Angeles Playboy Club when she traded in her ears for wings and became a Jet Bunny.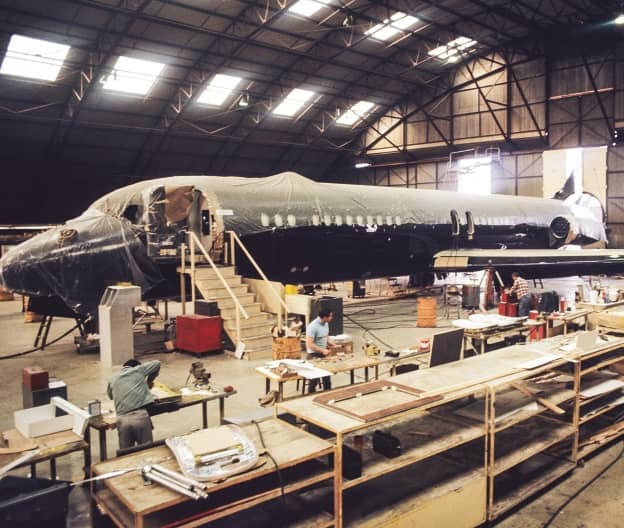 "Was it a hard job? At times it was, but also it was something that was just…almost like you have to pinch yourself to know that this is real," Wayne says.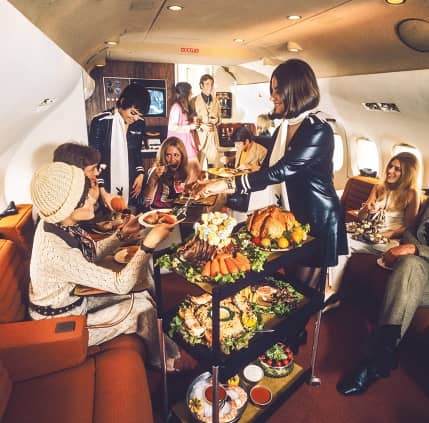 Painted solid black with a white Rabbit Head logo on its tail fin, the Big Bunny was one of the most recognizable planes of its time. It shuttled Hefner and his coterie from Chicago to Los Angeles and across the Atlantic for excursions to Europe and Africa. It incited envy among other executive-jet owners. It acted as the brand's winged ambassador, spreading the message of lust and luxury. Behind all the opulence — and occasional charitable undertakings — a flight crew including a pilot, first officer, flight engineer and two to three Jet Bunnies like Wayne worked to keep passengers happy and flights safe and seamless.
The challenges of finding the perfect skyhigh bachelor pad began almost as soon as Hefner expressed an interest in having a plane. "One day in the late 1960s he came to me and said he wanted a large corporate jet," says Dick Rosenzweig, who was then an assistant and eventually became an executive vice president at Playboy Enterprises. Rosenzweig initially looked into the Lockheed JetStar, the largest corporate jet available at the time. But when he reported back on his extensive research, Hefner waved the suggestion away.
"He said to me, 'Oh no, that's not what I'm talking about. This is going to be a flying mansion. And I need a dance floor and a bedroom with a round bed. I need something with international capability,' " Rosenzweig says.
More searching turned up the McDonnell Douglas DC-9 fan jet. The aircraft manufacturer agreed to create a special model of the plane: a stretch version with extra fuel tanks that could take it across the Atlantic. Hefner approved the plane but wanted nothing to do with the standard two-aisle, 100-plus passenger configuration. He hired designers Daniel Czubak and Gus W. Kostopulos to create an aircraft every bit as lavish as his mansions.
You can read up to 3 premium stories before you subscribe to Magzter GOLD
Log in, if you are already a subscriber
Get unlimited access to thousands of curated premium stories, newspapers and 5,000+ magazines
READ THE ENTIRE ISSUE
April 2019