A Phenomenal Woman
Playboy Sweden
|
April 2019
In 1999, former PLAYBOY editor Murray Fisher flew to the East Coast to speak with legendary American poet Maya Angelou. Their conversation, intended to be a Playboy Interview, never ran, the copy at some point misfiled and forgotten. Nearly 20 years after it took place, the dialogue was discovered by our archivists. Covering everything from religion to racism and, of course, writing, this remarkable piece of history is as relevant today as it was two decades ago. Novelist Edwidge Danticat introduces Fisher's once lost, and thankfully now found, Playboy Interview with Maya Angelou.
I first met Maya Angelou in print. I arrived in the United States from Haiti at the age of 12 and, after reading all the books by Haitian and French writers I could find at the main branch of the Brooklyn Public Library, resolved to start reading in English. One afternoon, on a display table at the library entrance, I came across I Know Why the Caged Bird Sings, the first book in Angelou's multivolume autobiography. On its cover, a barefoot little black girl stood, completely lost in reading, in front of a modest wooden cabin that looked like the one where I had spent my childhood summers. Even before I cracked it open, I knew I'd found a kindred spirit in the author.
Maya Angelou and I were born and raised in different countries during different eras, but we had much in common. She too had been left as a young girl in the care of relatives, in her case her grandmother in tiny Stamps, Arkansas, and in my case my aunt and uncle in Port-au-Prince. She too survived sexual abuse as a child, though her abuser was punished in a way that made her feel she should punish herself by not speaking from the ages of seven to 13. In Angelou's silence, however, were planted the seeds of a powerful writing voice. She devoured great works of literature, from Thomas Wolfe to Gustave Flaubert to Charles Dickens and many others. When Angelou was 17 (having returned to her mother's care a few years earlier), she had a baby, left home with her infant son and undertook an eclectic and extraordinary breadth of pursuits — dancer, madam, actor, civic organizer, playwright. She eventually flourished, blossoming not just as a nuanced and commanding writer but also an extraordinary orator.
In person Maya Angelou was tall and elegant, looking every bit the regal aging dancer she was. She had a booming, musical voice that sounded as though she might break into song at any time. When I first heard her speak, at Brown University, where I was a graduate student, I wept as she described her childhood rape and how speaking about it had led her uncles to kill her attacker. I remember Angelou closing her remarks by reciting, as casually as she might say "Good morning," a few lines from "Phenomenal Woman," one of her seminal poems: "I'm a woman / Phenomenally. / Phenomenal woman / That's me."
We met again a few years later, after my first novel was published. We were together on a panel about migration, and she reminded the audience of how her ancestors had been brought to America in the holds of slave ships, yet this diaspora had given the world the gift of beauty through jazz and other art forms.
I would add to the list of gifts that African Americans have given the world Maya Angelou herself, who transformed her personal pain and the agony of her people into so many different artistic endeavors, including poetry, prose, song, dance and theater, as well as the movies she directed and acted in. Her abundant gifts to us continue in this "lost" interview, conducted in 1999 by Murray Fisher at Angelou's sprawling North Carolina home. By that time, Angelou was well established in the literary firmament, having received countless honors, including being chosen to recite her poetry at President Bill Clinton's first inauguration.
Since Angelou's death in May 2014 at the age of 86, I have occasionally wondered what she might say about certain recent events in the U.S. and around the world. What would she say, for example, about cell phone videos of black men, women and children having the police called on them for existing while black, or about the documented police and vigilante killings of innocent people of color, or about the election of Donald Trump and the false equivalencies made between peaceful protests and white supremacist marches? What would she say about the #MeToo movement, or the various threats to our environment and increasingly endangered planet?
I don't think it's accidental that this interview has been discovered now, uncovered from deep inside a box of decades-old correspondence, writers' contracts and expense reports. I believe that Maya Angelou wants to speak to us from the land of the ancestors and somehow managed, with her trademark eloquence, to convince those in charge of the great beyond to deliver her words to us.
"Quite often one falls into the same role as the brute that you're opposing. And I don't want to do that," she tells Fisher. "If I'm just one good guy and there are 5 billion bad guys, I still want to have the courage to be the good guy."
I can't imagine better advice for the times we live in. From the distant and great unknown, Maya Angelou's unwavering voice continues to guide us well.
PLAYBOY: As you've moved from one episode of your life to another, you seem to have taken on new personas with each chapter you were living. And yet somehow they manage to come out of a piece.
ANGELOU: I suppose everybody's life is really a living patchwork quilt. There are those who would like to think that their lives are long tapestries. The truth is that everybody's life is a matter of happenstance, mis-happenstance, intention and accident, courage and cowardice. No matter how disparate the segments are, somehow it works as a quilt, the same way that colors in nature work graciously. Red, blue, orange, purple and yellow — nature throws it all out there and it works wonderfully.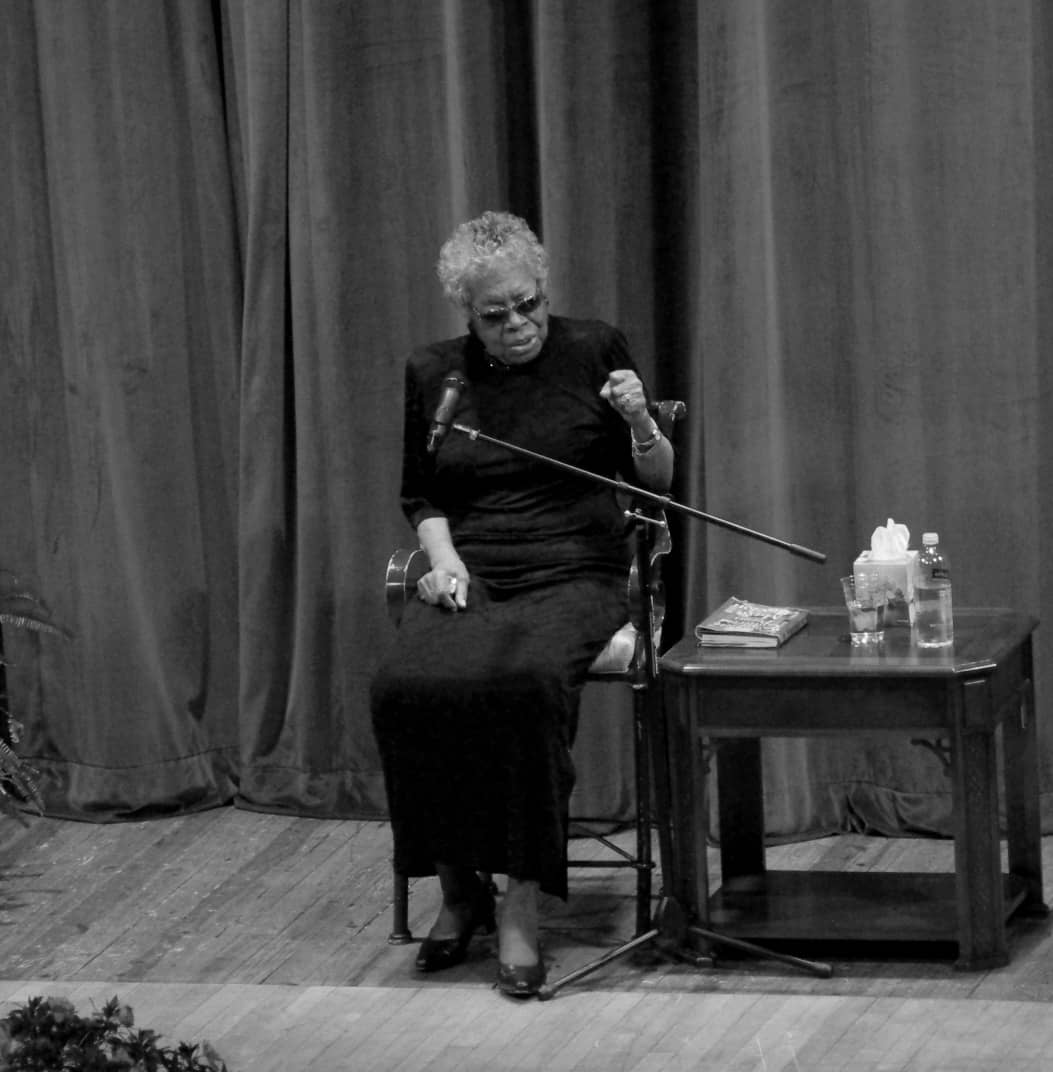 PLAYBOY: As you reflect on the pattern of your life and your accomplishments, what does it all add up to in your mind?
ANGELOU: It depends on what time of day I'm asked or if I've slept well the night before, read something that really pleased me or displeased me. Sometimes I agree with the preacher — vanity of vanities, all is vanity. And at other times I think I've been wonderfully blessed to be able to say something or write something, to live a certain way that makes life a little better for someone else.
I'm writing a piece that will be sung by Miss Jessye Norman at Carnegie Hall in 2000. I'm writing the mature woman. Miss Toni Morrison has been asked to write the young woman, and Clarissa Estés has been asked to write the middle-aged woman. When I spoke with Miss Norman, I realized that what people think happens to the mature person is romance — that you think you know something, you've come to certain conclusions, deductions have been made and tested — but it's just the opposite. I know for a fact that I know absolutely nothing now. And I feel more like a young person as I prepare for this next great adventure, which is life after death — or whatever it turns out to be. And so just as a 10-year-old is anxious and excited and avid and eager and wondering, so am I.
I can't really see the wisdom that people say I have. I've taken a lot of chances and I've come through. I've learned the hard way — if you go in the dark just beyond that tree, there's a big hole. You can fall in that hole and break your ankle. I've done that, so I've learned how to fall without breaking my ankle. That's simply the result of having lived and tried and missed and finally found my way.
PLAYBOY: But it doesn't feel like wisdom?
ANGELOU: It doesn't to me. I'm so busy living, I haven't yet come to the place where I feel like I know everything.
PLAYBOY: You have described yourself as "always talking about the human condition — about what we can endure, dream, fail at, and still survive."
ANGELOU: It's amazing that we are able not only to survive but to do better than that. We endure and we thrive — with passion and compassion and humor and style. We are people to match the mountain.
PLAYBOY: After all you've accomplished, all you've been through, what do you still want?
ANGELOU: I want to laugh, and I would like a love in my life. But I don't expect it. I've had it.
You can read up to 3 premium stories before you subscribe to Magzter GOLD
Log in, if you are already a subscriber
Get unlimited access to thousands of curated premium stories, newspapers and 5,000+ magazines
READ THE ENTIRE ISSUE
April 2019