Playboy Interview: Seth Abramson
Playboy South Africa
|
May 2019
A candid conversation with America's most dogged pursuer of the Trump-Russia story — a professor, poet and "metamodernist" out to prove collusion
Seth Abramson is a hard fellow to read. A Twitter-savvy commentator on the president's alleged Russia ties and author of the 2018 book Proof of Collusion: How Trump Betrayed America, he doesn't look like a natty legal analyst, nor does he come across as an investigative reporter or a goggle-eyed conspiracy theorist living on rage, Adderall and likes. Instead, he could be a regional manager for a callcenter chain, wearing roomy jeans, a suit jacket and extremely sensible shoes. Not long ago, he says, he wore nothing but athleisure pieces with sports logos. This suit jacket represents a recent, if only occasional, addition to his ensemble. With his book advance, he also bought a homely new Subaru sedan.
As with the best normcores, Abramson's rejection of style reflects its own punk defiance. Roomy jeans notwithstanding, he knows how to calculate an aesthetic effect. On Twitter, Abramson helped pioneer the literary form of the "thread." Both admired and reviled, the thread uses a string of tweets to create a kind of argument in epigrams. Threads are personality-driven, and readers (including hate-readers) of Abramson's tweets have gotten to know the eccentric New Hampshirite through his meticulous attention to the evidence of Trumpworld's alleged collusion with the Kremlin. His threads demonstrate his almost robotic recall and gift for sequential thinking, his love of asterisks as italics and, above all, his sometimes tedious prolificacy. An Abramson thread can run to thousands upon thousands of words, which is no mean feat on a platform meant to inspire thoughts consisting of 280 characters or fewer.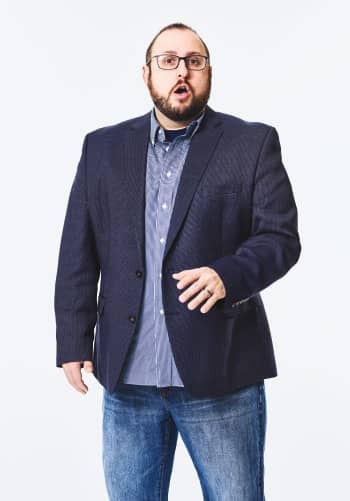 Abramson was born on Halloween 1976, in Concord, Massachusetts. He's a professor of communications art and science at the University of New Hampshire, as well as a published "conceptual poet" and a lawyer with five degrees — a B.A. from Dartmouth, an M.A. and a Ph.D. from the University of Wisconsin, an MFA from the Iowa Writers' Workshop and a J.D. from Harvard Law School. As a poet, he has produced adventurous (and often weird) stuff such as a mash-up of many of the cruel things he's been called online. In 2018 he was named a columnist at Newsweek, but his position within the fourth estate is unfixed: Not only is he easily dismissed as a lefty Jerome Corsi or Alex Jones, but as a rule media gatekeepers don't like random Twitter freestylers getting unlimited word counts and 600,000 followers. No wonder outlets from The Atlantic to Slate to The New Republic have called Abramson "delusional," "hyperbolic" and stuck in a "conspiracy mind-set."
And yet his case, launched on March 13, 2017 with a so-called "mega-thread" on the Trump-Russia connection, is compelling. If Proof of Collusion seems woolly, it's because Trump's relationship with the Kremlin is damned woolly. As of this writing, not one error has been found in the book, which offers what Abramson calls "a theory of the case" of Trump-Russia. The theory? That Trump and his aides conspired with the Kremlin and other hostile powers to exchange control over American foreign policy for money and election help.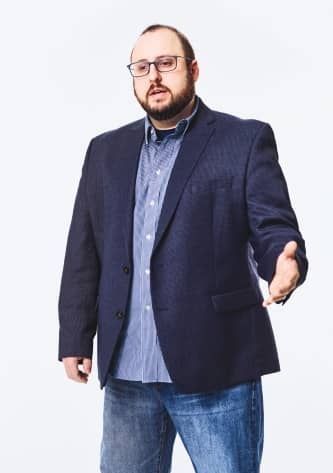 PLAYBOY sent Virginia Heffernan — a columnist for Wired and the Los Angeles Times, host of the Trumpcast podcast and author of Magic and Loss: The Internet as Art — to interview Abramson at a Hilton hotel in Manchester, New Hampshire; he lives nearby with his wife and two dogs. Heffernan reports: "Shortly after we met, Abramson told me that two reporters had recently been dispatched to interview him for what he predicted would be 'hit pieces.' Square and provincial, far from the cliquey Beltway and Manhattan pundits, he's plenty fun to drag. But a funny thing happened to the reporters: They didn't write their hatchet jobs, because they started to… like him. More than that, they started to believe him. As the Department of Justice continues to churn out indictments of major Trumpworld players, slagging journalists who have tirelessly documented the Trump-Russia story has begun to lose its savor.
"In person, it's Abramson's extraordinary kindness, his sly brain and his nofrills charm that get you. The fact that few major media outlets have ever had his back — the late media reporter David Carr once said he'd have no authority if his last name weren't 'of The New York Times' — makes him more appealing, not less. He's a midrange sedan amid the sleek BMWs of the cable-news set, and when I'm feeling vertigo in Trump times, it's Seth Abramson I turn to for clarity. His analysis gives me confidence that someday this will end. And maybe there will even be justice."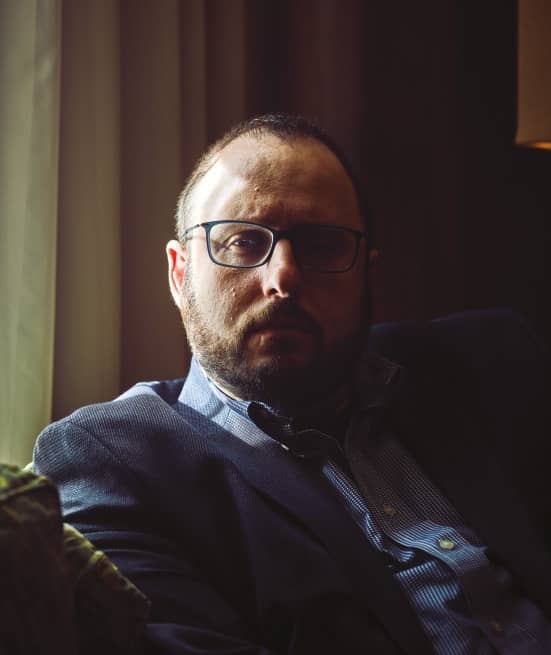 PLAYBOY: These are uncanny times. I walk through my days as an American thinking, simultaneously, We're under Russian occupation and Another day at the office. It exerts such a cognitive burden that the relief of seeing you spell it out is a kind of comfort you might not have intended to give.
ABRAMSON: I can honestly say I never thought my writing would comfort anyone. I receive scores of messages every week saying that it has exactly that effect, but my assumption on the front end of writing what I've been writing was that it would irk a large number of people. Even when I'm not writing about the law, my brain has been wired to think like a lawyer and to break down arguments in a particular way that I thought would actually frustrate most people, particularly those who aren't lawyers.
PLAYBOY: But this is the Playboy Interview — irk is allowed. Frustration is allowed. Fury is encouraged. You can even cop to impure thoughts, like Jimmy Carter. Think of all the gonzo people who have done this interview: Miles Davis, Vladimir Nabokov, Yoko Ono. You're leftbrained gonzo.
ABRAMSON: Or Pynchonesque, some people say.
PLAYBOY: Okay, Pynchonesque, meaning you're in your head and excruciatingly detailed.
ABRAMSON: Normally, if you're a writer and someone tells you you're Pynchon esque, you would be thrilled. But when people describe me as Pynchonesque, they mean I might be seeing connections between signals that are, in fact, completely discrete.
PLAYBOY: And that maybe you're writing fiction.
ABRAMSON: Right.
PLAYBOY: With that in mind, I want you to prove collusion to me.
ABRAMSON: As the left-brained gonzo that I am, the first thing we have to determine is what our frame of reference is. There's a certain amount of information about collusion that would be found compelling in a movie called Proof of Collusion. There's information that would hold water in court. There's information that might make a corporate journalist say, "We now have proof of collusion." Then there's a certain amount of evidence that would cause a partisan to change their perspective on the collusion question and say, "Hey, I was wrong: I thought there was collusion, and there isn't," or "I said there was no collusion, and in fact there is." If we put partisanship aside, I believe there are several dozen incidents in the Trump-Russia timeline that should be received as collusion across any of those paradigms. One example is Donald Trump sitting down with his National Security Advisory Committee on March 31, 2016. One of his advisors, George Papadopoulos, said to the assembled group, roughly, that he had secretly been in contact with agents of the Kremlin and that he had been tasked by these Kremlin agents to act as an intermediary in setting up a secret summit between Trump and the president of Russia that no one will know happened, and that the Kremlin had cleared him to do the scheduling and the logistics and the communication between the two parties to ensure that the two are able to discuss geopolitical complications in American foreign policy without anyone knowing about that conversation.
PLAYBOY: What gives you the confidence to say this is something that really happened?
ABRAMSON: When The Washington Post first reported what George Papadopoulos claimed to have communicated to Trump, they phrased it as Papadopoulos revealing himself "as an intermediary for the Russian government." Adding to that, I believe there's the legal language, which is that if you are acting as a Kremlin intermediary who has been specially tasked by the Kremlin to communicate a message and also to schedule a secret summit, you are, legally speaking, an agent of the Kremlin. So let's apply that to the courtroom paradigm: George Papadopoulos, legally speaking, was acting as a special agent for the Kremlin in that situation. He informed an entire room of men working on Trump's campaign that he was a Kremlin agent for that special purpose. Their response to that was not to contact the FBI, not to fire him, not to tell him, "Don't do this," but in fact to promote him to the speechwriting team for Donald Trump's first foreign policy speech. At that point, that speech was four weeks away. Across any of the paradigms I mentioned — political partisanship, the courtroom, journalism, Hollywood — that's collusion.
PLAYBOY: Especially the Hollywood one. Suave, bronzed Papadopoulos, with his instagrammability, his reality-TV aspirations, so eager to make himself useful
——
ABRAMSON: I truly didn't pick that example because I thought it was the best. It just came to mind.
PLAYBOY: But seriously, what makes Papadopoulos's appearance at that national-security meeting and his self-identification as a Kremlin intermediary so important that you mentioned it first?
ABRAMSON: Papadopoulos's role in the Trump-Russia story is primarily that of a canary in the coal mine. He is constantly saying things to people connected to Trump and, in some cases, to Trump himself that should immediately cause those people — if they are acting in accordance with the law, American values and our democratic processes — to tell him to stop or to amend their own behavior immediately. But they don't.
I'll give another example. On April 26, 2016, Joseph Mifsud tells Papadopoulos that the Kremlin has stolen Hillary Clinton's e-mails. According to Trump aide John Mashburn, who testified before Congress, Papadopoulos did, in fact, communicate that information to the campaign. Well, great. The moment he communicates that information, it should have been clear to everyone in the Trump campaign, from Donald Trump all the way down, that if there's one thing you now cannot legally do under any circumstances it's take any action to try to acquire Hillary Clinton's e-mails, because you've been told that they were stolen. So now you know that cybercrimes are being committed against the United States. You know that any such materials are stolen property. You know that they have value, which is why the Kremlin stole them. If you solicit them or take them, that's an illegal campaign donation from a foreign national — a thing of in-kind value.
What happens is the moment Papadopoulos communicates that information to the Trump campaign, it sets off a firestorm of activity, from top to bottom, trying to get that stolen material. Papadopoulos didn't steal any material, and while he perhaps should have registered as a foreign agent, his decision to communicate what someone had told him to someone else is not a crime. But it should have smacked the conscience and sense of legal responsibility of everyone on the Trump campaign. They should have changed their behavior from that moment onward. In fact,
I believe it did nothing but excite their desire to act in a criminal fashion as much as possible throughout the entire summer of 2016.
PLAYBOY: It's amazing when Trumpworld's desire to go crime'ing gets excited. It's like the jealous girlfriend meme: Paul Manafort walking hand in hand with crimes and ogling—
ABRAMSON: [Laughs] More crimes.
PLAYBOY: Okay, but the other thing about Papadopoulos that's relevant for the Mueller probe is that his yapping likely is what set off the FBI. The right has tried to say that it was suspicions about Carter Page, or the appearance of the Steele dossier, that initiated the FBI investigation. And it has tried and failed to frame those things, and thus the investigation into Trump's Russia ties itself, as unlawful and partisan. But as far as I know, the first cue to American intelligence services was the word from the Australian diplomat dude Papadopoulos spilled secrets to one night, reportedly when he'd had too much to drink. Is that right?
ABRAMSON: Alexander Downer.
PLAYBOY: Okay. You're damn good with the names.
You can read up to 3 premium stories before you subscribe to Magzter GOLD
Log in, if you are already a subscriber
Get unlimited access to thousands of curated premium stories, newspapers and 5,000+ magazines
READ THE ENTIRE ISSUE
May 2019