Why Scarlett Johansson Keeps Playing Lethal Superwomen!
Playboy Africa
|
October 2020
A candid conversation with the stratospheric star about motherhood, monogamy and why she keeps playing lethal superwomen
The opening sequence of Lost in Translation, Sofia Coppola's 2003 film about two spiritually adrift, jet-lagged Americans finding each other in Tokyo, features a sustained shot of Scarlett Johansson's behind, swaddled in a pair of nearly translucent pink underwear, as she lies on a bed, gazing at a window with the curtains drawn.
Johansson plays Charlotte, a recent college graduate lamenting the trajectory of her life from inside an opulent Japanese hotel; the actress was just 17 when she landed the role. Although she had already been working for almost a decade, her quiet, deliberate performance turned her into one of Hollywood's most sought-after actresses, and in the 14 years since Lost in Translation was released, she has served as a muse to auteurs including Woody Allen and the Coen brothers and propped up massive commercial franchises such as Captain America and The Avengers. Her creative choices have been vast and varied, a mix of blockbusters and art-house experiments: a computer operating system in Spike Jonze's Her (a character she gave life to using only that dusky, twilight voice), a 17th-century servant to the painter Johannes Vermeer in Girl With a Pearl Earring, the girlfriend of a porn addict in Don Jon.
Hollywood has a strange relationship to certain libidinous energies, and Johansson is compared often and aptly to Marilyn Monroe: The fact of her body seems to supersede everything else. But Johansson is bored by discussions of her physicality, and while Monroe was never quite able to fully steer her own sexuality, Johansson is remarkably self-possessed. To ask her about her good looks is to watch her grow increasingly disinterested. In the past decade, she's also chosen roles—an unnamed, homicidal alien in Jonathan Glazer's Under the Skin; Black Widow, an unforgiving superspy, in the Avengers films; a drug mule who turns superhuman in Luc Besson's Lucy—in which her sexuality is weaponized. Men underestimate her and are punished for it.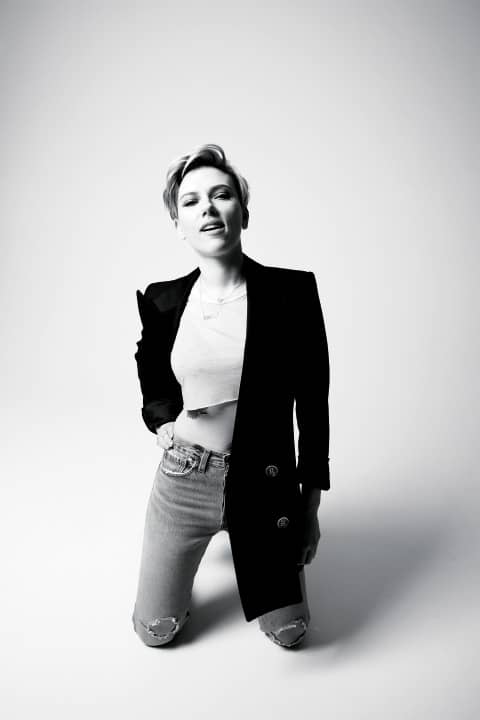 Her latest part is Major Motoko Kusanagi in a live-action adaptation of Ghost in the Shell, Mamoru Oshii's beloved 1995 manga film. In Oshii's version, the Major is Japanese, and when Johansson's casting was announced, critics immediately cried whitewashing. Johansson was born in New York City, in 1984, to a Jewish mother from the Bronx and a father from Denmark, and while she is quick to acknowledge Hollywood's grim diversity problem, she is hopeful that the film, directed by Rupert Sanders and shot in New Zealand and Hong Kong, will resolve any questions about the Major's actual origins.
The New Yorker's Amanda Petrusich first connected with Johansson in a cavernous photo studio on the west side of Manhattan. Two weeks after their initial conversation, Johansson would speak at the Women's March on Washington, voicing her firm support for women's reproductive rights. At one point she addressed the new president directly, saying that her daughter "may potentially not have the right to make choices for her body and her future that your daughter Ivanka has been privileged to have." But on this blustery afternoon just days into the new year, writer and subject found an overstuffed leather couch, commandeered a plate of chocolate chip cookies and spoke about Johansson's childhood, career and new life as a mother—she has a two-year-old daughter with French advertising executive Romain Dauriac. (They were wed in 2014, three years after the end of Johansson's brief and high-profile marriage to Ryan Reynolds.)
"She's frank and funny and forthright—a kind of tough-talking New York girl," Petrusich says. "She's also deeply uninterested in bullshit. There's a sense, speaking with her, that you need to be ready to go hard or you'll lose her interest. It immediately made sense to me that Sofia Coppola cast her as a corrective to the bubbly blonde starlet played by Anna Faris in Lost in Translation. She's a deep and naturally contemplative person—with a gaze that draws you in even as it commands you to keep up."
PLAYBOY: You were born and raised in New York City. What was it like to grow up here?
JOHANSSON: New York was different then. That makes me sound like an old geezer, but the city was much more accessible. My group of friends was really diverse. We all came from different socioeconomic backgrounds, and our parents did different things. Some parents were drug dealers, some were working in finance, and we all lived in the same community. While it's still probably the greatest city in the world—I'm biased—I think it used to feel like more was possible here for more people. There's a great leather store down in the West Village that has been there forever. I was there a couple of months ago, and the guy who has been making sandals since 1967 or whatever is fighting his landlord to stay in that space, because it was once rent stabilized and that doesn't exist anymore. In the next couple of years it will probably turn into some corporate business. It's sad, because that's the heartbeat of New York. That's what drove the city, what made things seem possible.
PLAYBOY: Almost everyone I know who grew up in New York City has this lovely quality—not just being exposed to all the different artists working around you but, inevitably, to all these different ways of being, ways of living, ways of seeing the world.
JOHANSSON: And you can be yourself here, or whatever version of yourself you want to be. That's not possible in a lot of other places. I love the idea of raising my daughter here. She's probably exposed to so many more things just going to the playground than almost any other toddler her age growing up in a lot of other places.
PLAYBOY: You had your daughter in 2015?
JOHANSSON: What year are we in? No, 2014—I can't even remember. [laughs] She's two and a half now.
PLAYBOY: Do you think motherhood has changed you?
JOHANSSON: Oh, it has changed me, yes. Just the process of being pregnant and giving birth was incredibly profound. Also surrendering to the fact that with babies, and particularly infants and toddlers, you have to let go of your expectations and of whatever instincts you have to take control of the situation. Of course, being a mother, you have to make decisions all the time that affect this person who is completely dependent on you, but you also have to surrender to the experience, and that in itself is really liberating. For me, it's the best thing that has ever happened. Ever. Somebody once described it to me as your heart growing this other chamber, and I think that's really profoundly true. Your capacity to love something, at least in my experience, deepens to a whole other space. I think I was afraid that life would change, and it does; it dramatically changes. But I feel in a lot of ways more myself now than I did before.
PLAYBOY: That's a beautiful way of talking about it.
JOHANSSON: I understand the importance of my own happiness now more than I did before. Because you see how it affects somebody else, and you're kind of like, If I'm not happy, then I can't be in tip-top shape for this other person.
PLAYBOY: This question is asked incessantly of women and very rarely asked of working fathers, but do you feel parenthood has changed the way you approach your work?
JOHANSSON: Where I want to be working is definitely something. That's just a practical part of it, though I'm fortunately at a place in my career, after 20-whatever years, where I can dictate that a little bit. It will probably get more challenging as she gets older, once she's in school and her life is more established in one place. It's a struggle for a lot of people, because we exist in this weird nomadic industry where almost everybody on a crew has a family, and it's hard. It's hard on relationships; it's hard on your partner, your kids, family in general, friends.
PLAYBOY: Has that been a challenge for you?
JOHANSSON: When I was doing Ghost in the Shell, I was in New Zealand with our daughter for six months. It was so hard: The distance and the weight of the job itself were really hard on me. It was a big movie with a lot happening. I spent all day fighting people—and literally fighting with myself. I was battling with the character. I remember saying to Rupert Sanders several times, "Can one good thing happen to this character? One great moment?" The answer was no. Spoiler alert: It's a fuckin' dark ride for this person, or cyborg or whatever.
PLAYBOY: There was some controversy about your casting as the Major. She's a character a lot of people presumed would be Japanese and therefore would be played by a Japanese actor. Did those conversations trickle down to you?
JOHANSSON: Totally. I think the conversation about diversity in Hollywood is an important one and one that we should be having. My character has the unique experience of being a person whose human brain has been put into what was essentially a synthetic robotic body. I guess I always thought the character was a universal one, in the sense that she has no identity, and the heart of this story is her search for an identity. I hope that whatever questions people have about my casting in this film will be answered by actually seeing the movie. It's hard to say, because you haven't seen the movie yet, and there's a part of it that I don't want to talk about because it's the turning point of the movie, but I think it answers the question for the audience as to who I am, who I was and what my true identity is, and it has nothing to do with how my character looks or how you see me.
PLAYBOY: On a more personal level, there's also the challenge of disappearing into another person, or disappearing into the project itself, and having to forcibly disconnect from the people around you. It's not a burden that can be shared.
JOHANSSON: Totally, because oftentimes you don't even really know where within you it's coming from. I think that's part of the beauty of the job. What I'm more and more curious about, and more confident in exploring, are all these weird spaces within ourselves, these little nooks and crannies, things that at one time seemed embarrassing to try. When you realize the freedom you feel when you unlock that, and when you're able to get weird and take up lots of space emotionally and then pull back—if you can do that within a single performance, it's a transformative experience.
PLAYBOY: Let's talk about your family. Your father is Danish and your mother is from the Bronx. What kind of parents were they?
JOHANSSON: After having two kids and then trying for a third and getting two more—I have a twin brother, and we were the last—I think they surrendered whatever rule book they had been following, if any. That's probably normal. By the time you get to your younger kids, you're more lax, you worry over fewer things, you're more comfortable as a parent. I think my brother and I probably benefited from that in some ways and didn't in others. My mom had moved to California and was kind of remotely there, and my dad was consumed by the responsibility of being at home with us and all that it meant to provide for us. My parents always struggled financially, so that was a huge burden for him. By the time we were 13, my brother and I were almost raising ourselves. I was still living at home and going to school and stuff, but I was working, and New York is—I was out and about and hanging out and getting into trouble pretty early on. Not too much trouble, thankfully. I self-regulated, but I could have probably gone really far down the rabbit hole had I not always had something guiding me.
PLAYBOY: What do you think that was? Work?
JOHANSSON: Yeah. I had a good work ethic. I had my own sense of self-preservation, and I made it to graduation and got my own place when I was 18.
PLAYBOY: What about dating at that age—anything you know now that you wish you'd known in your early 20s?
JOHANSSON: I never dated anyone, so I'm a bad person to ask for advice. I did go on one blind date, and when I arrived, my date had already taken a shot of tequila in his eye. I didn't even know that was possible. What a turnoff. I would never want to be in my early 20s again, though I did a lot of fun stuff. I wish I knew that everything changes and that nothing is forever—except death. It probably would've freed up a lot of space in my brain.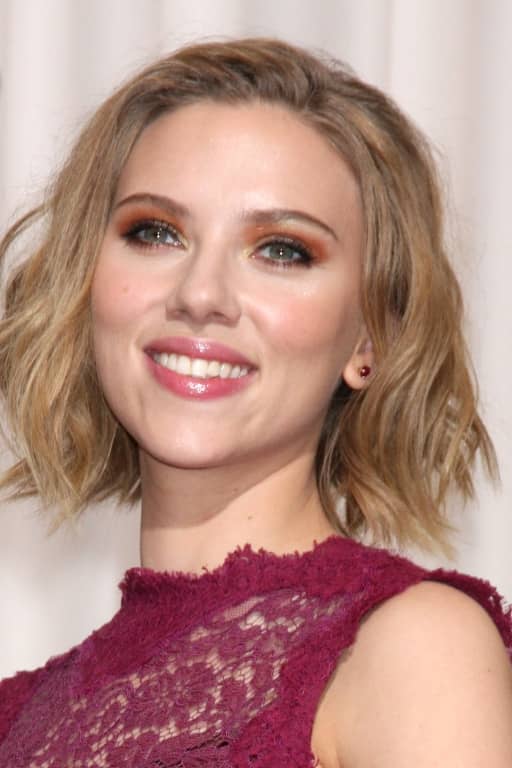 PLAYBOY: What did your father do for a living?
JOHANSSON: My dad was an architect.
PLAYBOY: And your mom?
JOHANSSON: My mom started managing me when I was about eight or nine. She was kind of overseeing things prior to that, but she really started managing me when I was around that age—or maybe a little bit older, like 12. She did that until I stopped working with her when I was in my early 20s. My mom is very ambitious, and she's also good at multitasking. She has a lot of life force, my mom. I definitely inherited that from her. My dad is more—I don't know, I think my dad in a lot of ways is kind of a dreamer. He's such a creative person, but at times I think he can almost be self-limiting.
You can read up to 3 premium stories before you subscribe to Magzter GOLD
Log in, if you are already a subscriber
Get unlimited access to thousands of curated premium stories, newspapers and 5,000+ magazines
READ THE ENTIRE ISSUE
October 2020