Meet The Lebanese Pop Artist Proving That Pole-dancing And Protest Go Hand In Hand
Playboy Africa
|
September 2020
From the heart of a diverse, youth-led revolution, Blu Fiefer sings truth to power
Kevin Knodell Kimberly Westenhiser
It's a chilly December evening, and Blu Fiefer is sitting in a dim, sparsely populated cocktail bar in Beirut's trendy Mar Mikhael neighborhood. Recent economic upheavals have reduced an otherwise thriving nightlife scene to relative quiet—a situation that started well before the COVID-19 pandemic.
"We've all been victims of Lebanon's violent history and the bitter taste it has left in everyone's mouth," says the Lebanese pop artist, reflecting on the wave of popular protest that began last year and the vicious civil war that preceded it. "When the revolution started, the main comment you would hear was 'We don't want another civil war.'"
Fiefer is wearing a turtleneck sweater under an army camouflage jacket. Her fingers are tattooed, adorned with rings and crowned with long, darkly painted nails. She speaks with a latent intensity, but she's approachable and radiates generosity.
The country she calls home is situated between Israel and Syria, and conflicts from both often spill across its borders. Refugees account for almost a quarter of its population. The civil war stretched from 1975 to 1990, pitting religious communities against one another as a mix of militia groups aligned with different factions split the country. Upward of 120,000 people were killed; thousands remain displaced. To this day it occasionally endures flare-ups in political violence.
But Lebanon, and particularly its capital of Beirut, is also known for its raucous nightlife, progressive attitudes and vibrant arts community. Its bars, clubs and performance venues are legendary across the region.
Last fall, the country's wild party culture and rough-and-tumble politics collided. An ailing economy, endemic corruption, cuts in services and rising taxes prompted millions of Lebanese people to take to the streets. It quickly became a broad youth-led movement as protesters chanted demands for sweeping societal, cultural and political change.
The atmosphere of the protests was a far cry from those happening in other parts of the world: Demonstrators shared public displays of affection, sang, danced and cheered as DJs blasted their sets into the night. Musicians performed on makeshift stages. Expats joked that the protests were better than Coachella.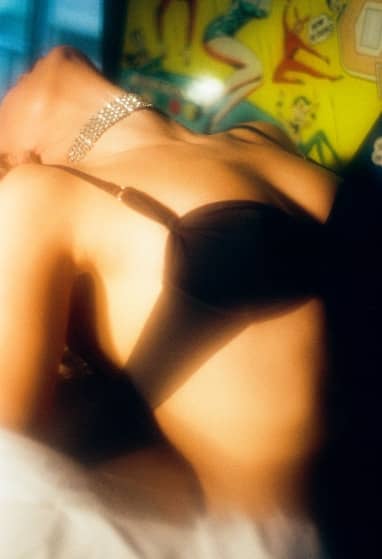 Fiefer was one of many Lebanese artists who participated, performing in front of a massive crowd of protesters in Beirut. Her set was live-streamed across the country.
Like Lebanon itself, Fiefer's life has been defined by constant transformation.
Born in Mexico to Lebanese and Mexican parents, Fiefer has traveled widely but calls Beirut home. She's reluctant to categorize her music under a single genre, settling on "alternative hip-hop"; to outside ears it's heavily infused with soul, pop and even classical influences. Most of her songs are in English; as she followed her expat father around the globe, it was the language she tended to speak growing up.
Not content with just singing and writing music, Fiefer is an accomplished producer and director—with a passion for pole dancing, which she has incorporated into her act for the past three years, having first explored it while studying music in England. It has become one of her favorite performance elements.
"It's a lot of adrenaline. It's very exciting to do, especially here in Lebanon, and it's interesting to have that conversation with the audience," she says.
You can read up to 3 premium stories before you subscribe to Magzter GOLD
Log in, if you are already a subscriber
Get unlimited access to thousands of curated premium stories, newspapers and 5,000+ magazines
READ THE ENTIRE ISSUE
September 2020