Moses Sumney's Moses Sumney's Moses Sumney's Multiplicity
Playboy Africa
|
October 2020
With his sprawling new album, 'Grae,' the chameleonic artist demonstrates the joy—and the urgency—of defying labels
Stephanie Smith-Strickland
If he were a marble-hewn bust, Moses Sumney would be a masterpiece of plurality: bitone eyebrows, a jaunty loc crown, low-cut bleached-blond sides. Yet on this late-February day in Los Angeles, the very human artist is posing, leanly muscled and shirtless, in billowing black pants and an equally inky structural hat he jokingly observes resembles a gele.
His figure contrasts dramatically with the verdant backdrop of stubby lemon and orange trees spaced precisely across the small field behind him. Moments earlier, he and a stylist flirted with the idea of a plumed pirate hat paired with a sheer shirt he described as "a bit too Renaissance fair," though the accompanying nipple blockers piqued his interest. The deliberations echo Sumney's high school years, when he was not yet brave enough to sport the goth looks he secretly coveted.
The child of Ghanaian immigrants—who he later learned entered the country without papers—Sumney now resides in Asheville, North Carolina, where, according to the artist, everyone is a bit weird so he fits right in. In 2018 and for a large portion of 2019, he was locked away in isolation (well before it was a transnational requirement) finishing his second album, Grae, half of which appeared early this year. Grae follows the critically acclaimed Aromanticism, released in 2017 while Sumney was still floating on the accolades from his 2016 EP, Lamentations. His 2014 breakout, Mid-City Island, is a bewitchingly nebulous EP created on a four-track cassette recorder gifted to him by Dave Sitek of TV on the Radio.
By 2015 Sumney seemed poised for a more traditional kind of stardom, appearing on the opening track of Beck's album Song Reader and capturing the ear of fellow musicians James Blake and Solange, with whom he remains a close collaborator. He was seen as something of an indie darling by the major labels that courted him—a provocateur whose raw talent could be shaped into a more palatable idea of black indie artistry. He enjoyed the courting phase but ultimately turned down major-label offers in favor of Jagjaguwar, an indie label that has been home to Bon Iver, Unknown Mortal Orchestra, Sharon Van Etten and more. The label released Aromanticism and, on May 15, the full edition of Grae.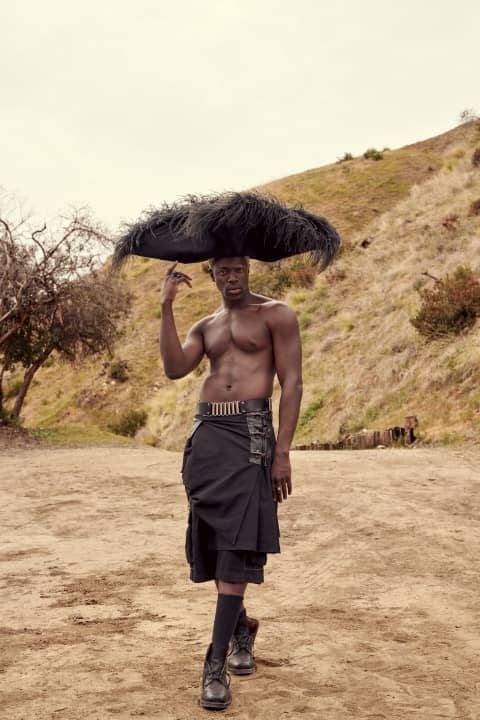 Weighing in at 20 tracks and just over an hour in length, the project is a sprawling, open-ended statement on liberation and existing in liminal spaces. Its themes are starkly evoked in the song "also also also and and and," wherein Sumney intones, "I really do insist that others recognize my inherent multiplicity / What I no longer do is take pains to explain it or defend it."
"I realized over the course of the record that I could do anything," Sumney says, seated in a lofted alcove of the private home where the shoot took place, "and that the permission to do it is granted by me. So why not be audacious?" It's a rhetorical question, but it raises another: Is Sumney's audacity sustainable in an industry that tends to pay lip service to individuality while cramming it into boxes?
Much of the project's narrative language is established through spoken vignettes courtesy of friends and creators such as author and cultural critic Taiye Selasi, writer and speaker Ayesha K. Faines, actor Ezra Miller, writer Michael Chabon and actress Michaela Coel. Their voices provide structural reinforcement to Sumney's observations on the inherently fluid nature of cultural identity, gender identity and sexuality. Throughout the album, Sumney ruminates on how different modes of conforming to society can, if one has the courage, be deconstructed and then reconstructed to reflect personal truths in spaces of solitude.
"insula," Grae's opening number, begins with a looped, disembodied voice reciting "isolation comes from insula which means island" over a swelling string arrangement. For Sumney, who left his previous life in Los Angeles in 2017, the quietude of Asheville became exactly that—an island where he could freely reflect and, like a caterpillar in a cocoon, prepare for transformation.
"It's hard to care what other people think when you're not constantly confronted with it," he says in a rich, slightly weathered alto. "Living in L.A. you're constantly confronted with not only what other people think of you but your consciousness of what other people think of you. They might not be thinking anything at all, but you move in space in a way that you're constantly confronted with your own self. Being less and less around people, I was constantly confronted with myself—but not myself to the eyes of others; just myself to the eyes of my own desires. I always seek to be honest in the work, and I felt the most honest thing I could do was follow those desires, which are rather varied."
You can read up to 3 premium stories before you subscribe to Magzter GOLD
Log in, if you are already a subscriber
Get unlimited access to thousands of curated premium stories, newspapers and 5,000+ magazines
READ THE ENTIRE ISSUE
October 2020