Flight Of The Gullwing
You have four days to rollick over roughly 1,000 miles of Italian landscape, breaking nearly every driving law known to man. Why not do it in a priceless Mercedes-Benz?
The first time I fire up the 300 SL my stomach is in knots. I'm in a parade of 400-plus cars charging their way out of the Italian city of Brescia, but this is no ordinary procession. This is the famed 1000 Miglia ("Mille Miglia"), arguably the most legendary rally the world over, meaning each of these antique vehicles is a collectable widget of obscene value. There are Bugatti Type 35s, Ferrari 750 Monzas and Blower Bentleys in our midst. The entire scene feels strangely apocalyptic—a high-tension dip and duck through teeming public roads with police motorcycles zipping by, sirens blaring their binary wail, stopping traffic at every intersection so this parade can snoot by in a display of surreal entitlement.

Maybe it's my nerves, maybe it's the $2 million street value of this 1956 Mercedes-Benz 300 SL "Gullwing" (spec'd as a '55) I'm piloting white-knuckled, or maybe it's the flashing lights, alarms and high-revving Ducatis ripping by from every direction, but the whole scene has a distinct Children Of Men anxiety to it. It is, in a word, chaos.

The first time you slip behind the wheel of a priceless unicorn, all you can think about is pressing the throttle at the right time, not burning the clutch, and navigating the four-speed stick without grinding gears. You don't want to think about the absolute impotence of its prehistoric drum brakes and their inability to spare the six-decade-old car from a wall—never mind a distracted Fiat Panda—if it all goes sideways. And you definitely don't want to think about the seatbelts, or rather the fact the car has none. You just focus on the throng of Italians swarming ahead, clapping and cheering enthusiastically, totally and utterly oblivious to how difficult it is to feather the brakes and keep them safe.

But soon we escape the hell of the city and slip into the open Italian landscape, releasing a deep sigh of relief. This is where all becomes right in the world. When the Mille Miglia exposes its furry belly for a friendly rub. It's also where the velocity begins.

The first run of sweet freedom brings to mind a term famed automotive journalist Denis Jenkinson used: "dice". As in: "If we didn't press on straight away there was a good chance of the dice becoming a little exciting, not to say dangerous, in the opening 200 miles." He wrote that in 1955 of his second time competing in the Mille Miglia, the year he and driver Stirling Moss would win the race in a Mercedes-Benz 300 SLR in just 10 hours, 7 minutes and 48 seconds. It was the fastest time ever recorded in the contest—a record that remains unbroken. And while we'll never come close to his speeds, in our first burst of combustion and mechanical havoc outside Brescia, I feel the tension Jenkinson referred to vibrating in my bones.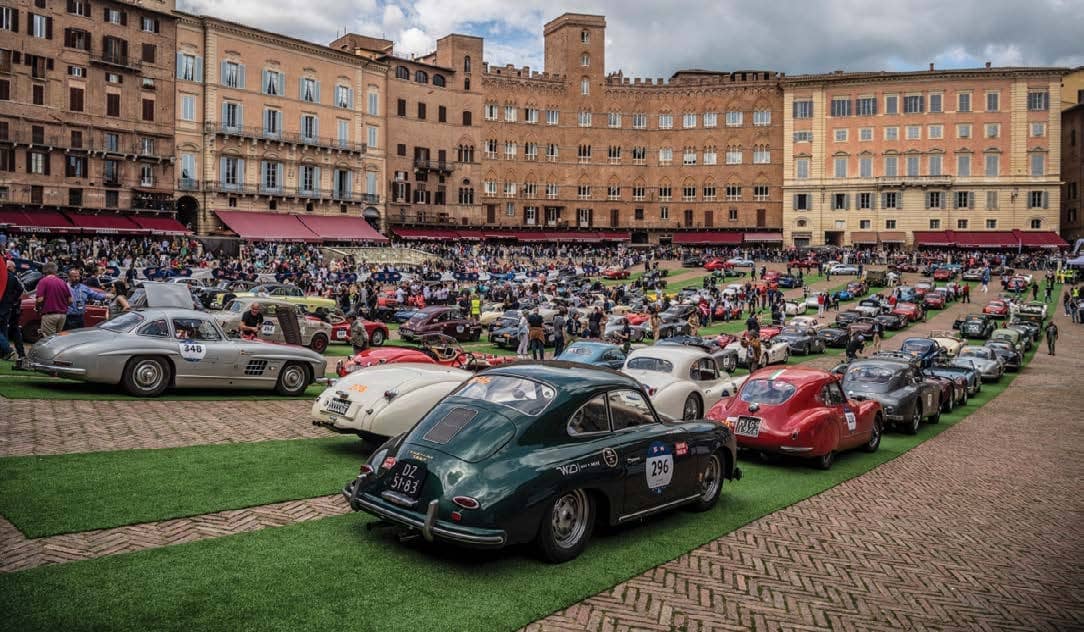 The Mille Miglia, first raced in 1927, was conceived by a group of Italian counts and gentlemen eager to elevate Brescia's motorsports profile. The loop was to begin and end in Brescia, hitting Rome and Bologna along the way: roughly 1,000 blistering miles through closed public roads at speeds eventually reaching 170 mph by 1955. The Mille Miglia took a six-year break during the madness of World War II, restarted, and then shut down forever as a purely speed-focused race in 1957 after a tragic crash, the most significant accident in its history. While fatalities were not uncommon, public perception finally shifted when a tire on Alfonso de Portago's Ferrari 335 S blew out, sending the car catapulting into the crowd, killing him, his copilot and nine spectators.
You can read up to 3 premium stories before you subscribe to Magzter GOLD
Log in, if you are already a subscriber
Get unlimited access to thousands of curated premium stories, newspapers and 5,000+ magazines
READ THE ENTIRE ISSUE
Nov Dec 2019