Inside - How Far Is Tattoo Far?
America's favorite "meatball" on Jersey Shore, Nicole "Snooki" Polizzi, and TV Land's Younger, Nico Tortorella, host MTV's show, How Far Is Tattoo Far?
At nine pm on Thursdays, better known to Jersey Shore fans as "Jerzdays," you can watch Nicole drink wine and Nico tease guests under the needle, fueling the anticipation for blindfolded "victims" to wait out the surprise tattoo-choice that friends, couples, family members, and frenemies pick for one another. The US adaptation is based off the UK's hit show, Just Tattoo of Us, and is already currently casting for a possible second season.
The two bond over coming from big Italian families, loving tattoo culture, and the opportunity to be able to share the intimacy of two people picking surprise tattoos for one another. The perfect pair even finish each other's sentences. As Tortorella said, "Nicole and I together are the perfect combination of drag queen and Jersey Shore."
Polizzi started her tattoo journey on her 18th birthday, when her dad let her get wings on her lower back. Polizzi loves what she fondly calls her "tramp stamp." Nine tattoos later, she regrets none of them. All of them were done while drunk. "They hurt so bad, I have to be drunk or I cry," Polizzi said.
While many of the Jersey Shore cast's tattoos are religious, a majority of Nicole's art is done in the name of motherhood. She has a squirrel for her son, Lorenzo, whom she called "Squirrel" when he was little, as well as a "mommy tattoo" on her right arm, and her children's initials, "G" and "L."
On Younger, Nico Tortorella plays Josh, a tattoo artist, and says that there is some overlap in playing that character and hosting How Far is Tattoo Far? "I feel like a lot of me is in Josh and obviously all of me is in what I'm doing on the show," Tortorella said. "Hosting a show like this requires it to be all you and is just our hearts across the board."
Tortorella was first called to be the host of How Far is Tattoo Far? "We started floating names around for the co-host and Nicole's name came up," Tortorella said. "I've been just a huge fan of hers for forever and it was a no-brainer," he said.
Polizzi adds, "It's like we've known each other our entire lifetime, if not more."
Tortorella's first tattoo is on their back, and while they has plans to get it covered up, they doesn't have any regrets. Tortorella does, however, admit that they wish they had spent more time looking for an artist.
"At the end of the day, our bodies have been really important journals to us," Tortorella said. Having no say in the tattoo artist for participants, let alone the tattoo itself, on How Far is Tattoo Far, Polizzi and Tortorella feel a sense of relief for the guests, as the show's team of tattoo artists are all extremely talented. The team of tattoo artists include: Courtney Raimondi, Tiffany Perez, Melody Mitchell, Dollarz Tatu, Kevin Laroy and Travis Ross.
"They always make the tattoos beautiful," Polizzi said. "Even if it's something gross, they always make it look pretty good."
"A beautiful penis," Tortorella adds.
For both Tortorella and Polizzi, the most impressive part of hosting How Far is Tattoo Far? is "learning more about trust than tattoos" and how the connection between two people going through this experience, can be just as permanent as the ink on their bodies.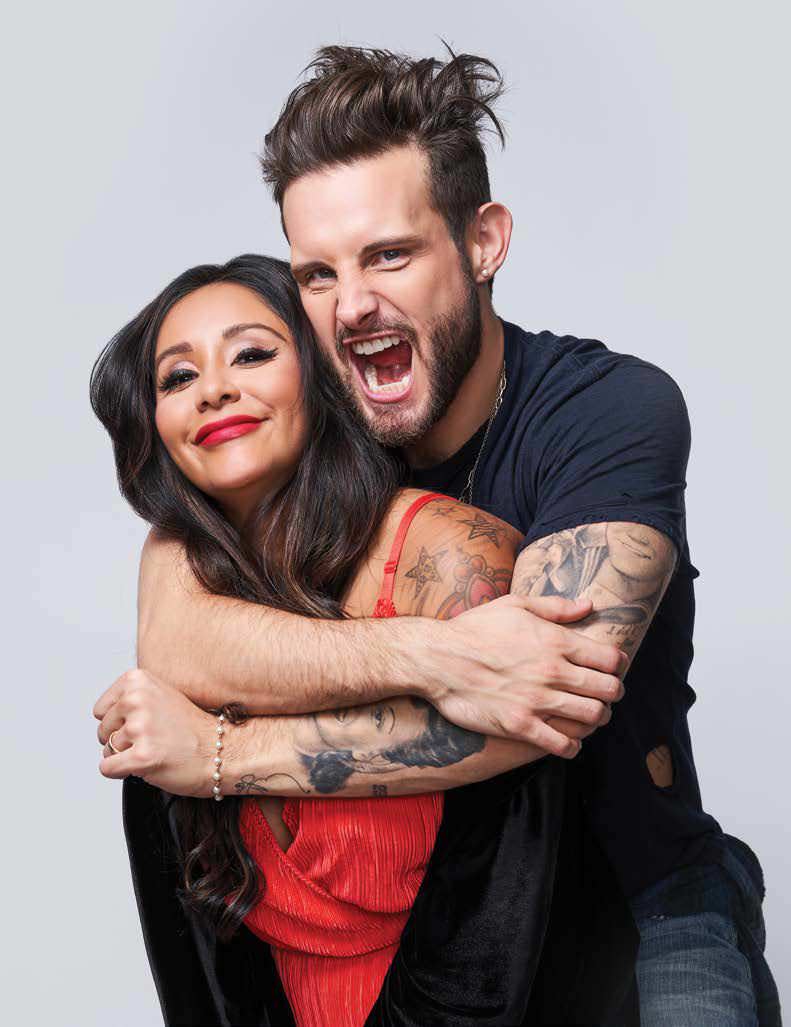 Tortorella said, "I learned more about the way people operate as a whole, shooting this show for two weeks, than anything else I've ever worked on."
Polizzi adds, "There are so many personalities and so many different ways to react to a situation." Being put through the ringer of trust is something these hosts don't even think they could endure. However, if having to pick a co-star that could choose the surprise tattoo, Nicole, without hesitation, elects Jenni "JWoww" Farley.
"We are best friends. We would tease each other that it's terrible, but I think we would do something very motherly and nice to represent our children," Polizzi said.
"Imagine f*cking Ron picking a tattoo for you," Tortorella teased. "You know it'd be a horse penis coming out of my butt," Polizzi said. "I'm not kidding. He would massacre me."
As for a Younger co-star that could pick a blind folded-surprise tattoo for Tortorella, Nico praises Molly Barnard, who plays Lauren Heller on the show. "She's just hyper-intelligent and really sweet, and would pick something political and spiritual and sentimental, all at the same time," they said.
Tortorella reflects on being thrown into the emotional whirlwind that the participants go through. "I've never seen one person go through so many emotions in one day than the people that come onto the show," he said. "And ourselves included. Nicole and I are empaths; we feel everything and absorb everything."
Polizzi adds that they cried and laughed "more than some of the people on the show."
The hosts note that if the emotional roller coaster does turn south, security is on set. Tortorello and Polizzi also make sure to separate themselves from the "tattoo blame" when it comes time for the reveal.
You can read up to 3 premium stories before you subscribe to Magzter GOLD
Log in, if you are already a subscriber
Get unlimited access to thousands of curated premium stories, newspapers and 5,000+ magazines
READ THE ENTIRE ISSUE
January 2019