Gashi
GASHI on Kanye West, being the "trap Phil Collins" and how his tattoos unleashed him.
Albanian rapper Gashi catapulted himself to success through his uniquely wide sonic palette and worldly lens, broadened by experiencing the culture, music, and life of 24 different countries before settling into the late '90s Brooklyn. His sound stirs various eras of pop, hip-hop, and rap into a smooth electronic cocktail garnished with the dogma of pursuing an immigrant's dream. The dancey energy emphasized in Gashi's music stems from being the only family in his Brooklyn building that wasn't Haitian or Jamaican, but his larger mission is to break genre for good.
Continually growing in both musical approach and fan base, Gashi will always stick to his roots. The mask Gashi wears on stage transports him and his audience to a time when he would help his father with the city's garbage.
"I would put the mask on because people would take pictures of me throwing in the garbage and I didn't want people to see me," Gashi told Inked. "Now, I wear the ski mask to remind the people how I started. I take it off after the first song to let them know I am no longer in hiding."
While his stage presence gives insight into Gashi's beginnings, his tattoos give insight into his personal priorities. Coming from a strict background, Gashi's parents were hurt by his plunge into the tattooed community, thinking they were losing him. But really, he was finding himself.
"Tattoos express me," Gashi continued. "I feel like as soon as I got my tattoos I took the chains off my body."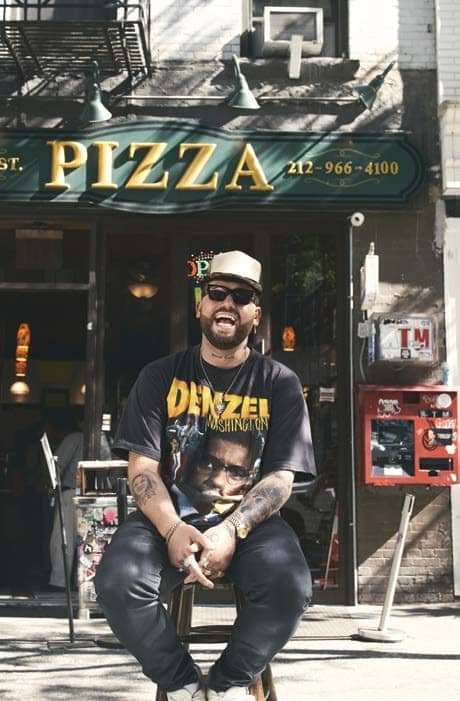 "These face tattoos changed me," Gashi sings in the opening track of his self-titled album. In that one line, he encompasses his journey from doing theater in high school to dropping out of college on a football scholarship. Gashi placed his first tattoo on his face so that he wouldn't placate himself in finding a "regular job." The numeral four on his face represents the fourth quarter of life. "I look at life like football. Everything is the fourth quarter as long as I'm in the game," Gashi explained. "I have a four on my face to remind me to finish strong."
You can read upto 3 premium stories before you subscribe to Magzter GOLD
Log-in, if you are already a subscriber
Get unlimited access to thousands of curated premium stories and 5,000+ magazines
READ THE ENTIRE ISSUE
January 2020 - THE HOLIDAY ISSUE