Darkness To Dawn
Dave Navarro talks drug addiction, mental illness and Ink Master with Oliver Peck.
In 1986, Dave Navarro joined the alternative rock band Jane's Addiction, and the group quickly became one of the most successful acts of the early 1990s. Navarro went on to release four studio albums under Jane's Addiction, following a stint as a guitarist for the Red Hot Chili Peppers from 1993 until 1998. Aside from being regarded as one of the greatest guitarists of all time, his impressive acting chops on the small screen haven't gone unnoticed; nailing roles in television hits such as Sons of Anarchy and Odd Mom Out. Unfortunately, his path to stardom didn't come without tragedy. Just three years before joining Jane's Addiction, Navarro's mother was murdered by her ex-boyfriend. At 19 years old, he suppressed the trauma of losing his mother by thrusting himself into a world of sex, drugs, and rock 'n' roll. Soon, Jane wasn't the only addiction in Navarro's life, as he spent years battling with substance abuse and mental illness. Luckily, Navarro was able to turn his life around and has since become an advocate for addiction recovery with MusiCares.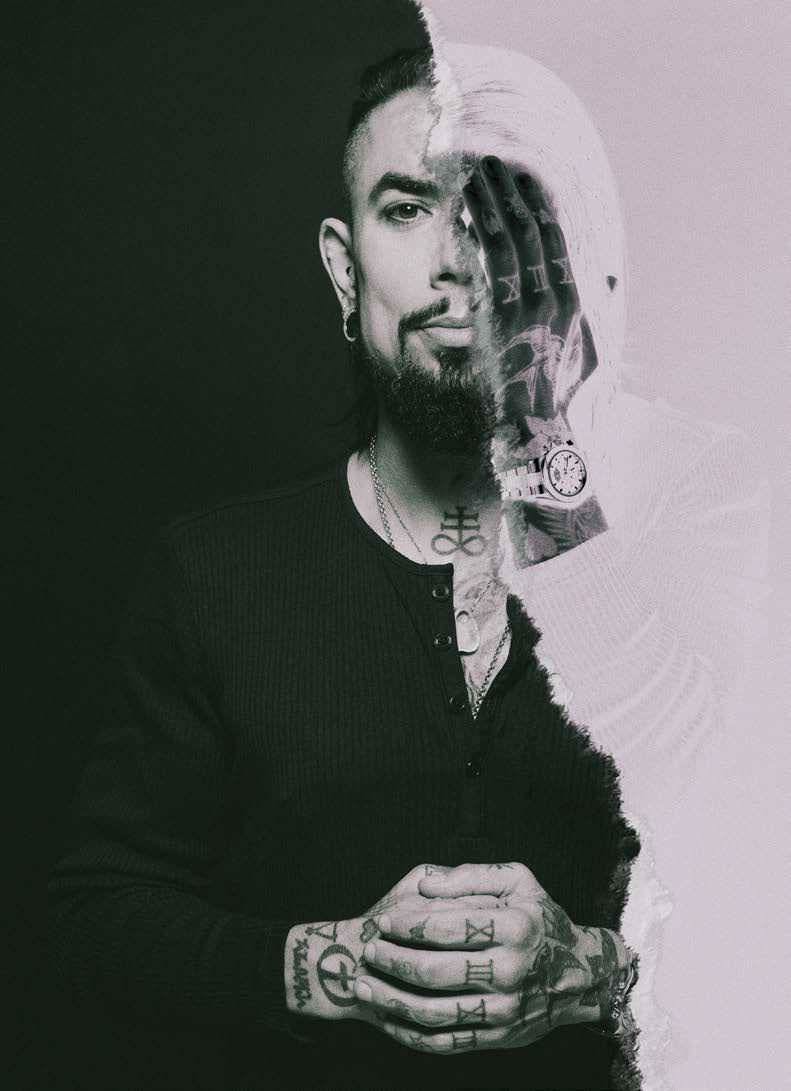 Navarro may have some recurring roles on TV, but these days, his creative vitality shines as the current host of Paramount Network's Ink Master. We caught up with Navarro and tattooer Oliver Peck between takes to learn what it took for the guitarist to go from darkness to light — and how he's leading others down the same path.

OLIVER PECK: Let's start with the recurring question people ask me about Dave, and that is, 'Why the fuck is Dave Navarro a judge on a tattoo show?'

DAVE NAVARO: I get that a lot too. The answer is, I have a history of getting lots of tattoos. Some are really good, some are really terrible. I know the difference. I've been a big part of the community and just a fan of the art for many, many years. However, I don't think the show stresses the point enough that I'm supposed to be the guy that goes into the shop and gets a tattoo. I'm the customer. I'm the client. So, there needs to be a judging voice from someone who's not coming at it from an artistic standpoint, not from a technical application standpoint, but just an overall, 'If I was a canvas and walked into the shop, would I be stoked with that tattoo?'

Another thing I tell people is that Dave has been getting tattooed longer than some of the people that are on this show have been alive. You've got tattoos from some groundbreaking artists.
You can read up to 3 premium stories before you subscribe to Magzter GOLD
Log in, if you are already a subscriber
Get unlimited access to thousands of curated premium stories, newspapers and 5,000+ magazines
READ THE ENTIRE ISSUE
November 2018