SupremO TarantinO
FHM Magazine South Africa
|
September 2019
We explore legendary Quentin Tarantino's greatest cinematic moments One of the most controversial yet brilliant film directors of our time, Quentin Tarantino recently released his ninth film, Once Upon a Time in Hollywood to critical acclaim.
This divisive director has been changing the film landscape for the last 28 years, yet he has only released nine movies, which is incredible to think in the day of 20 Marvel movies with a bucketful of sequels and reboots every year. Yet that is what sets him apart from his peers, as each of his films are unique, perfectly crafted works of cinema that never fail to capture the imagination, upset the masses and light up silver screens around the world. With that in mind, let's take a look at some of the best moments from his previous eight movies as we celebrate the uniqueness of the mind of Tarantino.
The Wolf Arrives – Pulp Fiction
After Vince and Jules accidentally kill the kidnapped Marvin in their car, by blowing his brains all over the backseat of their car, the two hitmen panic and arrive at Jimmie's house (a wonderful cameo from Tarantino himself ) to seek help in cleaning up their mess. Jimmie is freaking out as his wife Bonnie will be home soon and she will clearly divorce him when she finds a car with a headless body in his garage. In steps the Wolf, masterfully portrayed by Harvey Keitel, to save the day. Not only does he motivate the arguing trio to clean up everything but the delivery of his mission statement is arguably one of the best-written monologues in cinema history.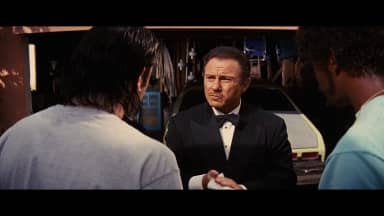 Candie's Blood – Django Unchained
In a tense scene at the Candie estate, Schultz and Django have just been found out by the evil plantation owner and he cannot contain his rage as he smashes his hand down on a table, breaking a wine glass. With his hand profusely bleeding Candie goes on a tirade of anger and vengeance against the two that have disrespected him in his own home. DiCaprio's performance alone makes this sense tense and exciting, but when it came out that the blood was not planned and that Leo accidentally cut himself during filming, yet continued to improvise the scene regardless makes it so much more tense and wonderful.
The Milk Farmer and His Daughters
Inglourious Bastards
Arguably one of the most tense scenes in cinema, sees the Nazi officer, Hans Landa interrogate a French milk farmer about the region's Jewish families. Over twenty minutes in length, Landa calmly smokes a pipe, drinks fresh milk and speaks in a friendly yet charming English, all the while masking his true intentions. What starts off a simple inspection, quickly turns into a tense standoff between the officer and milk farmer as it becomes painfully clear to the viewer that Landa is fully aware of the Jewish family hiding in the basement. Tarantino is known for his excess violence and over the top characters, but this scene proves he excels at character development and how to build a scene with only a small room and fantastic dialogue.
Trailer Trash Trouble – Kill Bill Vol. 2
With the Bride having already killed off two of the Deadly Viper Assassination Squad, she sets out to get her revenge on Budd, who lives out in a trailer in the middle of nowhere, but unbeknownst to her, the deadly Elle Driver is waiting there for her. The two square off first with a typically Tarantino joust of words before the two clash in a violent explosion inside the trailer, using whatever they can find as weapons or shields. Not only is the scene masterfully shot and incredibly well-choreographed, but seeing the Bride finally getting her revenge on Driver by pulling out her one good remaining eye is as gruesome as it is satisfying.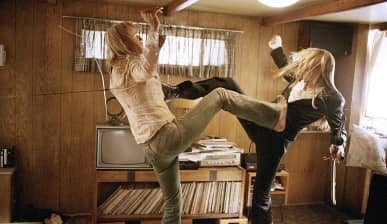 The Crazy 88 Fight – Kill Bill Vol. 1
You can read up to 3 premium stories before you subscribe to Magzter GOLD
Log in, if you are already a subscriber
Get unlimited access to thousands of curated premium stories, newspapers and 5,000+ magazines
READ THE ENTIRE ISSUE
September 2019