Stab High
FHM Magazine South Africa
|
September 2019
A surf contest, mostly in the air. In a pool. In Texas!?
Surfing in Texas isn't the first thing that springs to mind when you think of the Lone Star State. Dallas. Austin. Waco. Cowboys and trucks are a far call from the usual locations of Hawaii, Australia, California and other sundrenched, ocean-facing locations which normally spring to mind when the word surf contest is heard.
However, Stab High is a different beast altogether. And it's in a large swimming pool, in one of the most landlocked locations in all of the USA. However not just any old swimming pool. A Wavepool.
Wavepools are quickly becoming a buzz word in surfing. Why? Well one word really, Consistency. Surfing is a difficult mistress. Waves come as quickly as they disappear. All waves are acutely sensitive to wind, size of the swell, direction of swell, strength of swell and tide. This is extenuated by the fact that each wave is different, depending on where it breaks. I won't get too much into the 'whys' and the science of it, as, well it's boring, however - this idea you have of surfers surfing the perfect wave? It doesn't exist. Well, it does, but the amount of crappy days it takes to get that perfect wave defies belief.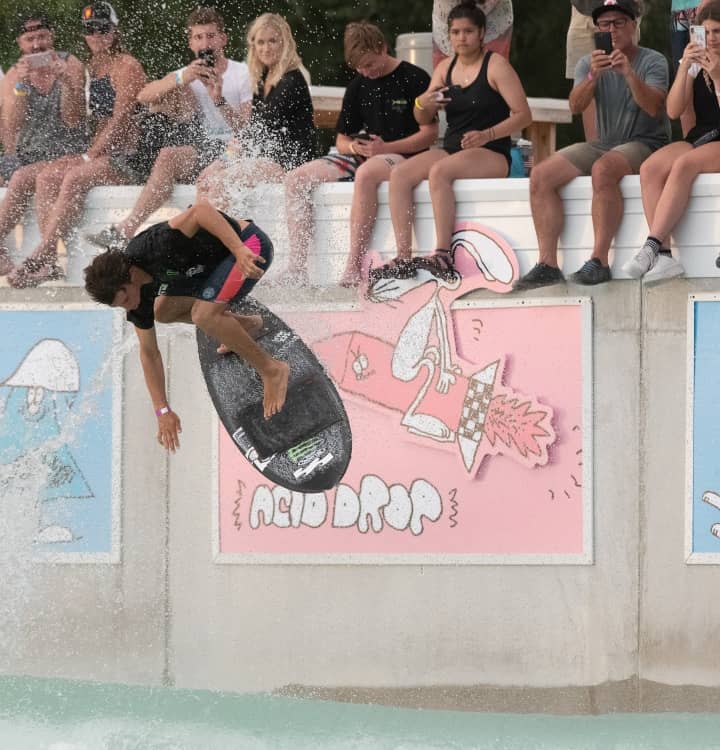 As I'm sure you can imagine, this makes planning and executing surf contests a nightmare. Too many variables. Too little time. Pressure from sponsors, fans and athletes to 'get it done' and running heats in suboptimal conditions over a weekend to please the crowds, in turn infuriating the competitors. It also raises questions over the judging of different waves – so subjective! In essence, surf contests in the ocean whilst sometimes sublime, are more often than not a disappointment. The old adage "you should have been here yesterday bro" has never been so apt.
This is where Wavepools come into their own. Exactly the same wave, time and time again. Machine by nature. Offering surfers a consistent canvass for which to express themselves on, wave after wave. Always the same. And the result, well – like skateboarding. The level of maneuvers the surfers are able to perform is unparalleled as the variable barriers of waiting for waves and some waves being better than others is removed. A clean and pure canvas, again and again, pushing the levels of innovation amongst the world's best.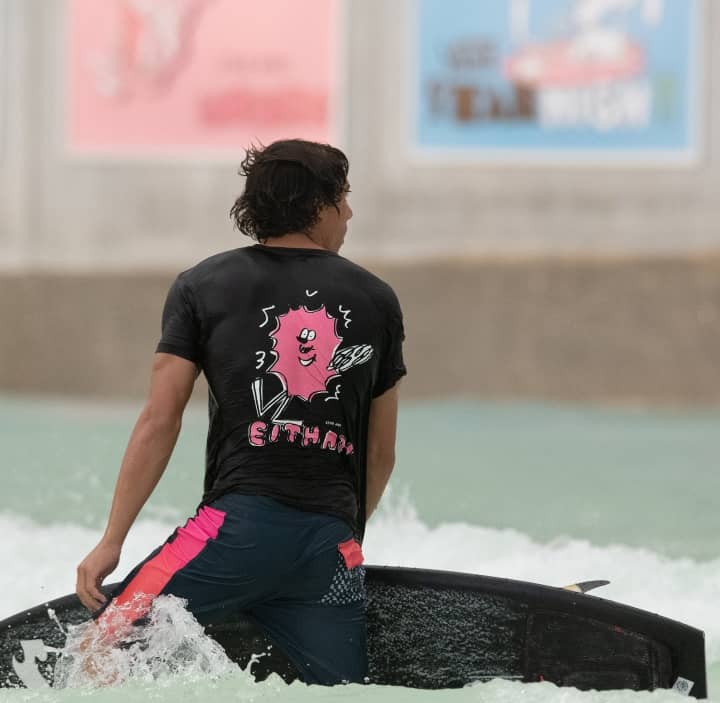 There are various Wavepool technologies out there. Surfing will be part of the Olympics in 2020 and will be held in a wavepool. Kelly Slater has funded and invented his own wavepool, offering leg achingly long rides to surfers in central, inland, California under the name of 'Surf Ranch'. The pool in Waco is a different beast though. Solely focusing on launching surfers into the air. And you were wondering why it's called a surf contest – mostly in the air?
But who are the surfers? The attendees to such a prestigious event? Well, surfing in the past 20 years or so has divided into two camps. 'Competition surfers' and 'Freesurfers'. Competition surfers are athletes in every sense of the word. Coaches. Nutritionists. Drugs tests. Training regimes. Rising up through the ranks of the 'pro juniors' into the world qualifying series and eventually, hopefully, the world tour, where the top 32 in the world battle it out in 11 spots across the globe, much like Formula 1.
Stab High and free surfing is the antsiest of that. And we are so much better for it. Free surfers aren't athletes. Well, they are, but only by natural ability and rarely through training. They travel the world, surfing not for competitions but for the love of it, providing their sponsors value through the photos and videos they produce. They Party. They are not perfect humans. They drink beers poolside at Stab High. They enjoy life's mortal pleasures on this earth as much as the next man. They are interesting. Worldly. They go between California, Australia, the south of France, Indonesia and South Africa amongst other more 'novel' destinations surfing as a group of friends with their photographers and video filmers, making imagery for their sponsors. Stab celebrates this and has quickly become a high brow tabloid-esque digital publication in surfing. The mark of who's who is who is being featured on Stab and there is no one better to host such an event as Stab High.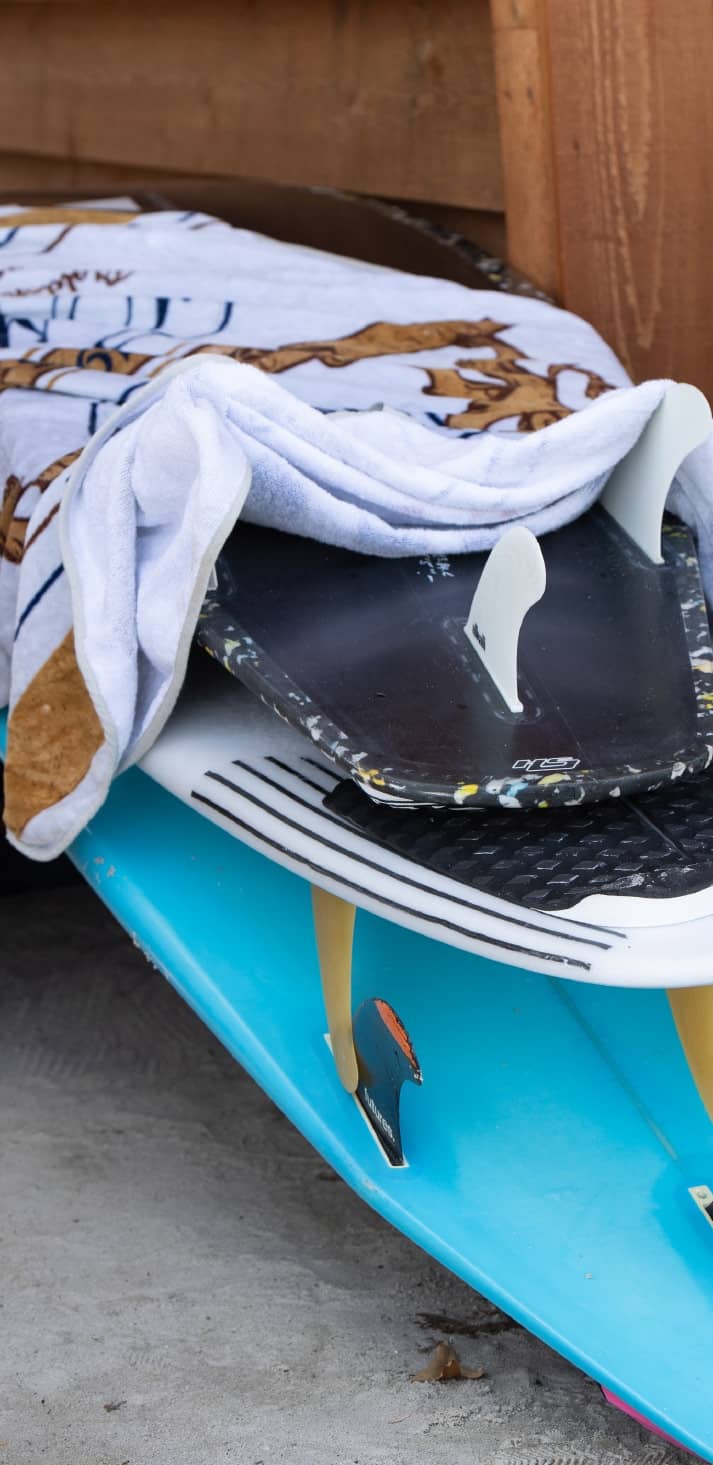 You can read up to 3 premium stories before you subscribe to Magzter GOLD
Log in, if you are already a subscriber
Get unlimited access to thousands of curated premium stories, newspapers and 5,000+ magazines
READ THE ENTIRE ISSUE
September 2019