Master Of The Cards
Jason Ladanye is a professional, award-winning sleight-of-hand entertainer who has performed card magic all around the world for the last twenty years. He specializes in corporate events, trade shows, and private parties for Fortune 500 companies. Jason's clients include the NY Yankees, General Electric, Verizon, Time Warner Cable, Michael Bolton Charities, Fuji Films, and Northwestern Mutual Life Insurance. He's performed for celebrities such as Bruce Willis, Michael Bolton, Tom Holland, Rosie Perez, Wolfgang Peterson, CC Sabathia, Brett Gardner, and many more. He's consulted and performed on national television shows including ABC's 20/20 and Inside Edition.
Even though Jason is based in New York City, he's performed in 16 different countries in the last year alone. He's a regular performer at both the Chicago Magic Lounge in Chicago, IL, and the prestigious Magic Castle in Hollywood, CA. When Jason's not performing, he's consulting, teaching, and lecturing all across the world. He wrote two books on sleight of hand, Game Changer and Confident Deceptions. Both are considered best-sellers among magicians.
To see why his peers consider Jason as one of the best card handlers alive today, check out his YouTube channel CardMagicByJason.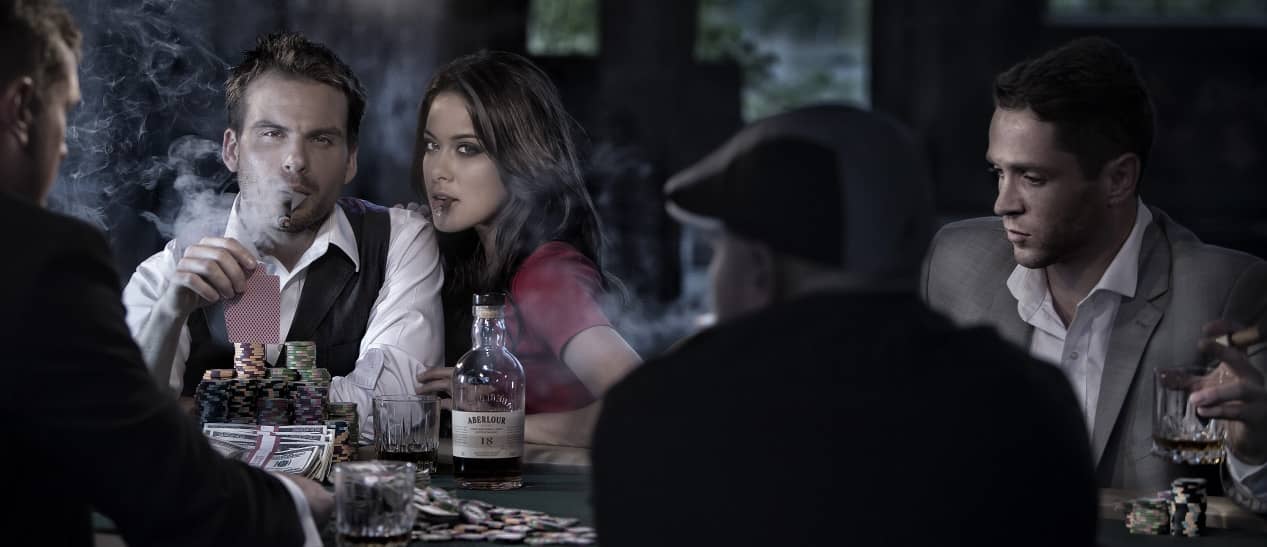 HOW OLD WERE YOU WHEN YOU FIRST GOT INTERESTED IN MAGIC?
I saw my first card trick when I was seven years old. My older brother showed it to me. He buried the four Aces into different parts of the deck. Then he snapped his fingers and now they were on top of the deck. My mind was blown. I began my journey into magic immediately after that moment. About a year later, I saw David Copperfield on television. Watching him walk through the Great Wall of China and making the Statue of Liberty vanish had a profound effect on me. Soon after that, David was performing at a theater near where I lived and my mother surprised me with tickets to the show. There's one trick that I'll never forget from that performance: he vanished from inside a box on stage and instantly appeared on a motorcycle in the middle of the audience — right next to me! I just couldn't believe what I was seeing and feeling. I knew right there and then I wanted to be a professional magician.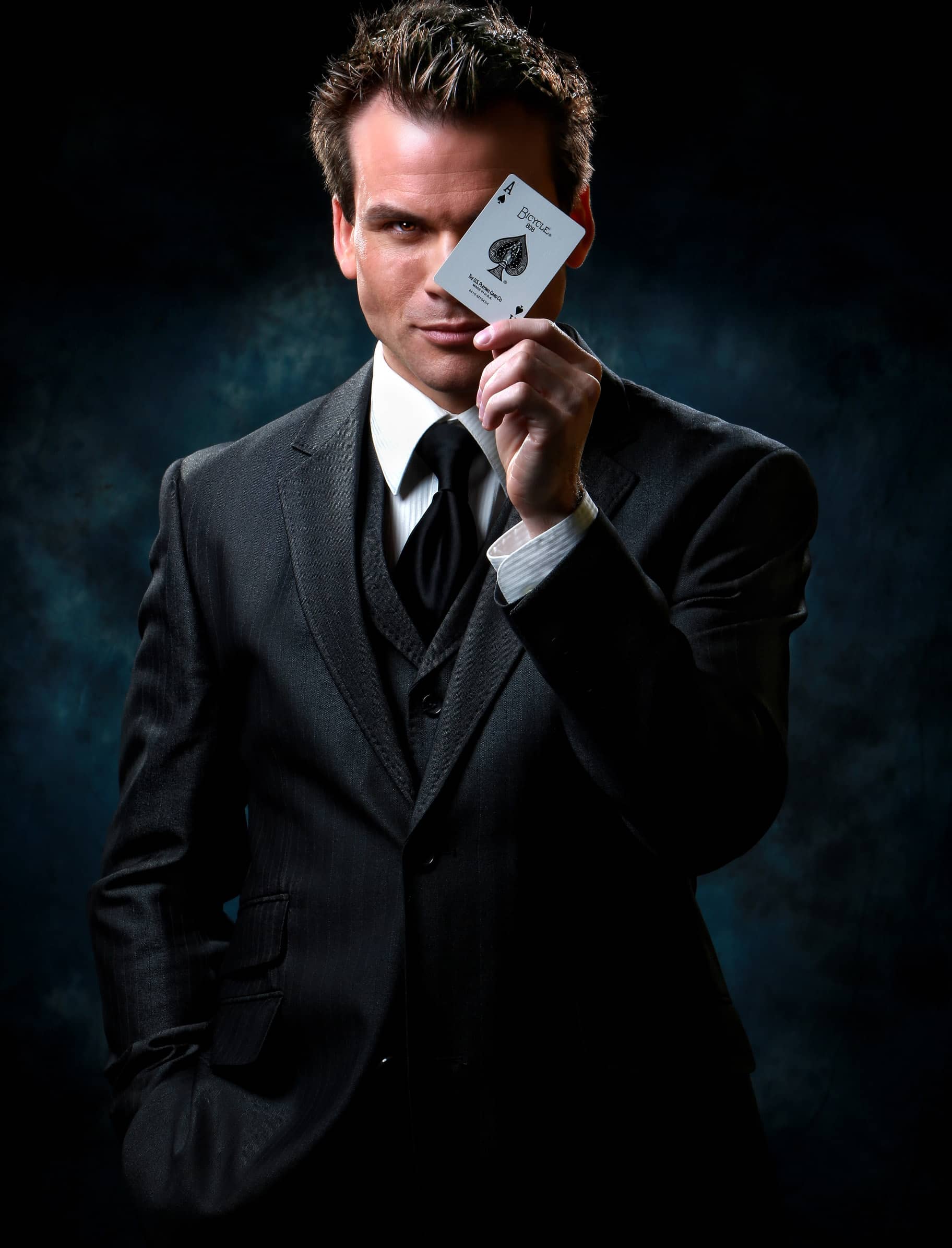 HAS YOUR INTEREST ALWAYS BEEN ALL SLEIGHT OF HAND WITH CARDS, OR HAVE YOU DABBLED IN OTHER TYPES OF MAGIC?
When I first started out, I had all the usual magic props like cups and balls, linking rings, production boxes, and sponge balls. While the interestinglooking magic props in the store fascinated me, the books in the shop caught my eye as well. The first book I bought was Expert Card Technique, which was my first introduction to strong card magic. This is where it all started. I noticed that when I was asked to perform magic on the spot, I couldn't perform any of the tricks I bought in the magic shop because it was all in a box at home. Right away I realized the value in knowing lots of card tricks. I learned to always carry a deck of cards with me. Plus, as I got older, I didn't want to be some weird guy that carried around sponge balls in his pocket.
WHAT INITIALLY DREW YOU TO CARD CHEATING TECHNIQUES AND GAMBLING-RELATED CARD MATERIAL?
It's the fantasy behind it. Imagine if someone told you they knew a way to spot the winning scratch-off lotto tickets before they bought them. Perhaps they knew a way to make the ATM machine give you twice as much money without getting caught. Wouldn't you be interested? I was intrigued by the idea of separating a sucker from his money. It's a way to beat the system. It's free money. This fantasy appeals to everyone on some level. Even as a kid I remember thinking I could play poker at school and win some poor kid's lunch money. That was way easier than doing chores. And, that's exactly what I did. I not only made money from other students, I hustled the teachers too. I got out of doing homework and tests by cheating in a few games of draw poker with my science teacher. I also believe that performing magic for my teachers gave me a lot of influence over them. I was able to get away with being late to class or skipping school altogether. They liked me. They were in awe of the tricks I could do. Rather than doing boring school projects that all the other kids had to do, I convinced my teachers to let me write essays on what it's like to be a performer or my creative process. I mean who cares about Newton discovering gravity when one kid is up in front of the class reading people's minds?
WHAT SETS YOU APART FROM OTHER MAGICIANS?
When someone mentions a magician, the first thing they imagine is some nerdy kid that bought a magic kit. Or, you imagine your uncle or grandfather pulling a quarter out of your ear. Or, they imagine the horrible magician that their mom hired for their tenth birthday party. Unfortunately, there's a low standard to meet to become a professional magician. Some amateurs go to an online magic website and spend fifty bucks and they think they're ready to start gigging. This means that there's quite a bit of mediocrity in our field. It's been my goal from the beginning to rise above this low standard. The absolute last thing I wanted to do was do some stupid magic tricks for people. I needed to carve out my own thing. I decided early on to create a slick and confident conman persona that does gambling-based card tricks.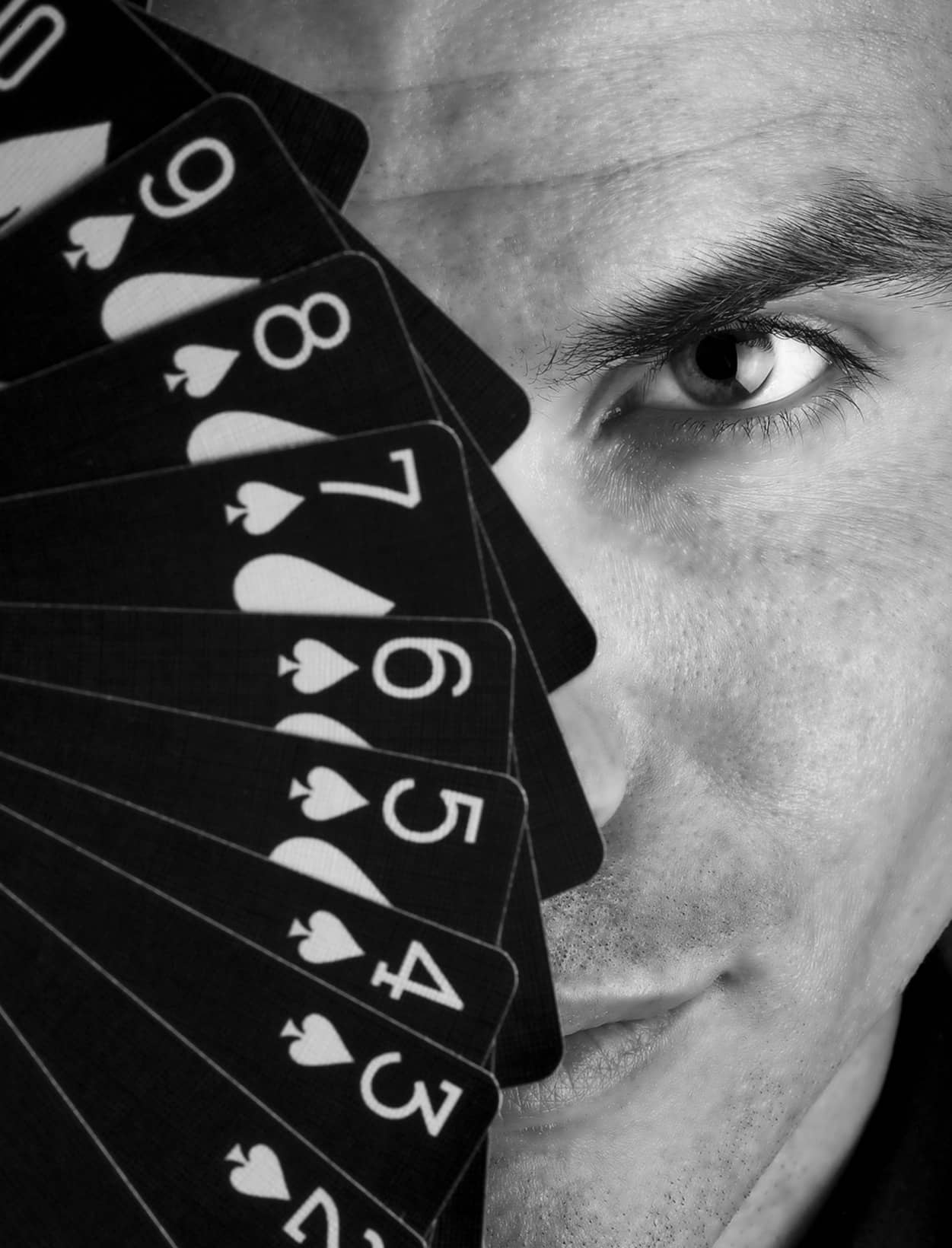 EVERY MAGICIAN DOES CARD TRICKS. PEOPLE HEAR "MAGICIAN" AND THINK, "DUMB CARD TRICKS". HOW IS YOUR WORK DIFFERENT FROM THAT?
Even though people think, "magicians do dumb card tricks," I want people to know card tricks can be cool and sexy. Think of the movies. Think of James Bond in a casino. When I perform, it isn't just about fooling people with card tricks. It's also about the audience watching my character develop over the course of the show. Once the audience likes you, it's pure entertainment. I'm basically an actor with a deck of cards. I'm pure confidence. I'm a badass motherfucker that's going to blow your mind, take your wallet and your watch, and show you just how easy it is to get conned. I'm the smartest guy in the room. I've got fast hands, the custom tailored suit, and the fast car. I'm not doing my job right unless every girl in the room wants me. In my show there's drama, suspense, comedy, tension, and resolution. I try to create the same feelings as a fast-paced action movie. The show builds over the course of the night keeping people on the edges of their seats and finishes with a spectacular climax. Almost no other magicians think this way in our craft. See how different my approach is than buying some lame magic tricks online?
DO YOU USE CARD TRICKS TO MEET WOMEN AND BREAK THE ICE?
You can read up to 3 premium stories before you subscribe to Magzter GOLD
Log in, if you are already a subscriber
Get unlimited access to thousands of curated premium stories, newspapers and 5,000+ magazines
READ THE ENTIRE ISSUE
May 2020