ESQ&A: Nick Wooster
Esquire Singapore
|
April 2019
The menswear icon and street style star has designed a capsule spring/summer 2019 collection for Italian label Paul & Shark. In an exclusive interview at the brand's Milan showroom, Nick shares his creative process, his favourite 'crunchy' pieces and his ideal length for swim shorts.
ESQ : You've been a buyer, a consultant and a designer. Out of all these roles, which do you enjoy the most? NICK WOOSTER : I have to say probably what I'm doing right now is the perfect synthesis of all the things I've done. I still think of myself as a retail person first and foremost because I think about customers and their journey. Also, I am one. I'm always curious about how pieces are going to end up, or not end up, in someone's closet. But it's also about how retailers think. Because retailers, like the publishing world, are equally in upheaval. Commerce is going to happen, but the way it happens is rapidly changing. Working in design is nothing more than problem-solving. Hopefully, because of the swipe culture that we currently have, the Nick Wooster x Paul & Shark collection is something that will catch your eye. Because I understand it's really hard to cut through the clutter of digital.

ESQ: So you're quite conscious of the digital culture that we live in and, therefore, made your capsule with Paul & Shark very colourful so it will stand out?

NICK WOOSTER: No, I wish I was that clever. But here's the thing, you can say it's been formed by my street-style training or understanding of how what works. We live in a culture where things have to be immediate and have to telegraph something. So it might be a print, colour or shape. Maybe it's the right or wrong, but it was like, what's going to stand out on a rack. Hence the bright rave and techno colour palette. If you're going to wear colour, I believe in wearing colour. If you're going to be neutral, then wear neutral. I don't really like things in between.

ESQ: What do you think is the current market perception of Paul & Shark?

NICK WOOSTER: I think the perception of Paul & Shark in certain markets is currently like a forgotten brand, something that isn't necessarily relevant. Or maybe it's like: 'Oh, I remember. Didn't they ship the sweaters in a can?' or 'they do a lot of sailing clothes'. But there's no baggage associated with them either. It's not like: 'Oh my god, that was the worst thing ever'. And so, that's the perfect opportunity for me to take something that has interesting roots and hopefully breathe new life into it. And the amazing thing about the business, that I only understood once I started working with them, is that the brand means different things to different regions. In certain markets, Paul & Shark may be considered old. Yet, in some markets, it may be super young and street savvy like in the UK. But then in the US and Japan, it doesn't have any image at all, which again, is an opportunity. It's a problem-solving challenge for me to fit things together in a way that make sense.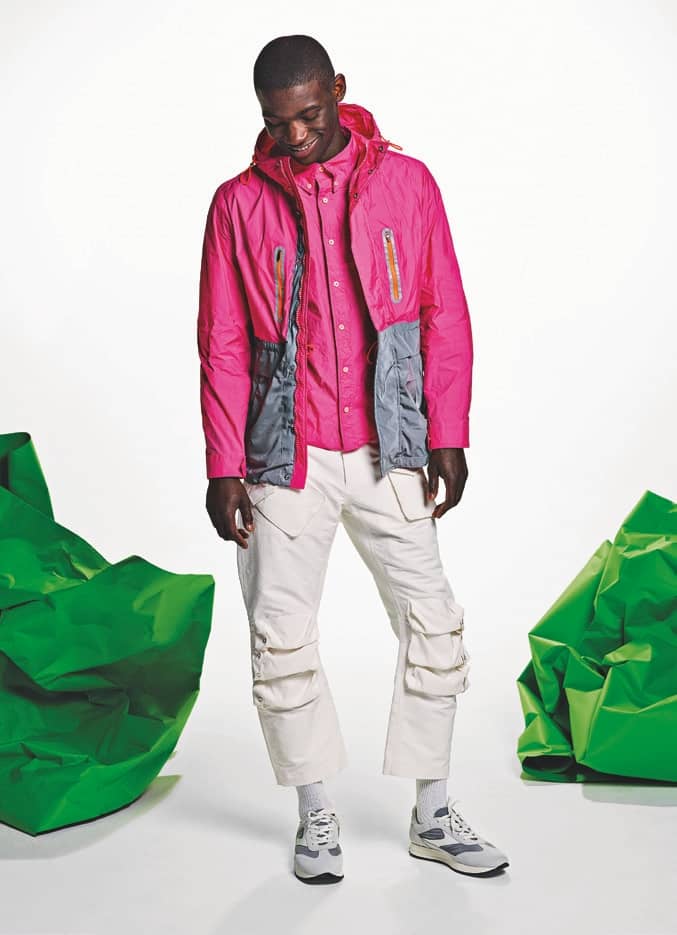 ESQ: Talking about your current spring/summer 2019 capsule collection, as you mentioned, it's peppered with bright colours and prints. Besides joy, what do you want people to feel when they put on your garments or touch them?
You can read up to 3 premium stories before you subscribe to Magzter GOLD
Log in, if you are already a subscriber
Get unlimited access to thousands of curated premium stories, newspapers and 5,000+ magazines
READ THE ENTIRE ISSUE
April 2019