Weston Toy Soldiers
Toy Soldier Collector International|August - September 2020
A Q&A session with Steve Weston, of Weston Toy Soldiers
Your intrepid reporter ventured to Canvey Island (its somewhere near London) to catch Steve Weston, owner/ prop of Weston's Toy Soldiers and all-round nice guy, the premier UK plastic figure retail and stalwart of the hobby before Corvid-19 clamped down on us. Here are his responses to our questions – and he doesn't pull his punches!
TSCI: Who are you and how did you get into making plastic figures?
Steve: I'm Steve Weston, born in 1954, I guess this would have been the best time to be at just the right age when all the great manufacturers got into their stride and were producing plastic figures like crazy to try and satisfy the demand of a hungry nation! Herald, Timpo Solid, Crescent, Cherilea, Lone Star, Paramount, etc were all the rage – and then we got hit with Airfix, followed by Britains, Britains Deetail and Timpo Swoppets. How lucky were we?
There was hardly a time when I did not collect until my teens, when they were just stored in the back of my bedroom whilst I pursued other interests and over time, tastes changed and toy soldiers began to disappear from the shelves. Then we discovered Boot Fairs, and it caused a huge resurgence in collecting. Over the years I amassed hoards as did most of us it would seem.
This came to a head when we moved from a 3-bed house with no storage or potential into a 2-bed bungalow with plans to extend. At this point, my wife decided/dictated / demanded/'suggested' that it would be a 'very good idea indeed' if I were to get rid of some!
A small ad in tiny magazine, 'Toy Collector' (I think) resulted in the start of which would be a 30+ year business of buying and selling, leading me eventually to be able to produce the figures that I wanted to see.
I got started making figures after getting bored by the same old things being made by the current manufacturers – you know, WWII, American Civil War and Napoleonics, three subjects of which were available in abundance from so many. More years ago than I can recall, I got involved with producing the Timpo Reins sets that were accurate, rather than the rather nasty imitations ones that had been available.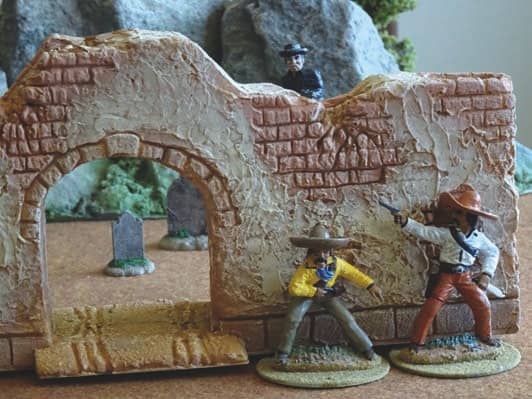 Fast forward a few years and at round about the same time we came out with the Naval Cannon for the Replicants Trafalgar Playset, which was sculpted by Mike Broadbent and moulded by Wayne Stubbings (I believe) for us and the two WWI Tanks. The Tanks were built by myself and then moulded in China, really the only place where it is possible to produce at an affordable cost. The Tanks came about after discussions with my good buddies Nick Ver Steeg (of Toy Soldiers of San Diego) and Thomas Vida (Surfer/Barman/Toy Soldier Dealer/all-round good guy) whilst eating in Denny's after one of the Chicago Toy Soldier Shows.
Feeling that there was a lack of Western Figures being catered for, I followed this up with our range of 'Magnificent Seven' Gunfighters, Mexican Bandits and Mexican Peasants. We accompanied these with two buildings which were present in the first film – the church and a Hacienda. Again, I built the models – the 'Masters' – and this time sent these to be made in the US as there is not the technology here in the UK to do this. Bad move on my part as the factory used was unreliable and totally dishonest! Shame, because their actual work was good, just shameful ethics!
You can read up to 3 premium stories before you subscribe to Magzter GOLD
Log in, if you are already a subscriber
Get unlimited access to thousands of curated premium stories and 5,000+ magazines
READ THE ENTIRE ISSUE
August - September 2020