Model figures
New unpainted metal and resin/plastic figures/kits reviewed this issue by Gary Haines and Paul Osborne
Gary Haines and Paul Osborne
ICM
Various new releases
First up from ICM for Autumn 2019 comes this very well-appointed 1:35 scale set of German machine-gunners from WWI set number 35711, (for reference a WWII MG08 Team has also been released).
The MG08 was the German army's primary machine-gun for much of the War. It was a heavy beast, most frequently mounted on a folding sled that formed the shooting platform when erected - it was a formidable static weapon and cost countless thousands of British troops their lives in defence of the German trenches of the Western Front.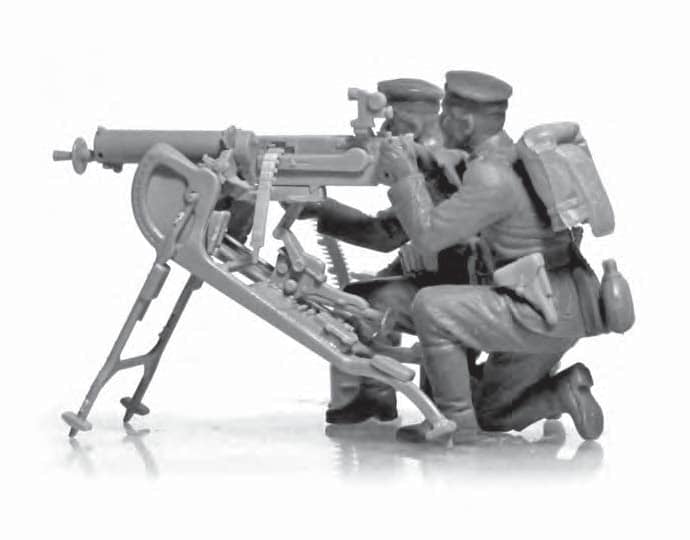 The sled parts are well detailed and intricately moulded, without being unnecessarily fiddly. A nice touch is the option to model the gun in a low prone-firing position, or in a high position for sitting/trench placement by selecting one of two leg stops moulded on the mainframe. A choice of two elevating arms is provided to set the gun cradle correctly for the firing height. Also provided is an LMG08/15 'Spandau' most commonly used with a fixed bipod and drum-feed.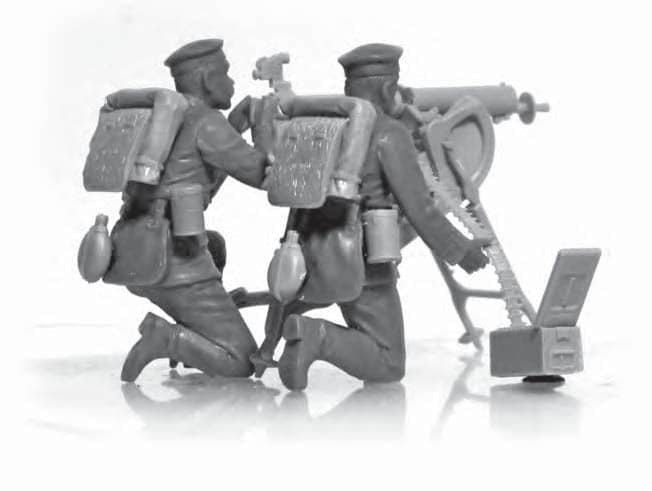 The two figures are in classic kneeling pose and wear full battle order, including packs and rolls, though this would be less likely in most static situations. Modellers will need to replicate the 'y' straps on the back of these figures if the packs are not used, as they are not present. Moulding is generally sharp, making these figures more compatible with likely urban vignette settings and popular automobile kits in the same scale, is a new S.W.A.T. team.
Inside the box we have four figures in various poses and states of readiness that would suit individual or paired usage in a smaller scene though, with careful placement, they will form a plausible team together.
Each figure has its own master sprue and is individually packed with two others containing weapons and equipment, and clear parts. Additionally, each figure has its own double-sided A4 instruction sheet in full-colour. This is very welcome reference, given the complexity of the personal equipment they carry and the intricate combinations of materials and colours involved. The sculpting is good overall, though the faces don't have the level of the individuality of some ICM sets I've reviewed a stern 'straight-ahead' look is the order of the day here. The tactical body armour, modular carry equipment and strapping are well enough represented but, given the use of Nomex, Cordura, Velcro, Nylon Webbing and Rip-Stop, there is very little if any attempt to show texture - with all parts being just too smooth. This feels like a lost opportunity, and some 'nod' to the look of the real materials is more than appropriate for figures of this scale.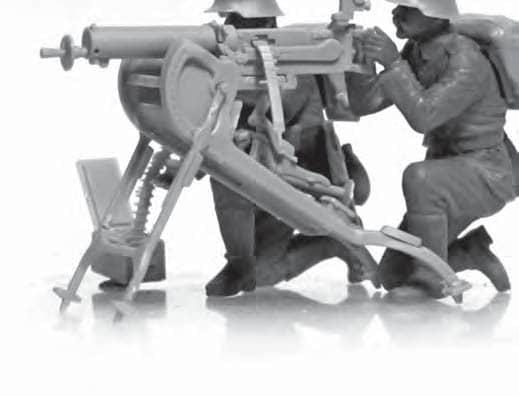 However, the weapons are superbly realised. The M4 carbines being especially good. The way these accessory sprues have been arranged, you end up with a full set for each figure and enough surplus firearms to start a small scale conflict, including 4 different types of pistol and a CQC variant of the Heckler & Koch MP5 per man, over and above the M4s. I suspect this extra firepower will please many modellers. You also get 3 different types of Kevlar helmet per figure.
Overall, a decent enough set and one, I suspect, that will sell plenty… but it just lacks that few percent in terms of realism.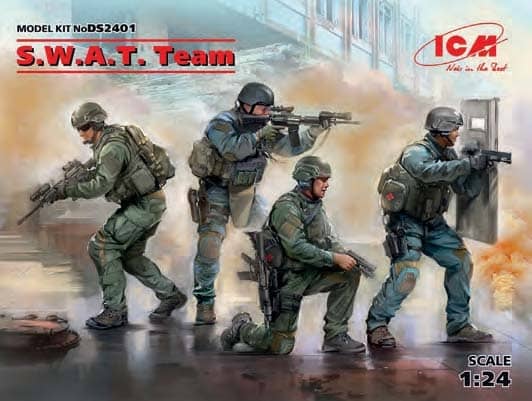 The final (and largest) release from ICM for this issue comes in the form of this suitably dynamic and threatening looking Viking Warrior from the IX Century in 1:16 scale (16301). If I was a little underwhelmed by the attention to fine detail on the SWAT Team release, then the polar opposite is true of this figure.
Starting with the main sprue, and the torso, the sculpting of the padded tunic is exquisite - with care given to the creasing of each individual diamond-shaped panel, as well as fine stitching and hemming at the edges. Similarly, the long undershirt has a repeating triangle motif around the collar, sleeves and lower edge. The breeches, leg wraps and shoes are equally well detailed. Buckles and belts are separate and modelled with their loose ends tucked and tied most convincingly. The clothing really is an invitation to bring your best painting game to bear.
The face is shown in the midst of a war cry and is a dramatic sculpt with very fine facial hair and a high level of character. How much of it you ultimately see will depend on your choice of helmet. Two options are provided - open-faced with a nose guard, and a visored version as shown on the superb box art.
You can read upto 3 premium stories before you subscribe to Magzter GOLD
Log-in, if you are already a subscriber
Get unlimited access to thousands of curated premium stories and 5,000+ magazines
READ THE ENTIRE ISSUE
February - March 2020