Britains' Americans
Toy Soldier Collector International
|
October - November 2020
Brigadier Raymond E Bell reminisces about his collection of Britains figures representing American troops that have now passed to his grandchildren
The first Britains' Americans in my (now my eldest grandson's) collection were the United States Cavalry, Service Dress, mounted at the walk, Set # 229. But for a quirk of fate, however, the troopers may never have become an important and necessary part of the Britains' American military formations in today's grandchildren's toy soldier army. It so happened that on my birthday at the age of ten, a so-called 'aunt' had thoughtfully ordered from the renowned toy store F.A.O. Schwarz in New York City a musical typewriter, net value ten US dollars and some change. Alas, the gift arrived in broken condition, so it had to be replaced.
Now the New York toy store in 1946 had on hand a large stock of Britains soldiers because the company had again begun to produce toy soldiers for the export market and for the dollars it brought into the United Kingdom's treasury. There was a whole section in Schwarz's devoted to toy soldiers and their appearance in Christmas catalogues had beguiled me as a young boy throughout WWII. The store's early wartime inventory had not been completely exhausted and the troops' display in the Schwarz catalogue as formations during the war had whetted my taste for the figures. But cost-wise (at $1.98 or about 8 shillings a box) they were too expensive for my limited weekly allowance of just ten American cents.
Back to the typewriter. Here was an opportunity to cash in. I still remember driving to New York City with my father to return the useless toy writing machine. My dad saw an opportunity too. "I'll teach my son how to fish, so we'll replace the typewriter with fishing gear." That was not going to happen, especially when I turned over the broken toy to the salesman behind who was a multitude of boxed Britains toy soldiers. You would have thought a decorated army colonel would have approved of his son's desire to obtain an army of premier military toys. That was not to be (his idea of toys was a hoop and a stick). He stood helplessly by me as I replaced the wretched typewriter with five boxes of Britains and a model 4.5 inch howitzer, Britains Set #1725. Among the five sets was the first American contingent, the US Cavalry, Set #229.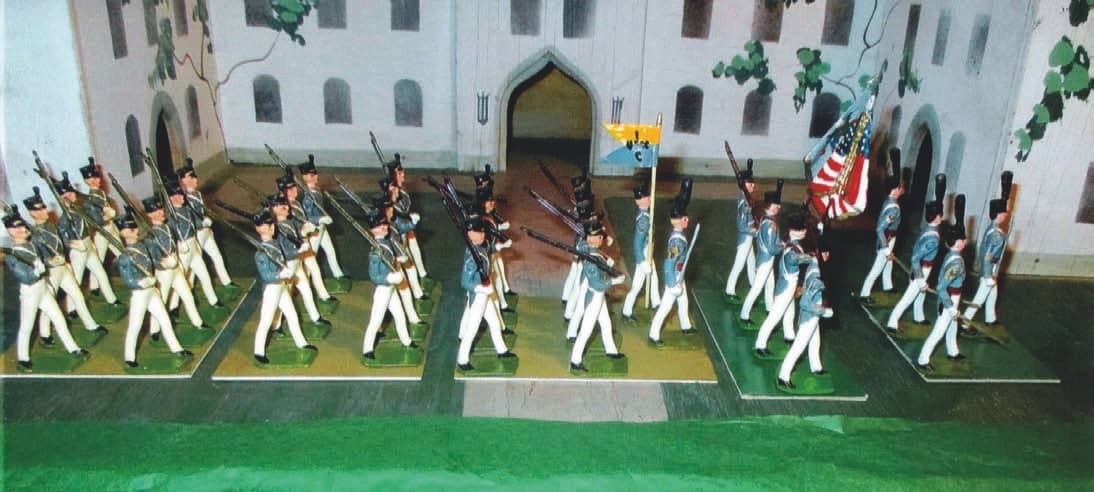 Such is the preclude to Britains representations of elements of the American or United States of America armed forces in toy soldier form, reaching back in the above collection, or army as it is preferably known, from the American Revolutionary War to WWII. In 1946 it was unrealistic for an impecunious youngster to think of collecting Britains' Americans produced before WWII. So until 1966 after which Britains began producing plastic 'Eyes Right' figures and ceased making hollow cast metal soldiers, the army's fifty-four-millimeter size figures were cast of a lead alloy. From 1966 onwards the army began recruiting Britains plastic and solid-cast metal figures.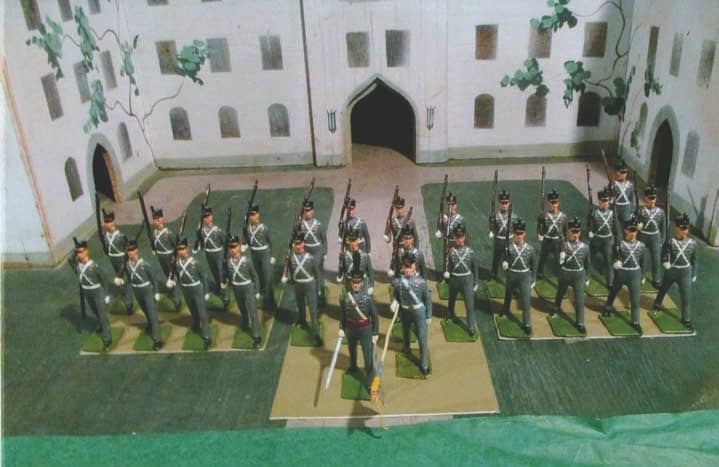 Augmentation of the army also came from the attainment of pre-World War specially commissioned US Army infantry in WWI uniforms from the Kemble Widmer collection. These have been joined by a large contingent of 'Doughboys' of Pre and Post-WWII Set #227, United States Infantry, Service Dress at slope arms, with Officer dress in olive drab uniforms with grey campaign (Montana) hats.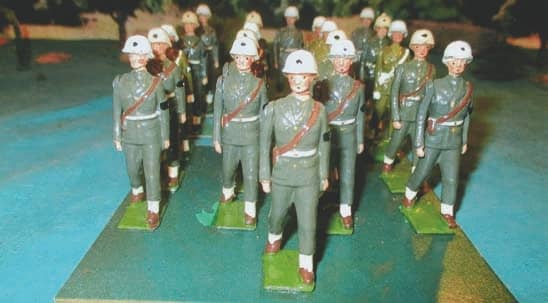 You can read up to 3 premium stories before you subscribe to Magzter GOLD
Log in, if you are already a subscriber
Get unlimited access to thousands of curated premium stories, newspapers and 5,000+ magazines
READ THE ENTIRE ISSUE
October - November 2020